Gracie (above) is a Chihuahua who's about eight years old. Her owner loved her very much, but unfortunately passed away, and no one in the family was able to take care of her. Gracie is scared and not sure what to make of the shelter environment. She would really like to find a new family to love. You can meet her at the Animal Welfare League of Arlington.
Pollyanna is a five-year-old boxer/hound-mix. Her adoption fee has been generously sponsored, so all she needs now is a loving home. Polly is an easygoing dog that will fit right in to her new home. She's a marathon girl, but not the running kind; we're talking
Law and Order
on the couch. She would be a great choice for a family looking to have just one pet to love. You can meet her at the
Animal Welfare League of Arlington
.
Olive is an adorable five-month-old puppy that resembles a mountain cur mix. Olive was rescued with her two siblings who have both found homes, but Olive knows her perfect family is still out there. Even though she was the smallest of the puppies, she is the leader of the pack. To find out more about adopting Olive, please visit the Rural Dog Rescue website.
Charlie Brown is a gorgeous plott hound who appears to be around two years old. He loves cuddling up and laying his head on your lap for pets. True to plott hound form, he can be a bit vocal when he gets excited, so would probably do better in a house rather than an apartment. He gets along well with other dogs and is a goofy, lovable guy. To find out more about adopting Charlie Brown, please visit the Rural Dog Rescue website.
Adler is a lab/boxer mix who is about two years old and weighs 55 pounds. He is an easygoing dog with medium energy and is very gentle. He loves kids and other dogs. He is very smart and is a quick learner—he already knows sit and stay. He is not a jumper, but is a happy and excited boy. He doesn't engage much with people he doesn't know well, but once he knows you're a friend, he's a big ham. You can meet him through K-9 Lifesavers.
Zoey is a two-year-old, 29-pound beagle-mix. She is playful, agile, and affectionate, but she's a little shy and unsure. She would be happiest in the suburbs, as she does best in a quieter home. She is house- and crate-trained, and she walks very well on a leash. Zoey loves other dogs, is respectful of cats, and is afraid of her foster family's bird. She is not possessive of food, toys, or her crate and has never shown aggression. She is a bit shy and nervous though, so she would do best in a home with another dog. You can meet her through K-9 Lifesavers.
Seiko is a six-year-old, 13-pound, domestic shorthair cat. She was surrendered to the Washington Humane Society on January 3, 2015 after her owner had to move and could not take her along. Seiko is the friendliest cat, and has a way of making everyone feel special. Even if you have only left the room for a moment, she will come to cuddle you like she hasn't seen you in years. You can meet her at the Washington Humane Society's New York Avenue shelter.
Rosie, a three-year-old husky mix, arrived at the Washington Animal Rescue League recently because her owner was moving to a place where pets aren't allowed. Rosie is obviously confused about her current situation, but she's hopeful that someone will love her again. She's past the destructive puppy stage but still energetic and playful. She likes people and other dogs and would like nothing better than a home where someone will give her attention, affection, and exercise. You can meet her at the Washington Animal Rescue League.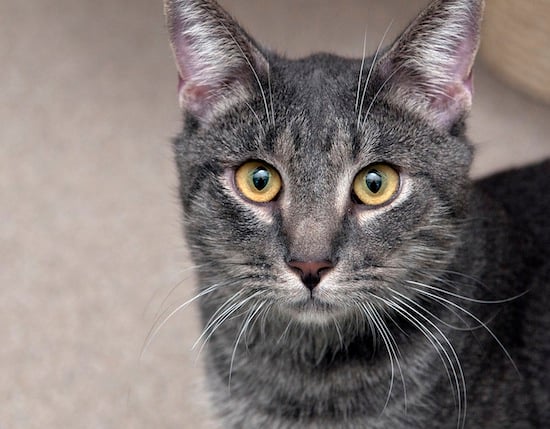 Oberlin is a three-year-old gray tabby cat, and is as friendly as he is handsome. He's social and affectionate with people and loves curling up in laps. He also likes other cats and would do well in a home with or without a feline friend. You can meet him at the Washington Animal Rescue League, where Oberlin and other shelter cats will be available for a special adoption fee of $14 during the annual Catapalooza celebration on Sunday, February 15.