The percentage of District residents without a four-year college degree who can't find full-time work jumped significantly between 2007 and 2013, according to a report published Wednesday by the DC Fiscal Policy Institute, again throwing into relief just how uneven the city's economic recovery since the Great Recession has been. DC's underemployment rate for people with some post-high school education, including two-year degrees, went from 9 percent to 22 percent over that span, and recent economic trends do not appear to offer much relief anytime soon.
The underemployment rates also rose nearly as significantly for District residents with less education in the years since the Great Recession, with the rate for residents with just a high-school diploma nearly doubling from about 16 percent to 31 percent, and less than high school going from about 25 percent to 32 percent. The underemployment rate for people with at least bachelor's degree remained low, rising from 5 percent to 6 percent since 2007.
The figures are part of a larger DCFPI study on income inequality, which the think tank reports is at its widest point in 35 years when comparing the hourly pay of the top 20 percent of earners to that of the bottom 20 percent. The top quintile took home more than $45 per hour in 2013, while the bottom made $12.62 an hour. Since the recession hit, earnings at the top have gone up 15.9 percent, while actually decreasing at the bottom, reflecting a national trend in rising income gaps.
For low-wage earners, this represents a 1-percent decline from what they made in 2007, but high-wage workers have seen their earnings increase by $6 an hour. Middle-wage workers saw about a $3 hourly increase after the economic downturn, rising to $24.25. Since 1979—the last time the gap was this big—low-income wages have risen only 7 percent, while high-income wages have more than doubled.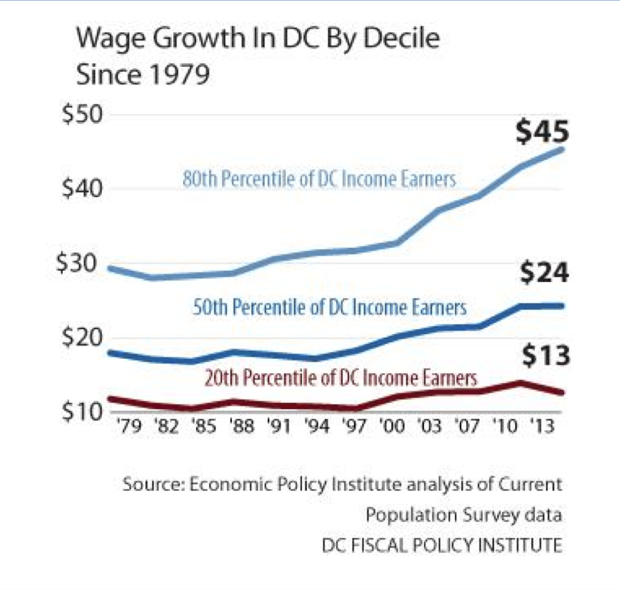 The widening gap between high-income and low-income residents is even starker when comparing just the top 1 percent of earners to the other 99 percent. Average income for the very highest-income workers in the District is 32.3 times higher than the average income for everyone else, according to a separate report by the Economic Policy Institute. If DC were compared to the states on that metric, it would rank eighth.
The overall employment situation for DC's black and Hispanic populations continues to be especially bleak. While the city's unemployment rate of 7.4 percent is down from a mid-recession peak of 10.4 percent, joblessness among blacks and Hispanics remains well into double digits. Black residents endured an unemployment rate of 16 percent in 2013, twice that of Hispanics and more than four times the rate for white residents, the report states.
Job prospects are even dimmer for residents with less than a four-year college degree. While unemployment is down to 4 percent for people with at least a bachelor's diploma, it's 15 percent for those with some college, and 18 percent for those with only a high-school eduation.
A family budget calculator from the Economic Policy Institute suggests that a two-parent, two-child household in the Washington area needs to earn $89,643 per year to cover the costs of housing, food, transportation, education, taxes, and other living expenses. This, too, reinforces how much more difficult it's become to get by in DC. Full-time employment at $12.62 per hour translates into annual pay of just $26,250.
Some policy changes aimed at leveling things out are coming into effect. The District's minimum wage is scheduled to increase to $10.50 per hour this year and $11.50 per hour next year, and employers are no longer permitted to ask about job applicants' criminal records before a job offer is extended. But DCFPI still prescribes several measures that haven't been enacted by the city's leaders, including expanded food stamp benefits, paid family leave, subsidized child care, and an increase in the minimum wage for tipped workers, which is stuck at $2.77 per hour.
And there might not be much more relief on the immediate horizon. Private-sector jobs are increasing in DC, but not in a way that's likely to alleviate low wages and chronic underemployment. Since 2007, the biggest growth has been in frequently low-income professions like education and health services and hospitality. Meanwhile, the government payroll is shrinking: After peaking in 2011 at about 247,000 federal and local government jobs, the number fell to about 237,000 in 2013. The District has only added 3,000 professional and business services since 2007, the study reads.
Find Benjamin Freed on Twitter at @brfreed.