Though we still may be in the midst of some of the coldest days of winter, we're already dreaming of cherry blossom season. As local shops swap out racks of wool for light and bright fabrics, we decided to peek at the wish lists of local fashion leaders to see what they're hoping to add to their closets as they transition their wardrobe for spring.
Carmen Lopez, owner of Current Boutique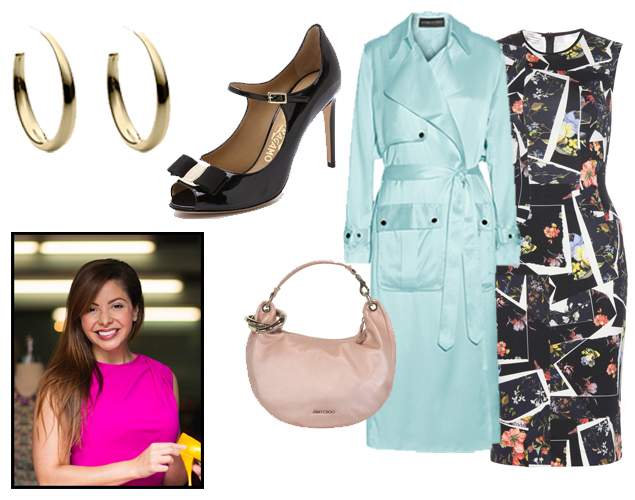 Michael Lo Sordo trench ($810) at Net-A-Porter. "I'll be ready to ditch my heavy wool winter coat for this lightweight silk trench come springtime! I like this one because it will stand out in the sea of khaki trench coats out there. It is also a great conversation piece!"
Erdem Nell stretch dress ($970) at MyTheresa.com. "Bring on the knee-length dresses. They have been a favorite of mine this season, and I will carry that trend over into my spring wardrobe. I love this dress because I can pair with a blazer to be worn into the evening—so versatile."
Salvatore Ferragamo Mood peep-toe pumps ($775) at Shopbop. "These Ferragamo shoes are so elegant and well-made. Just looking at them puts me in a good mood! Peep-toes are a great transition piece, and these will last a lifetime."
Jimmy Choo blush pearlized leather solar shoulder bag ($657) at Current Boutique. "I have been eyeing this beautiful leather handbag every since it came into Current. I just might snatch it up if someone else doesn't soon. The blush color is perfect for the spring!"
Michael Kors golden hoop earrings ($115) at Cusp. "Gold hoop earrings are such a classic. They add a playful touch to any outfit and every girl need a pair in her jewelry box. These are perfect when you need a break from your stud earrings."
Erika Schrieber, local designer at Erika Schrieber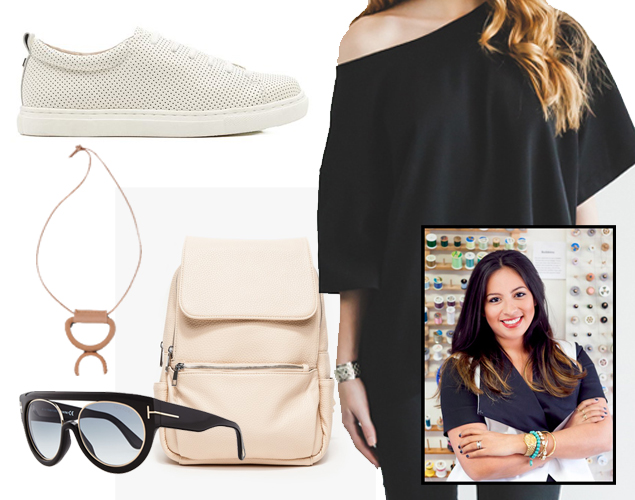 Chateau backpack ($98) at Need Supply Co. "Backpacks are ultra-functional, effortlessly cool, and perfect for an impromptu road trip as weather warms up."
Minimalist tee ($120) at Erika Schrieber. "Updated version of the classic American T-shirt with an exaggerated silhouette that pairs perfectly with your favorite skinnies."
Crescioni Cass necklace ($253) at Mill Mercantile. "Embrace objects! Accessories emerge as works of art for spring 2015."
Oriel leather sneakers ($80) at Dolce Vita. "Comfort meets cool, modern design—these perforated leather sneakers are an easy staple. Wear them with dresses and pencil skirts for an unexpected edge."
Tom Ford Alana modified plastic aviator sunglasses ($450) at Neiman Marcus. "Amp up your badass factor with these hybrid beauties."
Kara Manos, beauty blogger at Politics of Pretty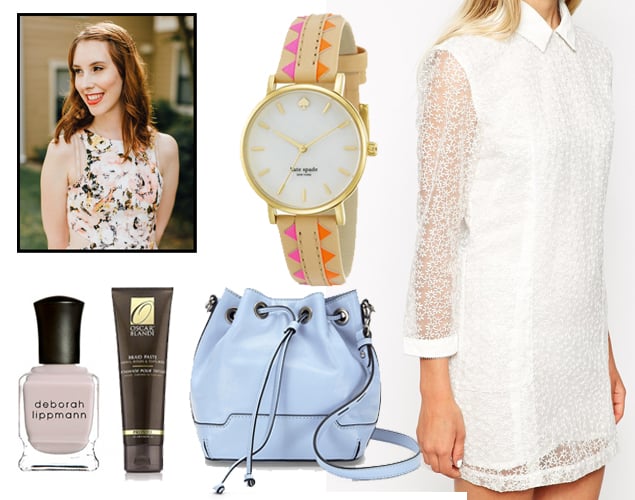 Rebecca Minkoff mini Fiona bucket bag ($225) at Rebecca Minkoff. "I have a small obsession with designer handbags, and this Rebecca Minkoff is at the top of my wish list."
Oscar Blandi Pronto braid paste ($25) at Ulta. "My favorite hair trend from the 2015 runways was teeny-tiny bohemian braids (spotted at Vera Wang and Temperley). I'm all for second-day hair, so this Oscar Blandi Pronto braid paste is exactly what I need for texturized tresses."
Kate Spade Rio Wave Metro watch ($195) at Kate Spade New York. "This is perfect for everyday wear thanks to a neutral strap with pops of color."
Little White Lies lace shift dress ($180) at ASOS. "I know 'all white everything' is a hot trend for spring, but there is no way I could pull off a monochrome look with my natural (read: pale) complexion. Post-spray tan I'd like to wear this lacy number. I love the sheer mesh and the pointed collar."
Deborah Lippmann Like Dreamers Do nail polish ($18) at Deborah Lippmann. "My spring beauty wardrobe isn't complete without at least one nail polish. I love the idea of soft and understated hues on my digits, and Deborah Lippmann's spring 2015 collection falls nothing short of sophisticated."
Katya Ananieva, owner of She's Unique
Tibi Bee leather mules ($375) at Net-A-Porter. "I'm loving that mules are having such a moment. For spring, I love this neutral color to balance all the florals and light colors. It's also nice to change out of those winter boots and embrace a more open style."
Marissa Webb Magdalena sleeveless maxi dress ($895) at Intermix. "I'm really into whites right now—this cut and style is so fresh. I also love how this design uses perforated fabric. I think we'll be seeing a lot of perforated styles this spring."
Finlay & Co Thurloe wooden frame sunglasses ($310) at Intermix. "Wooden frames give these sunnies a very earthy feel that in my mind screams spring fashion!"
Cameo Real Talk trench coat ($210) at Nasty Gal. "Time to ditch that black or brown coat and embrace lighter colors and styles for spring. Plus, the belt gives it a kimono feel, which is something we saw on the runway that I think will be hot this season."
14-karat hammered rose-gold three-ring set ($605) at Zoë Chicco. "Delicate jewelry was huge in 2014 and it's here to stay. Since I love the stack and midi rings so much, I am looking forward to upgrading my favorite styles from brass and silver to 14K gold–especially love this rose gold with a hammered finish style."
Rebecca Minkoff 'Finn' convertible leather clutch ($195) at Nordstrom. "Fringe is still hot and I love this affordable style for everyday wear. Fringe always adds a fun twist to a basic look."
Diptyque Rosafolia scented candle ($65) at Net-A-Porter. "Just like our wardrobes, our homes could use a little spring refresh. This pretty floral Diptyque style will add a nice touch to any room in the home."
Find Caroline Cunningham on Twitter at @crcunning.