The newest addition to North Bethesda's growing Pike & Rose development is here. Stella Barra Pizzeria, a pie joint from chefs Jeff Mahin and Francis Brennan of the Chicago-based Lettuce Entertain You Restaurants, opens Thursday with California-style pizzas and seasonal fare.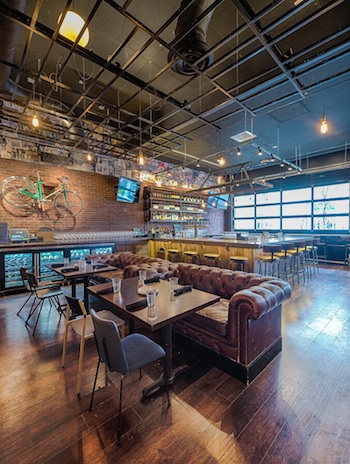 So what is Cali pizza? It's less of a physical style, like Chicago deep-dish, and more about the ingredients and look of the eatery. The menu of thin-crust pies are made with flour milled in the Golden State, and topped with the likes of house-made pork sausage and fennel pollen, or prosciutto, chilies, and a runny egg. The meatless crowd can do well with a version heaped with kale and roasted garlic or shaved mushrooms and Gruyère, plus a section of seasonal vegetables prepared five ways, such as "wild" or "roasted." There's also a "thin sin" (a.k.a. extra-slim crust) option for the carb counters.
The warehouse-like eatery sits next to sister restaurant Summer House Santa Monica and, like its breezy sibling, adopts a West Coast aesthetic—here more Los Angeles than beachfront real estate. Think brick walls and wood-paneled floors, leather couches, and bicycle-themed wall decor, including a mounted Shinola cycle.
Stella Barra Pizzeria. 11825 Grand Park Ave., North Bethesda; 301-770-8609. Open daily at 5.