A branch of Bryan Voltaggio's Family Meal debuts in Ashburn on Wednesday, bringing cheffed-up diner fare to the One Loudoun development. Though similar to the flagship in Frederick, Maryland, and newer Baltimore spinoff, the first Virginia location offers a number of new menu items and desserts, thanks to the recent addition of pastry chef Chris Ford to Voltaggio's restaurant family (which also includes Volt, Aggio, and Lunchbox).
Certain Family Meal staples aren't going anywhere, such as the crispy fried chicken, pot pie fritters, and all-day breakfast. Voltaggio and the team added to various parts on the Ashburn menu, all keeping in the theme of comfort fare with a twist. Pepperoni, a Voltaggio favorite, makes two appearances: ground into a crispy crust for spinach and artichoke dip, and folded into a burger patty that's topped with avocado, pepper jack cheese, and a fried egg. New soups are equally hearty, including a beef chili with charred-lime crema, and a robust take on French onion made with braised short ribs.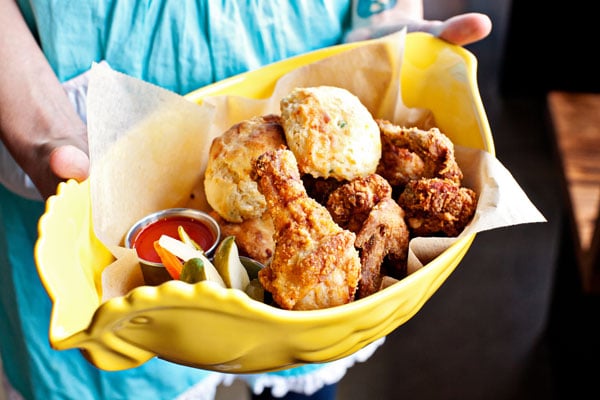 That's not to say the menu caters solely to carnivores. One of the fresh creations is a vegetarian Reuben with smoked, pastrami-spiced beets and the usual accompaniments (kraut, homemade Thousand Island, Swiss) on griddled rye. The kitchen also created its own version of Old Bay spice, called Our Bay, which dusts fries as well as a blue-crab soup with pasta shells. If your sweets quota hasn't been met with a thick shake–virgin or boozy–try one of the chewy oatmeal cream pies or devil's food cake for dessert.
The Ashburn branch will eventually open for early birds at 7 and serve meals seven days a week, but will keep soft-opening hours (see below) for another two weeks. Something else to look forward to: Virginians farther south will get a fourth branch of the diner in late March.
Family Meal. 20470 Exchange St., Ashburn; 703-726-9800. Soft-opening hours: Wednesday through Friday 11 to 10, Saturday and Sunday 10:30 to 10 (breakfast served all day).