The 14th Street crowd will have a new place to hang next week when Sotto, a bar/restaurant from Ari and Stacy Gejdenson, opens its doors on March 3. The name means "under" in Italian–a tribute to its location beneath sister restaurant Ghibellina–but that's the only major European detail of the subterranean space. While Negronis are poured above, the moody haunt takes its cues from DC history thanks to its former incarnation as one of many homes for the HR-57 jazz club, and offers a menu of regional American cooking. Here's what to look for when it debuts on Tuesday.
Smoked meats, caramel apples
Brisket, ribs, and sausage may sound like fare for a barbecue joint, but chef Keith Cabot is taking a regional American approach. The former Menu MBK chef de cuisine mixes influences from the South–he spent years in Virginia and North Carolina–and the Midwest, particularly items inspired by state fairs he visited with his Minnesotan family. You'll find snacks like caramel corn dusted with chili-lime salt (a cheffy riff on Cracker Jack), alongside mesquite- and hardwood-smoked meats drizzled with a house-made sauce Cabot describes as a cross between Heinz 57 and A1. There's also a lineup of house-made sausages, like lamb merguez with curried cauliflower, and a vegetable-heavy selection of appetizers and sides to make up for the meaty mains (see a menu sample below). Sadly there's no fried Snickers for dessert, but a poached apple with popcorn, molasses, and caramel ice cream should satisfy carnivalesque cravings.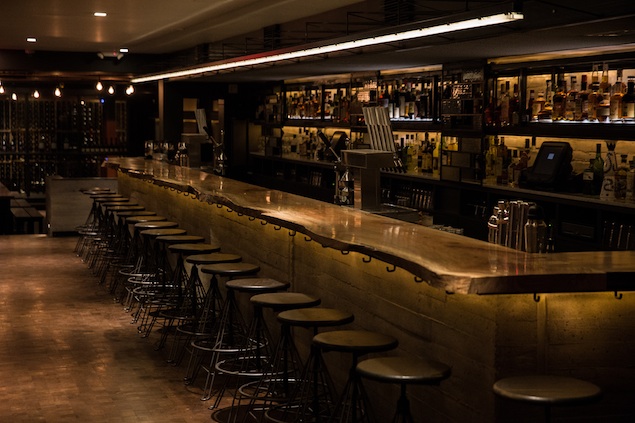 Communal seating
Plates can be eaten solo or shared–refreshingly in a big, family-style way instead of tiny tapas. There's less choice when it comes to seating. While a hostess will still guide guests to spaces, everything is considered communal. The long bar is fashioned from a single piece of wood, while picnic-style tables and oversize booths provide the other seating. A limited number of reservations will be available for larger parties.
Jazz Age-style cocktails
Barman Daniel Barnes, who also crafts the sips at Ghibellina and sister watering hole Denson Liquor Bar, created a list of seven cocktails inspired by the Jazz Age heyday and the corresponding scene in Washington. The Groover, for example, mixes gin, pineapple juice, Dolin Blanc vermouth, and Cocchi Americano, while the Trolley Car combines spiced rum, blood orange, and bitters.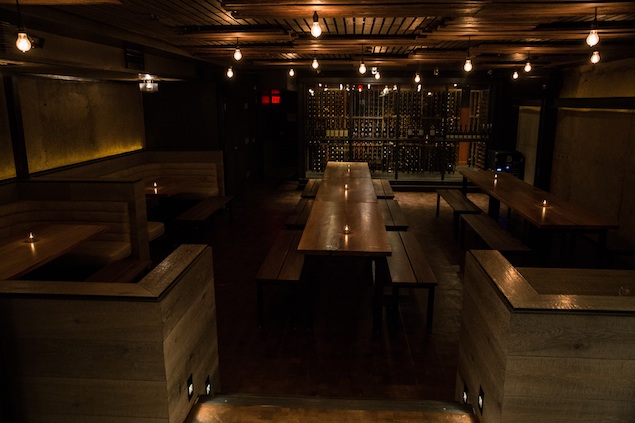 Nightly music, and more to come
Once the Sotto team settles in, music fans can hear nightly tunes from small jazz, blues, and neo-soul groups (generally one to three players, given space constraints). The kitchen will remain open until 11:30 on weeknights, and potentially 12:30 on Friday and Saturday, while the space caters to revelers until last call. Much further in the future, the Gejdensons will begin construction on their three Ivy City projects for 2016, which will include a small diner and Italian pizza place similar to Ghibellina. In the meantime, grab a sparkling cocktail and get jazzed on 14th.
Sotto. 1610 14th St., NW; 202-803-2389. Opening hours (March 3): Tuesday through Saturday 6 to 2, Friday and Saturday 6 to 3.

Sample Cocktail Menu:
Right Away
rye / amaro / cardaramo
Groover
gin / pineapple juice / dolin blanc / cocchi
Trolley Car
spiced rum / blood orange / angustura
Suit and Tie
vodka, ginger / sweet and sour /angostura
Ed Ellington
scotch / lillet rose / cranberry / orange
Jack Rose
brandy / combier / lime / apple bitters
Sparkling Cocktail
prosecco / plum bitters / sugar

Sample Food Menu:
Snacks:
Ball Park Peanuts & Popcorn
Chili | Lime | Sea Salt
Pretzel Monkey Bread
Apple Mustard
Sotto Potato
Provolone | Chives
Appetizers:
Wood-Oven Roasted Winter Squash
Crispy Sage | Brown Butter | Toasted Pepita Granola
Hen of the Wood Mushrooms
Poached Farm Egg | Crispy Farro | Thyme
Brussels Sprouts Salad
Herb Cream Dressing | Garlic Croutons | Pomegranate
Endive & Citrus Salad
Orange | Spiced Hazelnuts | Shaved Radishes
Sausages:
Blanc
Accompanied by Figs Poached in Red Wine
Merguez
Accompanied by Curried Cauliflower, Capers and Raisins
Cotechino
Accompanied by Woodfire Roasted Brussels Sprouts
Smoked Meats:
Beef Ribs
Pork Ribs
Beef Brisket
Dinners:
Crispy Local Fish
Roasted Poussin
Parsnip | Mustard Seeds | Persimmons
Sides:
Braised Kale
Marble Potato Salad
Fennel Gratin
Sweets:
Poached Apple
Popcorn | Molasses Gateau | Caramel Ice Cream
Banana Bread
Candied Pecans | Dulce de Leche | Chocolate
Lemon Curd
Pistachio Crumble | Mint Jelly | Crispy Merengue