Gaithersburg will get a big beer infusion on Friday when Old Town Pour House opens its doors for a two-day trial run before officially debuting on Monday, March 2. The third location of the brewpub, and first export outside the Chicago area, joins the growing Downtown Crown development. On tap: 90 beers, a giant patio, and a menu of Midwestern favorites like Windy City-style hot dogs and fried cheese curds. Here's what to look for in the 172-seat space.
The beer: Abundant. The bar opens with 85 global craft beers and five favorite standbys like Bud Light, all served at an eye-catching copper bar. Enthusiasts can browse the online menu of wheats and lagers, Belgians and IPAs, and rate individual beers by signing up for a free account. A number of local names are included in the lineup, from Flying Dog to lesser-known producers such as Jailbreak Brewing Company out of Laurel, Baltimore's Union Craft Brewing, and Denizens Brewing Co. from Silver Spring.
The other potables: Moscow mules in fancy copper mugs, six wines on tap, and an epic-sounding 20-ounce Bloody Mary, which arrives in a heavily garnished goblet that includes a peppered steak medallion, cubed pepper jack cheese, veggies (pickles, tomato, cocktail onions), and a Slim Jim "stir stick."
The food: Brew-friendly. Homesick Midwesterners will find a number of familiar comforts on the all-day menu, including pretzel bites for dipping in Lagunitas IPA beer cheese, mini Chicago dogs with all the traditional fixings, pickle chips, and fried cheese curds. Two new dishes nod to the new coastal location: crabcakes and a fried clam sandwich with smoked-potato aïoli.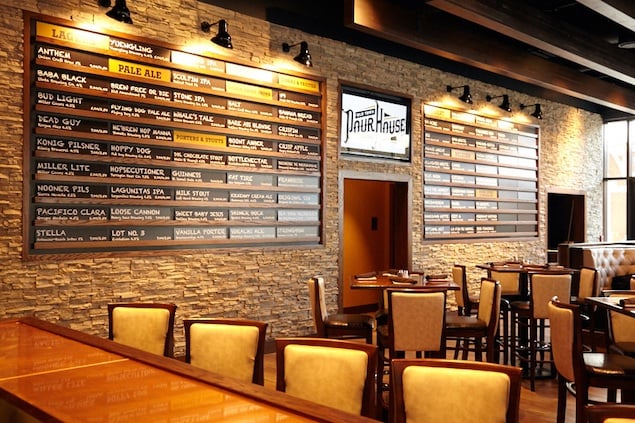 The patio: Big. Thick-skinned Chicagoans might brave the outdoors for a drink if temperatures climb above 40, but patio weather here means 60 degrees and up. Once spring takes over, look for a 92-seat space to sip beer. Inside seating ranges from big booths to high-top tables.
Happy hour, late-night: The bar offers plenty of specials at all hours. Happy hour runs from 4 to 7 Monday through Friday, with deals like $8 Moscow Mule Mondays, a flight of four six-ounce beers ($14), and $2 off wine on Wednesdays, as well as $5 eats such as mini pulled-pork sandwiches and sliders. While the pub stays open until 2 AM daily for drinkers, anyone looking for a late-night bite can find a snack menu with the likes of truffled popcorn, Chicago dogs, and white-bean hummus until midnight on Friday and Saturday, and 11 all other evenings.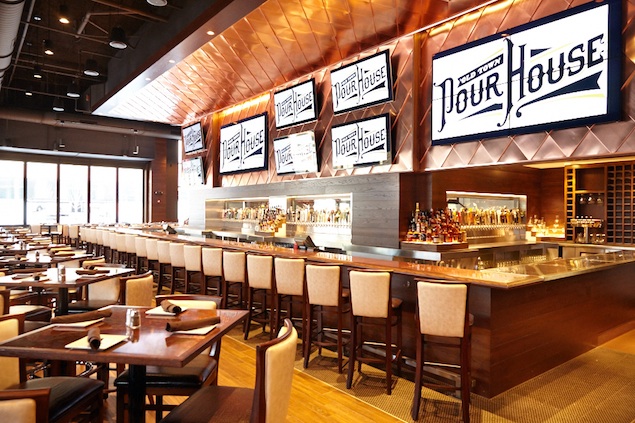 The big game: Screened on three 110-inch "video walls," which are as large as they sound. Stay tuned for specials, and what will happen in the event of a Chicago-Washington rivalry.
Old Town Pour House. 212 Ellington Blvd., Gaithersburg; 301-963-6281. Open daily 11 to 2; happy hour Monday through Friday 4 to 7; late-night food menu served Sunday through Thursday until 11, Friday and Saturday until midnight.