Anyone looking for a bacon fix and a strong drink can head to Stanton & Greene tonight, which starts their soft-opening run on Capitol Hill. The bar/restaurant will serve a limited menu from chef Josh Hutter (also of neighboring Sonoma) until the official debut on Thursday. In the mix: a triple-bacon burger and cocktails fashioned by Wisdom/Church & State owner Erik Holzherr.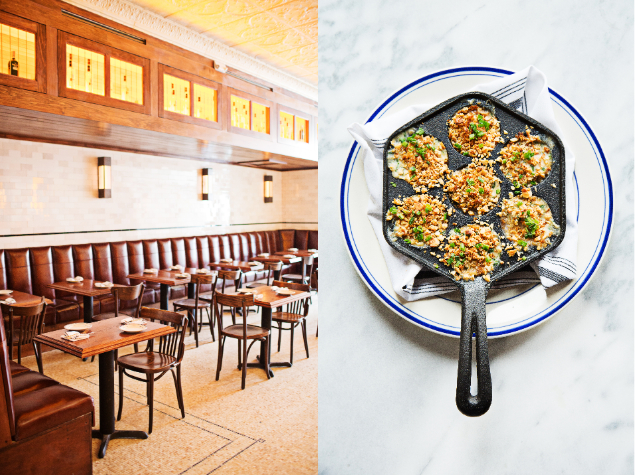 The three-level space takes over the building that once occupied the Pour House, and was completely refurbished with mid-19th century grandeur in mind. The sidewalk-level floor includes a dining room, while an Art Deco-style bar above can be used for crowded evenings or private events. A basement concept, slated to be the fanciest of the three, is still in the works.
The menu of classic cocktails and throwback dishes take the same throwback cues; think oysters Rockefeller, trout almondine, French dip sandwiches, and bourbon punch (see a preview of the menu here). The kitchen also takes modern creative license, like with the Greene burger. The towering dish is fashioned out of two six-ounce beef patties mixed with ground bacon, then topped with smoked gouda, onion rings, bacon aioli, and more crispy bacon, all served on a pretzel roll. You may want to loosen the stomach muscles in advance at happy hour, which runs Monday through Saturday and offers the likes of $4 draft beers, $6 cocktails, and discount bar snacks. A classic Mai Tai with aged El Dorado rum sounds tasty any time of day.
Stanton & Greene. 319 Pennsylvania Ave., SE.