Good news for anyone looking to take advantage of the sun and sip a beer outside: Dacha Beer Garden reopens today at 4. The al fresco Shaw bar is coming out of its winter hibernation with free t-shirts for the first 50 drinkers.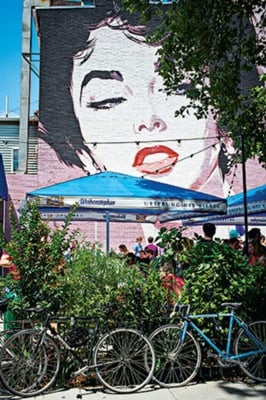 The garden makes its debut with a few improvements—the biggest being the water-closets, which have been upgraded from portable johns to brick-and-mortar bathrooms. The grounds have also been expanded slightly (more room for cute dogs!), and there're a few additional beers to drink by the stein such as Weihenstephaner Pale Ale. Thankfully happy hour remains unchanged, with $5 single brews and $10 draft boots from 3 to 7, Monday through Thursday.
The biggest changes lay ahead, as Dacha's takeover of the building next door is well underway. Once construction is complete the garden will operate with an expanded food and beverage menu thanks to a full kitchen. What was once the China Express carryout will be turned into Dacha Market and Coffee, serving breakfast sandwiches, lunch and dinner meals, grocery items, coffees, and more. We'll have updates as they come, but in the meantime, enjoy sipping outside.