Welcome to this week's Great Burger Battle! The last match was a tough one between Bethesda joint City Burger and Bourbon Steak Lounge, but the former fast-casual joint managed to put a fork in the steakhouse. You can see the current status of all the teams below.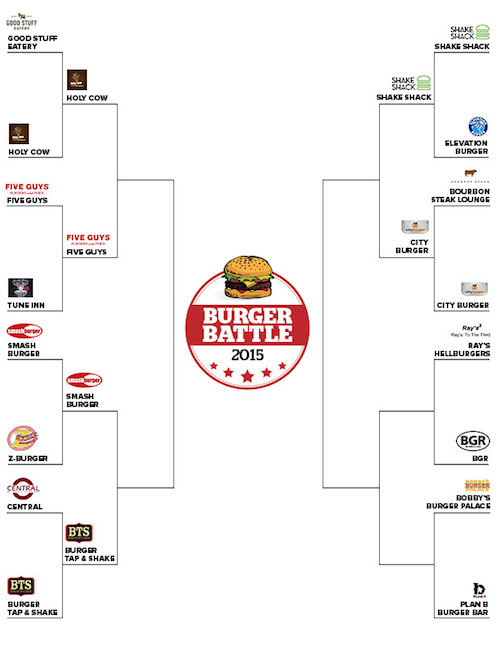 Today's contenders likely need no introduction. Though Ray's Hell-Burgers no longer have a storefront solely dedicated to their deliciousness—chef/owner Michael Landrum closed the Obama-approved eateries—they've found a new home just across the street from the original locations at Ray's to the Third. The thick beef patties, aged in-house, include heavy-hitters like the charred jalapeño-topped Big Punisher or Fat Joe, decked out with seared foie gras. But can these self-described Big Devils take on BGR's not-so-secret weapon: a nine-pound, beefy behemoth known to take down even the most worthy competitive eaters? Even when the homegrown chain breaks out its regular menu of dry-aged beef, veggie, and poultry patties, it's a tough lineup to beat—just think of the Wellington, stacked with caramelized onions, truffled mushrooms, and blue cheese.
Hungry yet? Rate your stomach rumblings in the poll.