Welcome back to the Great Burger Battle! Yesterday's crowd favorite was clear: Ray's Hell-Burgers took a pitchfork to BGR, showing no mercy with just over 62 percent of the votes. Check out the current standings below.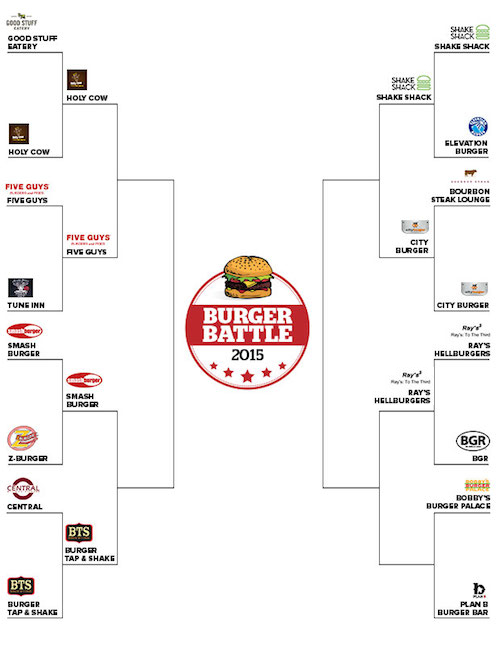 Today's fight is the last in Round One before we go to the quarterfinals on Wednesday, and it promises to be a tough one. Fittingly we picked Plan B Burger Bar to fill in for the now-closed Black & Orange, which was originally scheduled to take on today's second contender, Bobby's Burger Palace. Plan B's name is a little odd, but it stands for great things: burgers, bourbon, and beer (not second choices, life-changing and otherwise). The New England-based chainlet is relatively new to Washington, but is quickly gathering a following with their impressive lineup of patties that range from lobster-topped indulgences to a slider tower. Three mini-burgers may not be able to topple the Throwdown King's Crunchburger, jacked up with double American and a stack of potato crisps. With Bobby's ability to "crunchify" any patty—we recommend the New Mexico with queso and green chilies—the celebrity chef-owned chain may be able to claim enough chips for a win.
So who do you want to see in the next round? Show us in the polls.