One of the most anticipated openings of the spring is almost here: Bonchon is set to open its first DC branch in Navy Yard on March 30. The Korean fried chicken has earned a loyal (if not slightly crazed) following in the greater Washington area, with ten branches from Annandale to Rockville dishing up the crunchy, double-fried birds. Hour plus-long waits can form at peak times. A single branch blew through 10,000 wings on Super Bowl Sunday.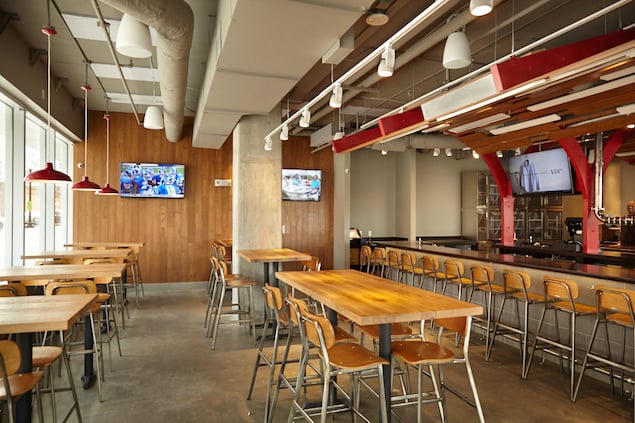 New dishes, same chicken
The inaugural District location, located just three blocks from Nationals Park, comes courtesy of Thomas An and Paul Choi, who're also behind the Arlington and Centreville branches of the franchise. The menu will be similar to Arlington's, though the team has added new Korean-fusion dishes, such as a bulgogi steak and cheese wrap and bulgogi sliders stacked on brioche buns with homemade kimchi slaw. More traditional additions include japchae, glass noodles sautéed with vegetables and beef, and a Japanese-inspired crab rice ball wrapped in seared salmon. Crunchy wings, drumsticks, and legs are a given, slicked in spicy or soy-garlic glaze.
A large bar, outdoor patio to come
Local architecture and design firm GrizForm is behind the decor, as is the case with the Arlington shop. Though not a sports bar, drinkers can post up in the 90-seat lounge area equipped with televisions for watching the game playing out at nearby Nationals Park. A full bar is armed with 30 bottles and 16 draft beers, a blend of Asian brews like Kirin and Sapporo alongside local craft drafts such as Port City and Bold Rock Cider from Virginia. Wines and spirits mirror the mix, with sakes and sojus as well as Western liquors. A separate dining area roughly seats 65, with classic Bonchon red and black hues mixed with wood tables and surfaces. Once the weather warms next season the eatery can fit 60 to 80 guests on an outdoor patio.*
Separate takeout space
Bonchon locations are known for swift takeout business—the double-fried chicken holds up particularly well—and the DC location will be no different. A designated takeout counter is located at the back of the eatery for picking up orders, particularly handy on game days or for lunch. Though details are still in the works, the team plans for special to-go packages for home Nats games.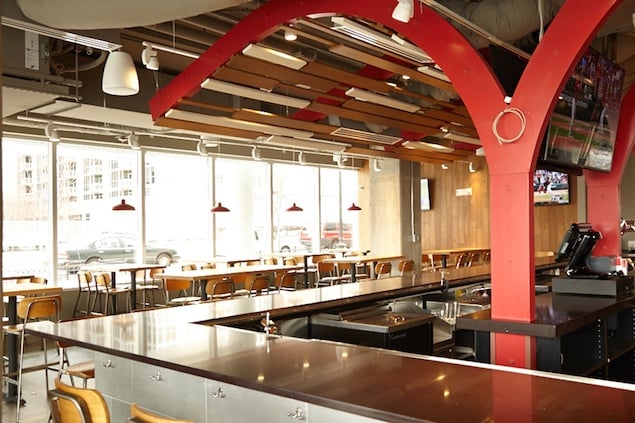 Happy hour, late night
The fried chicken spot is angling to be a place for all times of day. Happy hour will run Monday through Friday, 4 to 7, with discounted prices on five draft beers, select bottles, and dishes like the bulgogi sliders. While the cheaper offerings won't be served when the Nats are playing at home, the kitchen will remain open late for post-game revelry; 11 on weekdays, and until midnight on Fridays and Saturdays. Win or lose, late-night Bonchon is still winning.
Bonchon Navy Yard. 1015 Half St., SE.
* This post has been updated from an earlier version.