District
Orange Anchor
3050 K St., NW; 202-802-9990
Georgetowners with a taste for the sea can get their fix at this nautical newcomer on Washington Harbour. Beach-inspired fare like steamed lobster, caviar tacos, orange crushes, and 30-plus kinds of rum are served in a bright, jaunty space that spreads out onto a 48-seat patio in warmer weather. A big draw for happy hour: $1 oysters throughout the place. The restaurant also offers docking assistance and boat-delivery service for customers who aren't just dreaming of the water.
Sotto
1610 14th St., NW; 202-545-3459
Ribs and live music sound like the makings of a honky-tonk, but that's not the vibe at this moody, candelit sister to Ghibellina, just downstairs from that pizzeria. (Sotto means "under" in Italian.) Keith Cabot cooks up a regional American menu of smoked meats and house-made sausages and even throws in a few state-fair influences—such as a riff on Cracker Jack with chili-lime salt. Live jazz, blues, and neo-soul play Tuesday through Saturday as a tribute to the former occupant, HR-57 jazz club.

Stanton & Greene
319 Pennsylvania Ave., SE; 202-525-3325
A group of Capitol Hill restaurant vets have taken over the three-story building once inhabited by the Pour House. Partner and former set designer August Paro (who also co-owns nearby Beuchert's Saloon) ditched the divey decor and outfitted the dining room and cocktail den with cognac-colored leather booths and a marble bar. Chef Josh Hutter, who also oversees the kitchen at Sonoma, followed suit with retro dishes like oysters Rockefeller and brandied lobster, while Wisdom barman Erik Holzherr is responsible for such sips as bourbon milk punch.
Virginia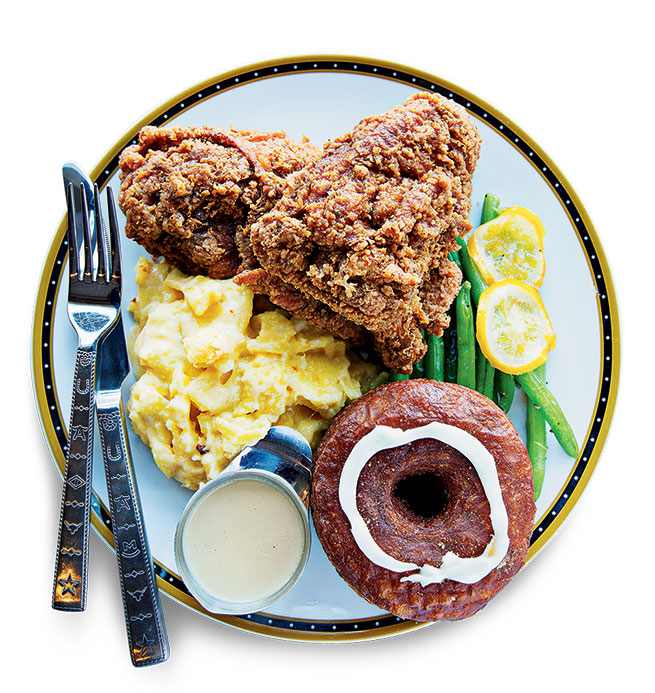 Founding Farmers Tysons
1800 Tysons Blvd., Tysons; 703-442-8783
Everything about the latest Founding Farmers—there are also locations in DC and Potomac—conveys bigness, starting with the 262-seat space decked out with a barn-like vaulted ceiling and folksy basket light fixtures. Service runs from breakfast to late evening, with menus that lean both virtuous (cold-pressed juices) and indulgent (fried chicken served with a doughnut). To drink, there are six kinds of oyster shooters and beer that can be taken home by the growler. On weekends, brunchers roam a buffet that includes a pancake bar and carving stations.
Mason Social
728 N. Henry St., Alexandria; 703-548-8800
The four longtime friends and Alexandria natives behind this Old Town spot were craving a casual local joint, so they took matters into their own hands and built one, tapping former Bourbon Steak sous chef Joseph Lennon to helm the kitchen. The result: an American gastropub where Mason-jar lamps hang above the wood-faced bar and bone-marrow butter finds its way into both a burger and a pot of beer-steamed mussels. The vibe skews more neighborhood-friendly than hipster-there's a small kids' menu—though night owls can sip vodka-grapefruit punch until 2 am Thursday through Saturday.
Ser
1110 N. Glebe Rd., Arlington; 703-746-9822
In a town flooded with tapas, Iberian and otherwise, it's refreshing to see a Spanish place that breaks from the small-plates pack. Owners Javier Candon and Josu Zubikarai, who is also the chef, took inspiration from the robust, home-style portions they grew up with in Spain—there's a section of dishes "from our grandmothers"—and also put forth seafood platters that brim with finds for adventurous eaters such as gooseneck barnacles and "Spanish caviar" (baby eels). Grab a table on the large, dog-friendly patio to sip sangría in the sunshine.
Maryland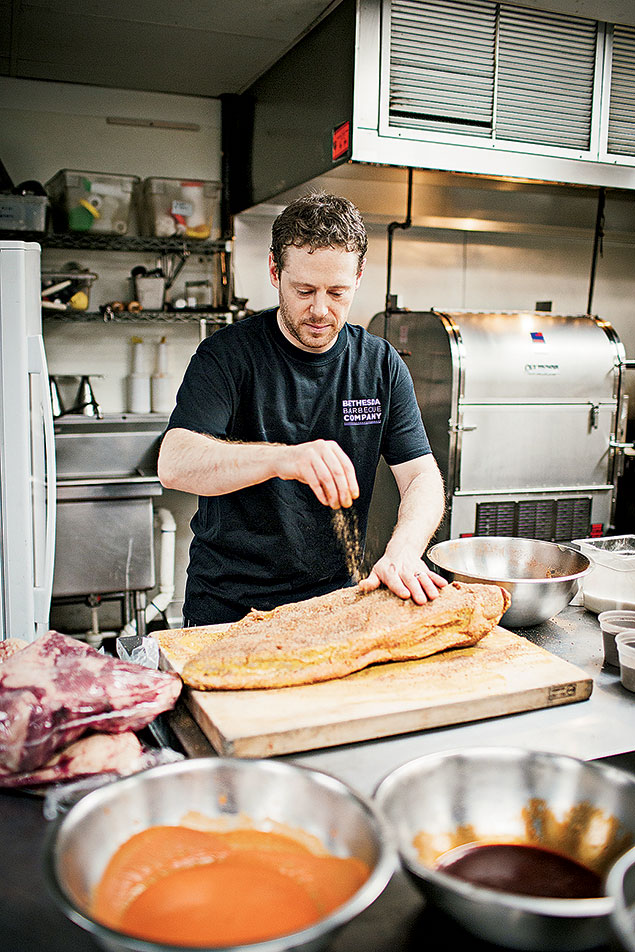 Bethesda Barbecue Company
4917 Elm St., Bethesda; 301-718-0550
Bacon pops and brisket replace white tablecloths and seared tuna at chef/owner Dennis Friedman's Bethesda space, which once housed his fine-dining concept, Newton's Table. The 100-seat restaurant has been redone with a roomier bar and wooden tables—a better setting for tearing into racks of ribs. Friedman is proffering the nomadic style of barbecue common in Washington: a little Carolina, a touch of Memphis, an Asian-style sauce for drizzling on hickory-smoked meats and salmon. To drink, there are spice-friendly cocktails and local brews.
Old Town Pour House
212 Ellington Blvd., Gaithersburg; 301-963-6281
The first East Coast location of this pair of Chicago-area brewpubs lands in Gaithersburg's growing Downtown Crown development. More than 90 draft beers are available at the handsome copper-inlaid bar, with a number of local names on the global list—including Laurel's Jailbreak Brewing Company and Alexandria's Port City. Midwesterners will find familiar dishes on the menu—miniature Chicago-style hot dogs, pretzels with beer cheese—while a 92-seat patio is the place to linger with a Moscow mule during a long Washington summer.
Summer House Santa Monica/Stella Barra Pizzeria
11825 Grand Park Ave., North Bethesda; 301-881-2381 (Summer House Santa Monica), 301-770-8609 (Stella Barra Pizzeria)
North Bethesda's Pike & Rose development gets two California-inspired eateries from the Lettuce Entertain You group. Summer House Santa Monica has a beachy, airy look and an easygoing menu of tacos, sushi, and vegetarian dishes. The adjoining pizzeria, Stella Barra, feels more urban, with a brick-walled, warehouse-like space. In true LA fashion, a "thin sin" pie is available for the carb-conscious. Wines from the Golden State flow at both.
This article appears in our April 2015 issue of Washingtonian.