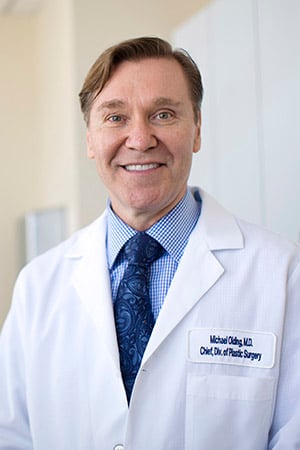 Dr. Michael Olding
Am I a candidate for a facelift, and if so what kind?
There are no preset age limits for a facelift because the effects of aging vary wildly from one individual to another. However, over 95% of people who have a facelift are over 50 and want improvement in their cheeks, jowls and neck. Although facelifts are often referred to by the type of incision utilized (for example, short scar, "S" lift, omega, direct), they all have in common the manipulation of the deeper layer called the "SMAS", a fancy medical term for the amazingly strong layer beneath the fat. When it is "lifted", the soft tissue layers of the face ( including the skin) follow along with it, thus avoiding that "pulled" or "done" look.
Should I have my eyes done at the same time or separately?
An individualized approach to each patient is necessary since not all parts of the face age at the same rate. That said, for most people, if you haven't had eyelid surgery by the time you consider a facelift, chances are you should consider it. In my opinion, there is no cosmetic surgery that gives more "bang for your buck". It is relatively uncomplicated, the scars are practically hidden, and it can make a dramatic difference in your appearance—–even if you opt to delay your facelift for another time. Obviously patients agree since it was the 3rd most common cosmetic procedure last year (behind liposuction and breast augmentation) according to the American Society for Aesthetic Plastic Surgery.
What should I expect following a facelift?
There are short term changes and long-term results. Initially the patient will be swollen and often have bruising which resolves at different rates depending on the patient and the complexity of the facelift (especially if it involves fat injections and other surgical procedures like eyes and forehead), but takes a minimum of 2 weeks for the major swelling to resolve.
As far as long term goals, it is important to discuss your goals with your plastic surgeon at the time of the consultation, since their idea about goals may be at variance with yours. My thought process, for example, is as follows: Patients should expect to look younger , better, more attractive , and often more rested, but WITHOUT looking like they had a facelift. You should not want to hear "who did your facelift" out of the blue. Common comments my patients hear are (and should be) "You look really great , who cuts your hair, you look really happy, you don't seem to age" etc. and NOT "how long ago did you have your facelift"!
Can't I just have Botox and fillers and non-surgical treatments rather than a facelift?
The effects of botulism toxins and especially fillers, (since we lose fullness in the face as we age) can be dramatic . Although nonsurgical treatments can camouflage the early facial aging changes, they can't do it forever. When there is too much sagging, only a surgical procedure will work. Discuss which of these options is best for you with your plastic surgeon.