One of the most anticipated openings of the year is here: Maketto. Toki Underground chef/owner Erik Bruner-Yang and Will Sharp of the Durkl streetwear line are behind the retail-restaurant concept, inspired by vibrant Asian street markets. The latter is more of a guiding vision than a visual theme in the modern two-story, indoor/outdoor space, which like a marketplace acts like a free-flowing venue for browsing, shopping, lounging with a coffee or cocktail, and of course, plenty of eating.
"It's sort of undefinable to a certain extent," says Sharp. "We're asking people to come and experience something new."
Maketto is open from early morning through the evening, with a variety of experiences to be had. Here's a sample of what a day may bring.
7 AM: Coffees, pastries, and occasional yoga
Part of the vision behind Maketto is to bring a daytime draw to the nightlife-centric H Street, and also create a home from several independent businesses. Local roaster Chris Vigilante runs a Vigilante Coffee bar fit for bean nerds on the second floor, where siphons brew intensely-flavored fresh cups; you can also order the house Love Boat Espresso, and drinks made with local Trickling Springs milk. Another driving force in the operation is Erica Skolnik of Frenchie's Artisan Pastries and Desserts, who's made a name supplying sublime baked goods to local farmer's markets. As the executive pastry chef at Maketto, she's set up a bakery counter with almond croissants, cardamom-pistachio morning buns, lemon cream sandwich cookies, pies, and other sweets to sample throughout the day.
A catwalk connects the top floor with an outdoor roof deck. During daylight hours the team plans to lend the space to independent yoga or fitness instructors for classes (stay tuned). At night the patio may also be used for events, or a mingling area after grabbing cocktails inside.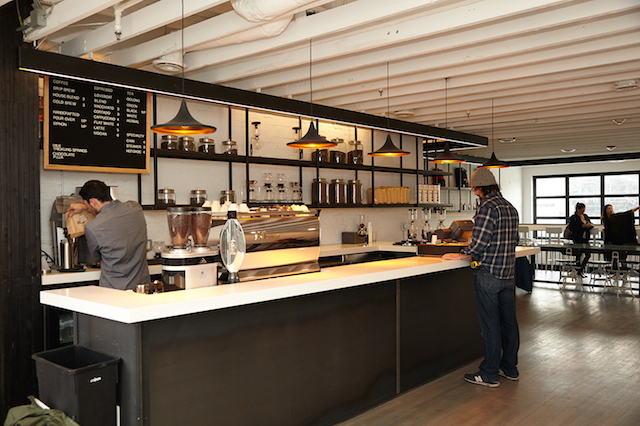 11 AM: Danish sneakers and Cambodian sandwiches
A first-floor retail space greets customers as they walk in, where men's jackets, hats, and footwear are displayed in sleek glass cases; a space adjoining the upstairs coffee bar is the place to find bags, art books, and grooming products. Though not related to Durkl, whimsical finds can be purchased in an Asian-style vending machine filled with Japanese toys and snacks.
A light, counter-order cafe menu is served from 10 to 3. Though Bruner-Yang's menu is mostly new, the daytime offerings include some items from the Union Market pop-up and Honeycomb shop, such as steamed pork bao buns and Cambodian num pang sandwiches stuffed with seasonal fillings like grilled meat, ramp aioli, pickled vegetables, and shredded bacon.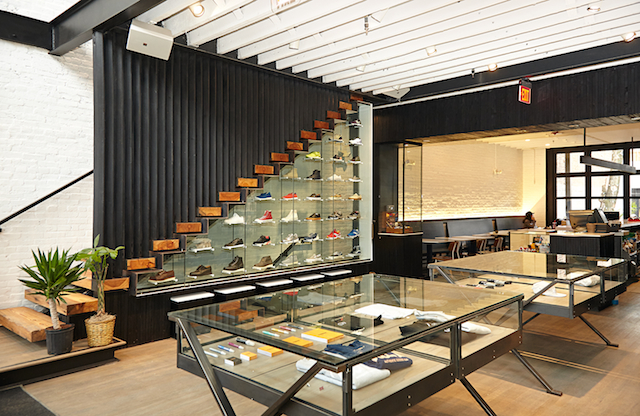 5 PM: Time for a sipping vinegar, or cocktail
Bottled cocktails will be available during the day for early drinkers, while the full program will begin towards evening hours. Toki barman Colin Sugalsky is behind the cocktails, which include riffs on classics like a Manhattan using fermented Chinese tea, or house creations such as the Pink Kao made from Kaoliang, Taiwan's national spirit. Fans of drinking vinegars—tangy fruit shrubs with only trace amounts of alcohol—will find a homemade list of flavors like beet, pumpkin, and hibiscus. The vinegars can be sipped solo, mixed with club soda, or made into a cocktail.
Part of Maketto's interactive nature means guests can wander as they please, taking food and drink to the outdoor courtyard and deck, posting up in two indoor cafe areas, or sipping while they shop.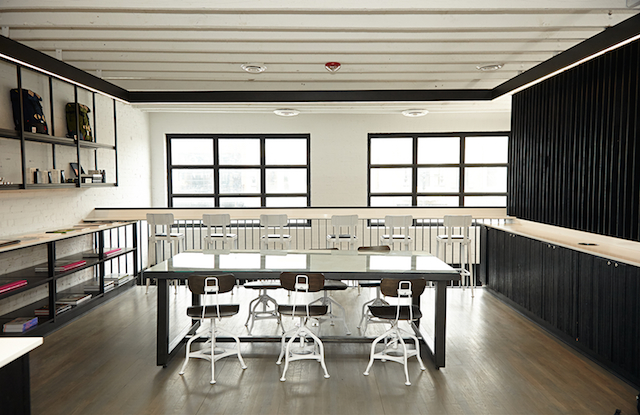 7 PM: Dinner of leek buns, Taiwanese fried chicken
The menu expands in the evenings, divided between small plates and shareable platters meant to serve two or three. While daytime eating is informal, dinner guests can get full table service in both the first and second-floor cafes, the outdoor courtyard, and the best place to watch the action: a diner-style open kitchen at the back of the lot (about 90 seats in total).
Bruner-Yang and chef de cuisine James Wozniuk turn out the menu of Chinese, Cambodian, and Southeast Asian street foods. Guests can snack on plates of lime-marinated snapper crudo, oyster and scallion pancakes, and pan-fried leek buns. The main event comes in the form of shareable platters, such as seared American Wagyu steak with bao buns and traditional accompaniments, whole crispy fish, or Taiwanese-style fried chicken with buttery milk bread.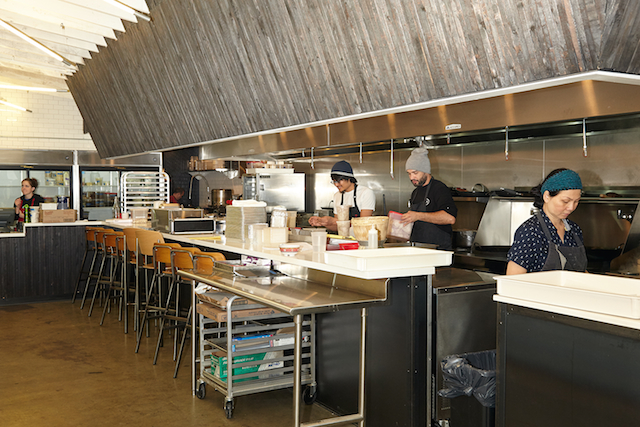 9 PM: Drinks outdoors
In warm weather the outdoor deck and patio will be the place to sip a post-dinner cocktail, though Maketto keeps restaurant hours as opposed to the late bar shift. We have our eye on a spicy-sweet Mala rum Colada for summertime.
Maketto. 1351 H St., NE; 202-838-9972. Open Monday through Wednesday, 7 AM to 10 PM; Thursday 7 AM to 11 PM; Friday and Saturday 7 AM to midnight; Sunday (initial hours) closed at 5 PM. Cafe menu served 10 AM to 3 PM.