Day 1: Shop Till You Drop
Robert E. Simon Jr. purchased 6,750 acres of land in 1961, with a mission to create one of the nation's first planned communities. He named it after himself: the first three letters of Reston are his initials. Today, Lake Anne Plaza (11404 Washington Plaza W.) remains one of the clearest incarnations of Simon's vision—a place where a community can live, work, play, dine, and shop, all around manmade Lake Anne. The central feature is the plaza, where shops line the water, with condos above.
A good first stop is the Reston Museum (1639 Washington Plaza N.; 703-709-7700), a mini-tribute to Simon's mission and the town's history. You can pick up maps and brochures touting current events and festivals, as well as a small selection of goods from local artisans. Nearby is Reston's Used Book Shop (1623 Washington Plaza N.; 703-435-9772), in business 37 years. The cozy store is owned by residents Bud and Susan Burwell, who have furnished it with comfortable seating to encourage patrons to linger or attend readings by local authors.
If weather allows, you can take your new book next door to enjoy over an early lunch on the patio at Café Montmarte (1625 Washington Plaza N.; 703-904-8080), which serves French bistro fare alongside a handful of Vietnamese signatures like pho and grilled-pork vermicelli. Afterward, stop at Chesapeake Chocolates (11426 Washington Plaza W.; 703-620-0082) for owner Doris Tyler's artful candies—gift-ready in boxes and with beach-inspired shapes like crabs and shells.
French food not your thing? Another place to refuel is nearby Ariake (12184 Glade Dr.; 703-391-9006), a Zen-like Japanese spot set off from the surrounding business developments with trees and a flagstone patio for warm-weather dining. Sushi chefs greet customers from behind the counter—check the daily board for specials like bluefin toro or shad, and don't miss the spicy tuna with avocado, escolar, and crunchy rice.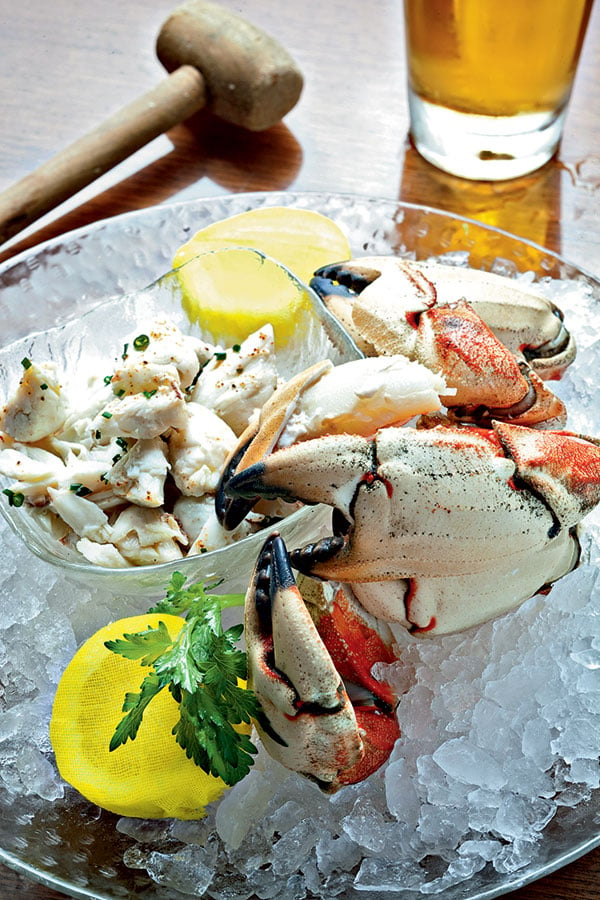 If you're after a more bustling shopping experience, check out Reston Town Center (11900 Market St.), the area's most thriving commercial district. Among 50 retailers, you'll find largely national brands such as Anthropologie, Williams-Sonoma, and Apple, as well as an open-air pavilion, home to an ice-skating rink in winter and a free concert series in summer.
Even with a high density of restaurants—including a number of local chains, such as Clyde's (11905 Market St.; 703-787-6601), Pitango Gelato (11942 Democracy Dr.; 703-606-9906), and a forthcoming outpost of the tapas eatery Barcelona Wine Bar (12025 Town Square St.)—our favorite place for a shopping break is still PassionFish (11960 Democracy Dr.; 703-230-3474). Chef Jeff Tunks's standout seafood restaurant is going strong after seven years thanks to dishes like wood-grilled fish, fried clams, and lobster with Thai red curry.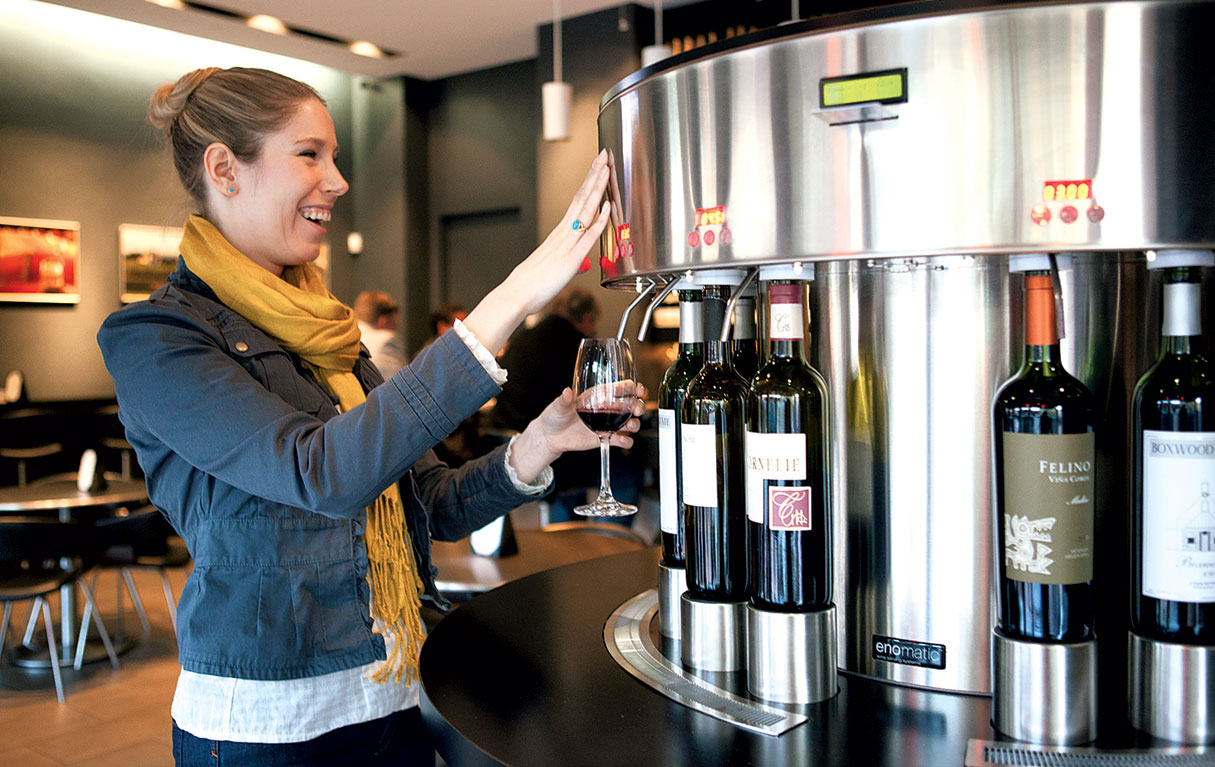 For a quicker stop, visit the Tasting Room (1816 Library St.; 703-435-3553), a shop and wine bar run by Boxwood Estate Winery, one of the most highly regarded Virginia vineyards. In addition to local wines, there's a global selection by the glass as well as light fare such as cheese and charcuterie boards and panini.
Minutes away in Herndon, Urban Retreat (290 Sunset Park Dr.; 703-689-3404) is a can't-miss staple that recently relocated from Reston. It's now under the same roof as its sister company, Home Escapes, a patio-furniture and Jacuzzi retailer. Urban Retreat's home furnishings are all customizable and domestically made, and the company is known for taking special requests to recreate a favorite Pottery Barn or Restoration Hardware item at a lower price.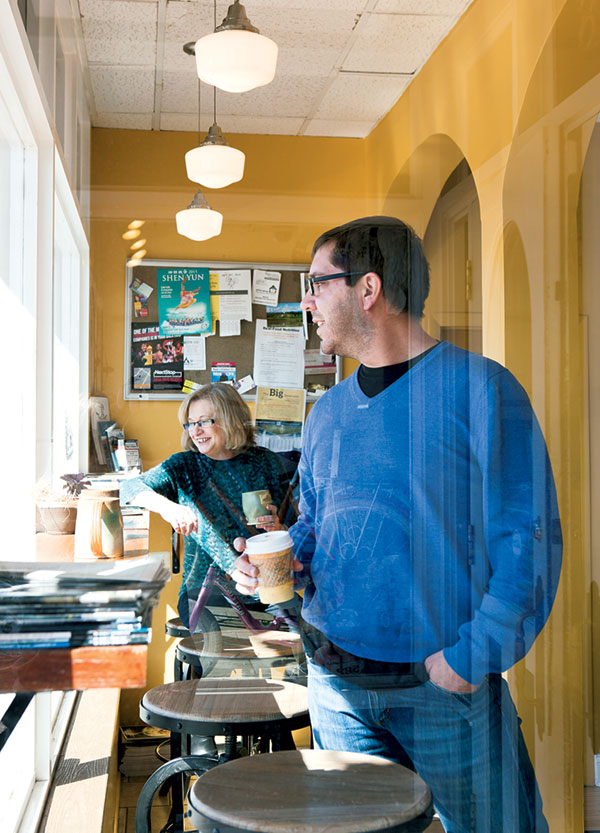 For thriftier finds, the Closet of Greater Herndon (845 Station St.; 703-437-7652) is filled with a home's worth of secondhand items, from shoes and neckties to glassware, toys, and kitchen appliances. Don't expect to snag current fashion or the latest DVDs, but treasures can be found amid the discards.
Just down the street is Green Lizard Cycling (718 Lynn St.; 703-707-2453), a community-oriented store that defies definition—part bike shop, part spinning studio, part cafe. Bikes and all necessary accoutrements are sold in front, while in back, seasoned bikers can bring their own cycles and participate in an indoor biking class geared toward keeping road racers in shape during the colder months.
After taking part in the class, reward yourself at Waku Chicken (458 Elden St.; 703-870-7448), where the juicy, nicely seasoned Peruvian-style birds are pulled from the spit, cut into quarters, and served with a choice of sides—we like the plantains and roasted potatoes—and a duo of creamy, spicy sauces.
Day 2: Day of Family Fun
The small-town settings and parks of Reston and Herndon make for many family-friendly outings. If it's sunny, take the crew for a hike at the Walker Nature Center (11450 Glade Dr., Reston; 703-476-9689). Let young ones explore the books and puzzles and say hello to the center's corn snake and box turtle while you pick up a trail map or a scavenger hunt that the kids can fill out on the walk. There's plenty to explore in the 72 acres of forest, and the center puts on educational programing, featuring topics such as stargazing and plant identification.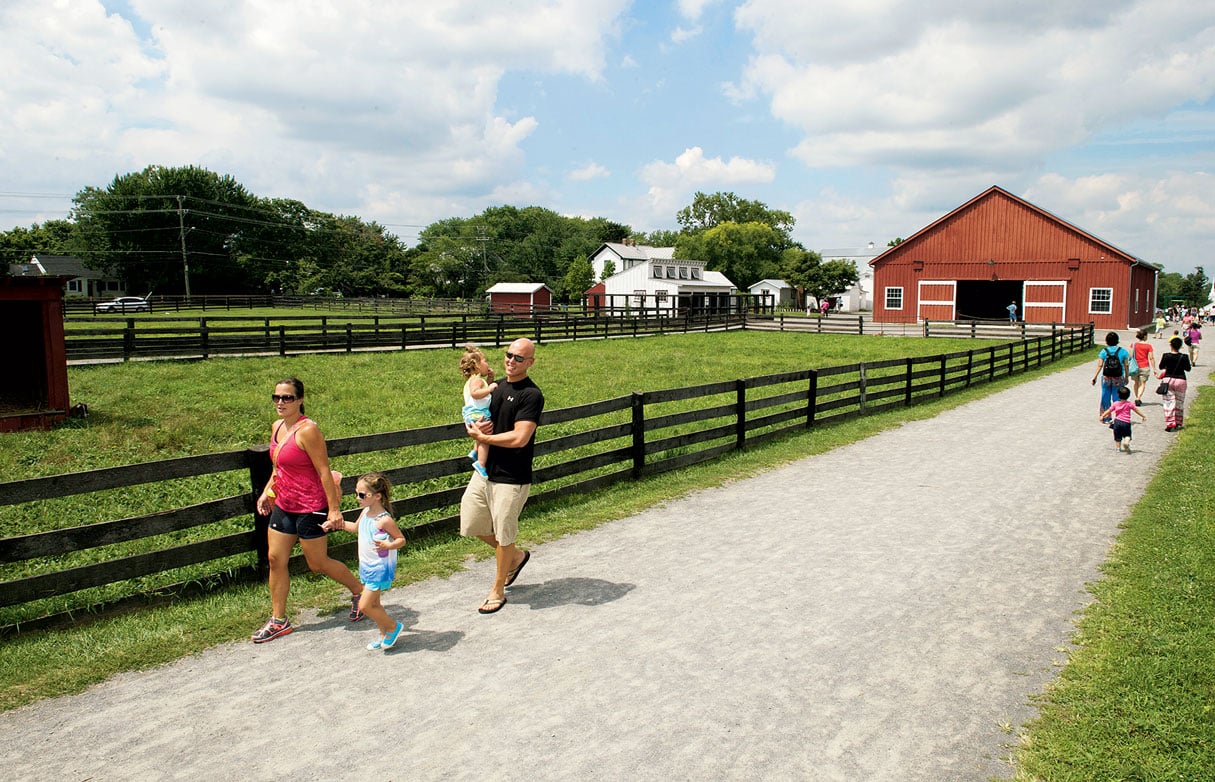 Fifteen minutes west is Frying Pan Farm Park (2709 West Ox Rd., Herndon; 703-437-9101), home to Kidwell Farm, a working farm that will take you back to the 1930s. Tour the farmhouse to experience how a family would have lived at the time, then explore the rest of the property and meet its resident horses, sheep, goats, cows, pigs, peacocks, and rabbits.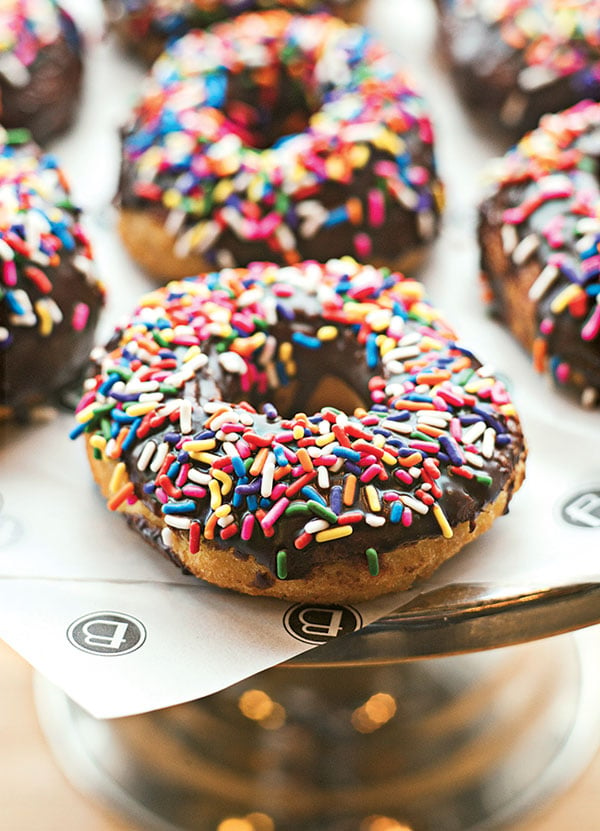 Both parents and kids can eat well at the multitude of options in Reston Town Center. Breakfast and house-made doughnuts are served all day alongside burgers and shakes (boozy and virgin) at the local outpost of the Ted's Bulletin chain (11948 Market St.; 703-956-9510). More American comforts can be found at Jackson's Mighty Fine Food & Lucky Lounge (11927 Democracy Dr.; 703-437-0800), where all ages devour the free Ozzie Rolls (salty-sweet doughnut holes) that land on every table. The under-12 menu offers everything from mac and cheese to a petite grilled salmon filet. Craving a sweet? Red Velvet Cupcakery (11939 Democracy Dr.; 703-464-7075) bakes delicious flavors like cookies and cream, lemon-coconut, and birthday cake, including vegan and gluten-free options.
For kid- and wallet-friendly shopping, head to Small Change Consignment at Reston's Lake Anne Plaza (1629 Washington Plaza N.; 703-437-7730), which has been selling lightly worn children's clothes and shoes for more than 30 years. The shop carries infant through teen sizes, toys, and maternity clothing, too. Baby Blossom (1631 Washington Plaza N.; 571-313-1717) is perfect for new or expecting moms, selling bedding, furniture, toys, strollers, and car seats. In warm weather, let the kids play in the plaza's splash fountains or float on the water in a rentable paddle boat ($6 an hour).
If you're visiting on a Saturday, you can take advantage of the Reston Farmers Market (11404 Washington Plaza W.; 703-318-9628) which takes over Lake Anne Plaza May through November, with an array of vendors selling goods. Pick up Colonial Kettle Corn for the kids and fruit from Reid's Orchard & Winery.
The Herndon Farmers Market, which runs the same months, is another great spot for families to support local businesses and farms, with treats from Grace's Pastries and fresh noodles from Cavanna Pasta alongside frozen-fruit popsicles from Whim Pop. And don't miss the year's biggest family-friendly outdoor event: the Herndon Festival, which celebrates its 35th year May 28 through 31, with carnival rides, live music, and fireworks in the historic downtown area.
If it's an indoors kind of day, you'll find activities for the whole family at the Herndon Community Center (814 Ferndale Ave.; 703-787-7300), which offers individual or family day passes ($5.25 to $18). Three racquetball courts, an indoor pool, six tennis courts, and a full-size gymnasium are good places to burn energy, as is the lineup of special events—bring the kids for the "dive-in" movie on April 24, where you can watch Big Hero 6 from the pool.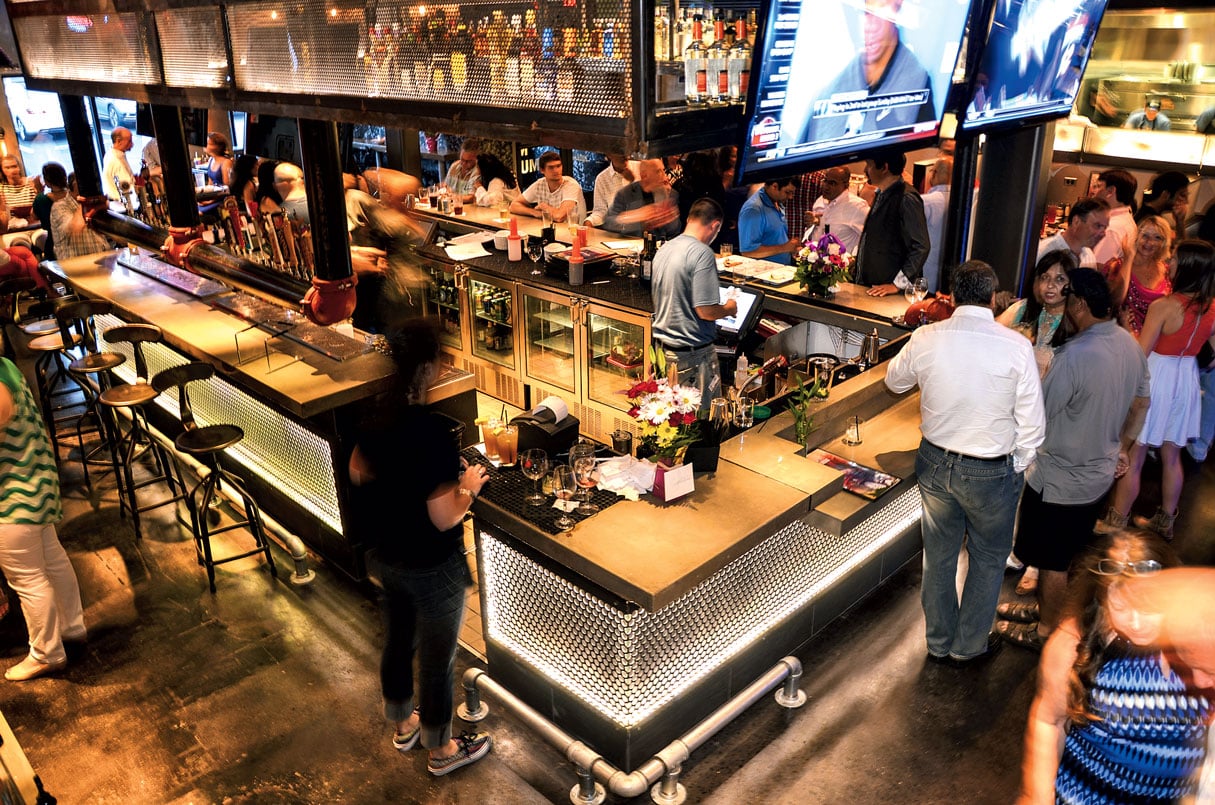 Cap everything off with pizza night at Mellow Mushroom (1030 Elden St., Herndon; 703-707-9300), a funky joint nearby with 30 craft drafts for mom or dad, a $5.50 menu for the under-ten set, and creative pies toppings including red-skinned potato and barbecue chicken to feed the whole family.
Day 3: Plunge into the Arts
Reston and Herndon are home to thriving arts communities as well as venues that host local talents and touring groups.
The largest gathering of visual and performing artists can be found at the annual Northern Virginia Fine Arts Festival, which runs May 15 to 17 and is sure to attract thousands of spectators and potential buyers with varying budgets. Now in its 24th year, the festival converts the streets of Reston Town Center to thoroughfares of 200-plus painters, sculptors, photographers, and jewelers selected by a jury including members of the Greater Reston Arts Center ($5 donation suggested; children 18 and under free).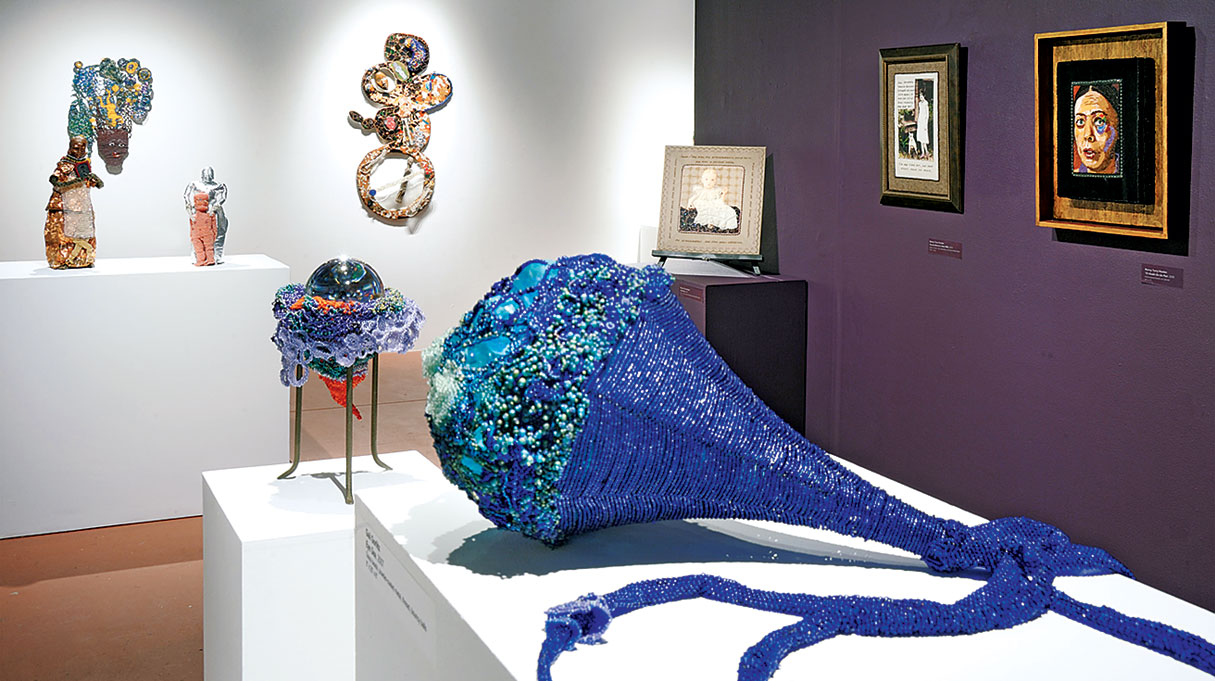 The arts center is a year-round destination hosting contemporary Mid-Atlantic artists in a modern gallery space (12001 Market St.; 703-471-9242). April 25 through July 3, it features sculptor Patrick Dougherty, creating a fantastical, tumbleweed-like installation fashioned out of tree saplings in Town Square Park. Inside the gallery, DC printmaker Patterson Clark—a longtime writer and illustrator for the Washington Post's Urban Jungle nature column—displays "weed shrines," a series of prints of natural objects ensconced in a whirling tangle of plants (April 16 through July 3).
Herndon's hub for the visual arts is ArtSpace Herndon (750 Center St.; 703-956-6590), a community-oriented gallery and event space flanking historic downtown. Seven exhibits planned through July draw from local talent, ranging from photography to an upcoming exploration of technology in the arts (May 12 through 24). Take a stab at making your own art in one of two classrooms, which host lessons in oils, sketching, photography, and watercolors for aspiring artists of all skill levels (prices vary). You can also take part in an art class with wine on the second Wednesday of every month ($30; 7 to 9 pm) or check out monthly films on the first Friday of the month ($7.50; 7:30 pm).
Make a night of it by dropping into nearby Europa Restaurant (790 Station St., Suite 1000, Herndon; 703-437-4702) for a tasty selection of tapas such as garlic shrimp or chicken croquettes and a robust wine list that spans the globe from Spain to Virginia.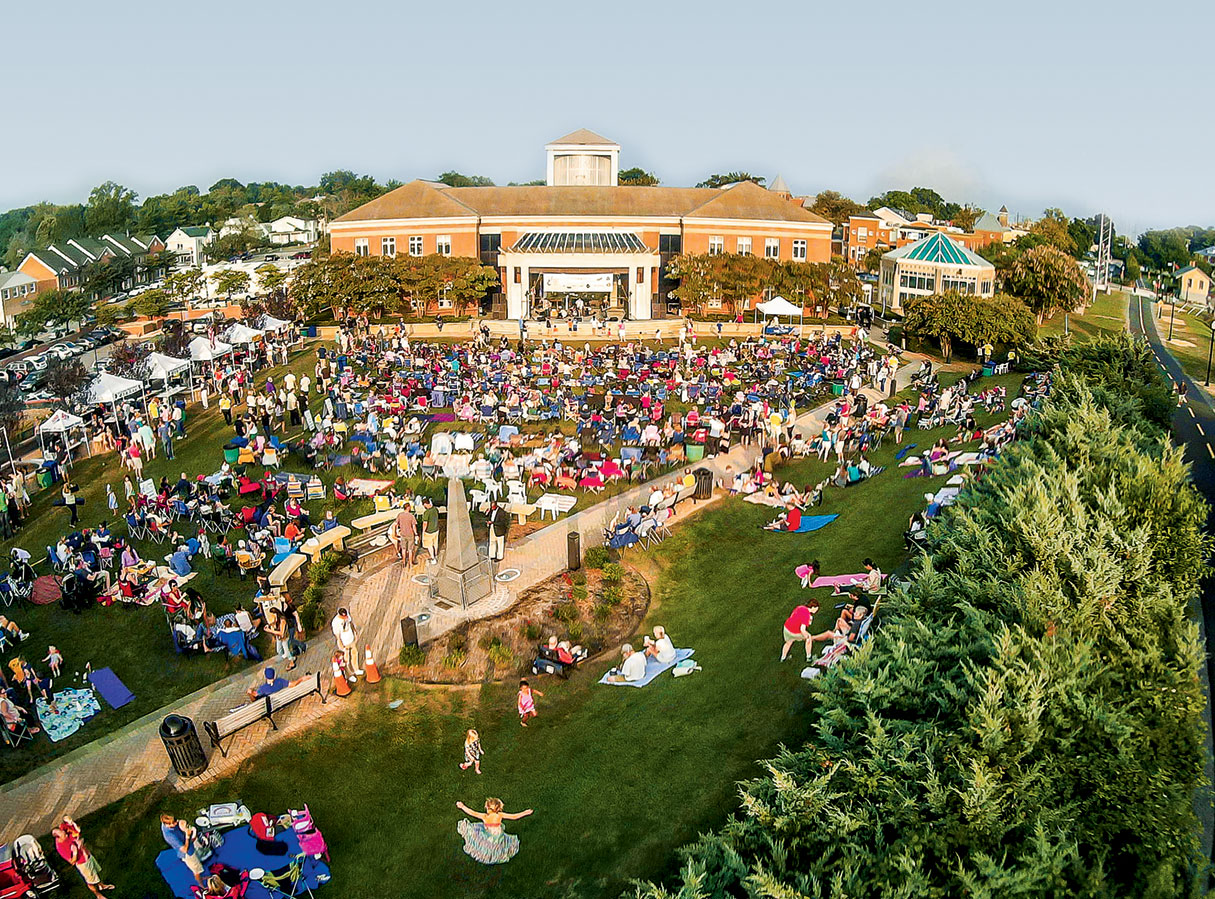 Just outside ArtSpace Herndon, the Town Green is the site of Friday Night Live, one of the biggest outdoor concert series in Fairfax County (777 Lynn St.). Each Friday evening May through August, the free series brings bands playing classic and modern rock, reggae, and funk to hundreds of fans. The shows have grown over the past two decades to encompass food from local vendors, including JJ Deli sandwiches and Mediterranean fare from TurCuisine.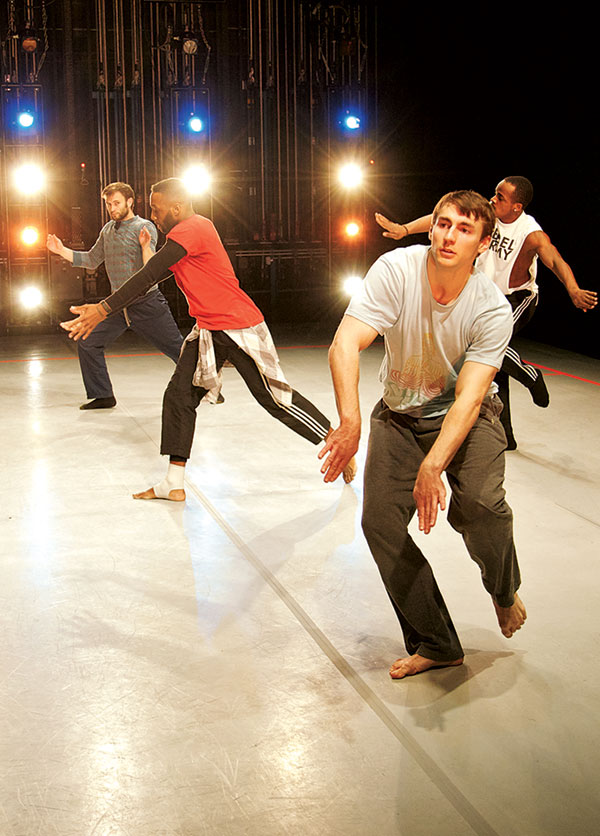 You can enjoy live music and tasty food any time of the year at one of two favorite haunts. Locals love Jimmy's Old Town Tavern (697 Spring St., Herndon; 703-435-5467) for its hot wings—the original Jimmy hailed from Buffalo. Wednesday open-mike nights draw acoustic guitar players and bands, while a deejay takes over after the weekly Friday-night fish fry. Over at the Ice House Cafe & Oyster Bar (760 Elden St., Herndon; 703-437-4500), Friday and Saturday evenings arrive to the tune of live jazz and blues by weekly rotating groups.
Get your theater fix at several venues in the area. A variety of professional touring companies come to the Reston Community Center's CenterStage (2310 Colts Neck Rd.; 703-476-4500), a contemporary 290-seat theater at the Hunters Woods Village Center. The spring lineup includes BOOM!, an exploratory dance performance by Cynthia Oliver (April 1), and the Grammy Award–winning Turtle Island Quartet, with jazz vocalist Tierney Sutton (May 30); prices vary but generally range from $15 to $50 for nonresidents.
Herndon's NextStop Theatre Company (269 Sunset Park Dr.; 703-481-5930), an intimate 114-seat space, was converted from a warehouse in 1989. Programming runs the gamut—March 26 through April 19, you can enjoy a musical adaptation of the beloved children's novel The Secret Garden ($34 and up), and May 28 through June 21 brings the historical drama A Man for All Seasons ($28 and up).
Assistant fashion editor Caroline Cunningham can be reached at ccunningham@washingtonian.com. Associate food editor Anna Spiegel is at aspiegel@washingtonian.com.
This article appears in our April 2015 issue.