Adams Morgan has an interesting new hangout, and it's not just for the evening crowds. Songbyrd Record Café just opened in the former Showboat Lounge space, mixing elements of a retail vinyl record store with a coffee house and sandwich shop. Owners and AdMo locals Alisha Edmonson and Joe Lapan are behind the project, as well as the upcoming "music house" adjoining the cafe. Here's what to look for when you go.
Mumbo slice and jumbo slice
Chef Matthew Richardson (previously of 1905 and the Argonaut) is behind the all-day-and-night cafe menu, which will be served from lunch through close. Skip the Jumbo Slice remorse and try Songbyrd's version of the AdMo icon, a toasty focaccia pepperoni pizza—or even better, the Mumbo Slice, topped with a mustardy mumbo sauce, provolone, roasted pineapple, and chopped pork. Sandwiches made with house-roasted meats and fresh sauces fill the rest of the menu, such as a veggie muffaletta with olive tapenade or crispy chicken schnitzel with hot pickles.
Unfussy coffee
Edmonson comes from a coffee background—her family owned a coffee roastery in Oregon, and she was trained to brew by a chemist. Still don't expect latte art. "I'm just going simple and good," says Edmonson. The cafe currently serves Equal Exchange, a fair trade organic coffee from small-batch producers in Africa and South American, and imported a Nuova Simonelli machine from Italy to brew espresso drinks.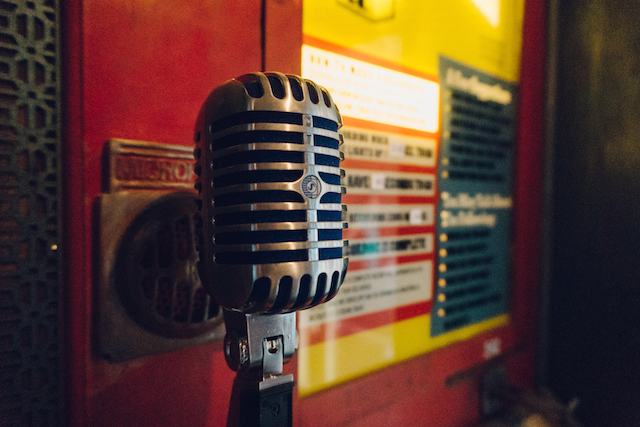 A 1947-style recording studio
The centerpiece of the shop is a 1947 Voice-o-Graph, one of the few in the country. Originally the phone booth-like machines were conceived as a way to make short recordings, and were popular during wartime as a way to send messages to loved ones. Songbyrd's machine has been outfitted with new amps and can record up to three minutes and ten seconds; users can take home their own 45-rpm records for $15 a pop.
Plenty of vinyl
If making your own music or jokes isn't appealing, the shop has a collection of roughly 350 vinyl records to browse. The collection emphasizes soul, funk, R&B, hip-hop, and indie artists, with a few other genres mixed in.
More music to come
While the Record Café is up and running, plans for the adjoining space are still in the works. The owners are remaining fairly tight-lipped about the project until more details are finalized, but one can expect alcohol service and another menu from Richardson by early summer.
"We're trying to restore the space into something that's beautiful and brilliant, and music-centric," says Edmonson.
Songbyrd Record Café. 2477 18th St., NW. Open Tuesday through Thursday, 10 to 10; Friday and Saturday 10 to midnight. Closed temporarily on Mondays.