There's no shortage of fast-casual pizza in Washington, but Veloce plans to bring a different style of pie to the table when it debuts on Monday, May 4. Pizzeria Paradiso owner Ruth Gresser is one of a few established chefs jumping into the quick-service game—think José Andrés's Beefsteak, G by Mike Isabella—and approaches Veloce with a similar (albeit faster) attitude than when she debuted the original Paradiso on P Street in 1991. Doughs, sauces, and toppings like sausage are fresh-made in house, and ingredients are sourced with an organic, local-when-possible ethos—including Veloce's Maryland-made Marra Forni oven, ready to churn out pizzas and calzones in two minutes.
The eatery debuts with a free lunch giveaway on Monday, starting at 11:30. The first 100 guests receive complimentary personal pies (limited to one per person). Here's what to look for when you go.
Design-your-own breakfast pizzas with local coffee.
Being encouraged to eat pizza for breakfast is a little like having ice cream for dinner. In a word: awesome. The shop opens at 7 AM for early risers, serving locally-roasted Compass Coffee and a menu of egg-topped pies that are slightly smaller than the lunchtime equivalent. Diners can opt for house combinations like The Flag, made with scrambled eggs, Italian cheeses, and roasted cherry tomatoes, or design their own. In a big rush? Grab a smoked salmon breakfast pocket with herbed mascarpone cheese.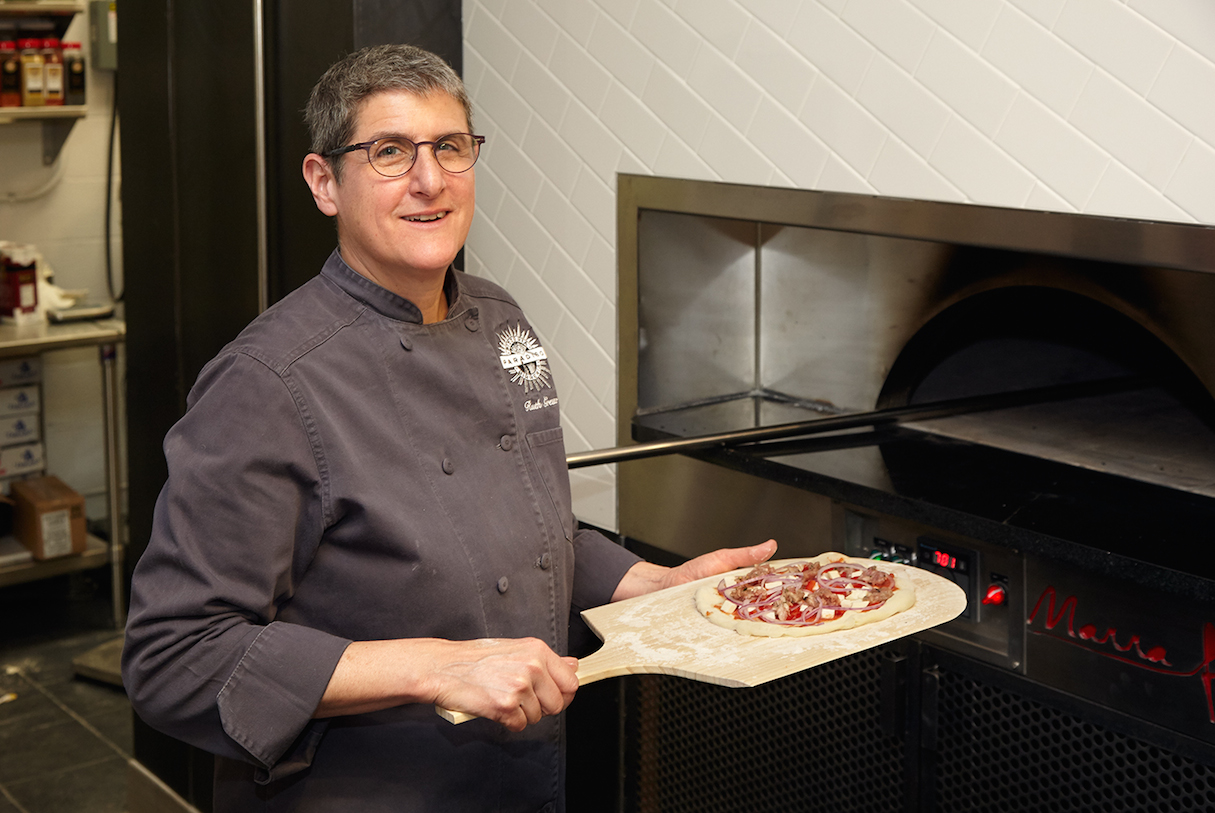 Unusual crusts and toppings.
Crusts play a large role at Veloce, as evidenced by the large brick-and-gas oven designed to give pies a light char, similar to traditional wood-burning varieties at Pizzeria Paradiso. The kitchen produces four fresh varieties: traditional white, whole wheat, and a grain-seed version made with rye, spelt, oat, and flax. There's also a gluten-free option. Guests can pick one and then customize with a variety of sauces, cheeses, and toppings, which go far beyond typical pepperoni. Think fresh-made pesto, buffalo mozzarella, house-made sausages (lamb, pork, and chicken) and kale. The afternoon menu also offers creative combinations in both meat and veggie forms.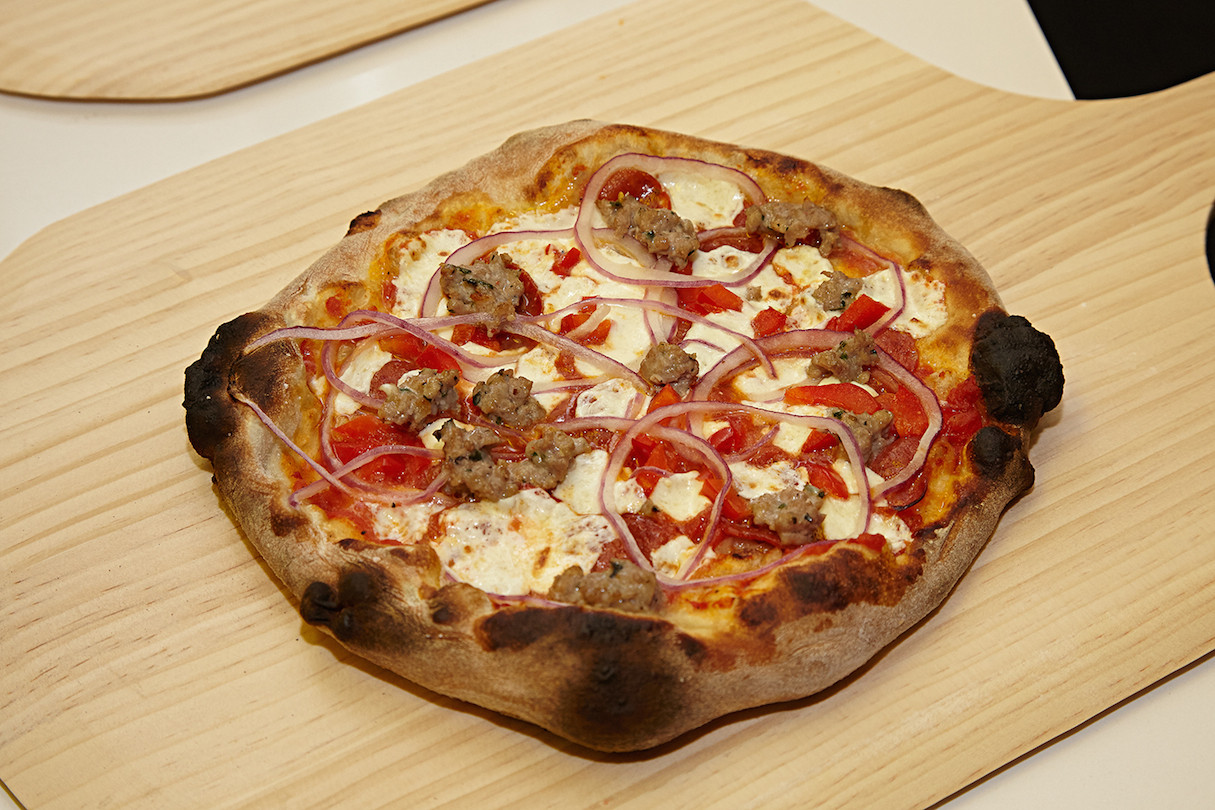 Quick-grab sandwiches, seasonal salads.
Though pizzas are designed to be quick–hence the name, which means "fast" in Italian–diners in big rush can grab ready-made "pocket" sandwiches stuffed with smoked salmon, roasted vegetables, and more. Round out a meal with seasonal side salads, which will include asparagus for May. A monthly-changing pizza will also feature the spring veggie, and others like it going forward.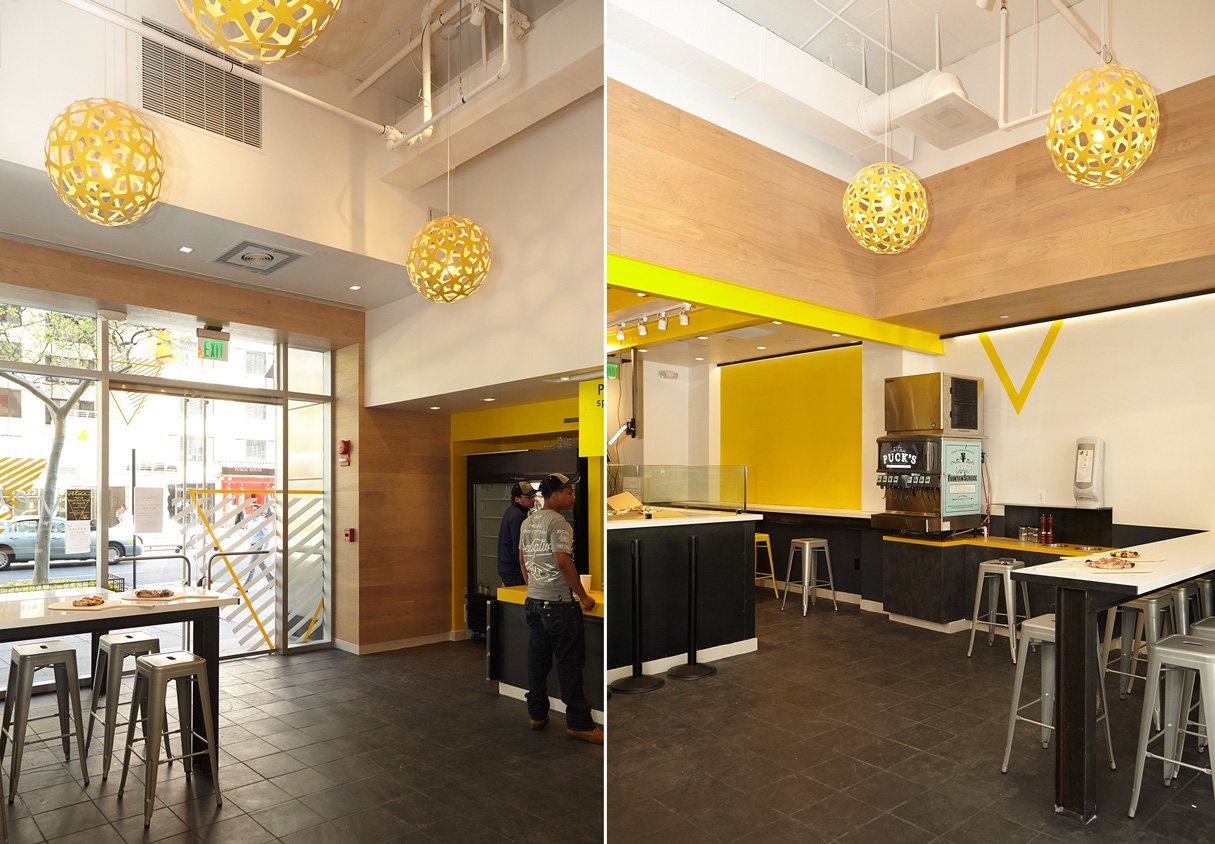 Outdoor seating
A communal table and counter seats can fit 18 diners indoors, with an additional 16 seats on an outdoor patio. There's no alcohol served, but local coffee and Puck's fountain sodas can be sipped al fresco or in the sunny space.
Veloce. 1828 L St., NW. Open for breakfast, lunch, and early dinner. Monday through Friday, 7 AM to 8 PM.