I've always wanted to walk the whole of the Chesapeake & Ohio Canal, which winds 184.5 miles from Georgetown to Cumberland, Maryland. It seems such a quintessentially American journey: The canal, or rather the idea of it, is almost as old as our confederation of states, with George Washington himself founding a company in 1785 to open up the Potomac to parts west. (The company went bust, as did many entities associated with the canal—but that's a story for another day.)
On a half-thawed March morning, I scaled back my ambition to the canal's first 14 miles, from Georgetown to Great Falls. The first stretch of towpath, behind M Street, is brick-lined and hushed, abutting low-slung brick buildings that evoke Georgetown's Colonial past.
The towpath soon devolved into a muddy quagmire, so I switched to the paved Capital Crescent Trail, which runs parallel to the canal for 3.5 miles. This bike-heavy path goes past Fletcher's Boathouse (4940 Canal Rd., NW; 202-244-0461), a fine stopping point if you're doing a short walk: You can rent a kayak, canoe, or bike or unpack a picnic. But if you continue past Fletcher's, you'll be rewarded by one of the finest mini-monuments on the walk, an old stone sign protruding like a grave marker, with miles to w.c. (Washington City) etched on it—a reminder of how long the canal, whose construction began in 1828, has been here.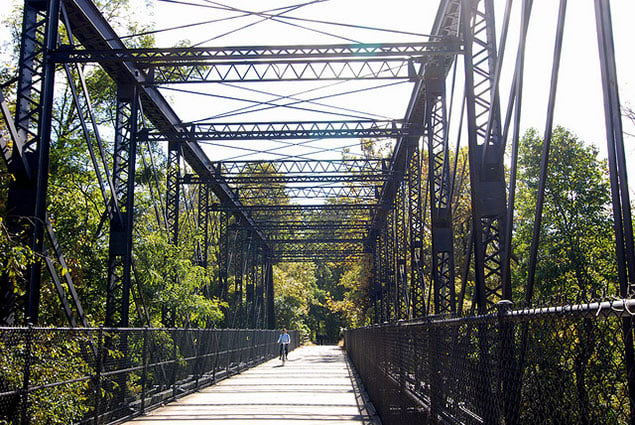 The towpath, by its nature, is straight and flat; at times, especially in the miles after Fletcher's, it can also get dull. But the C&O always tosses up rewards: Past the Little Falls Pumping Station (mile 5.8), the river opens up and you suddenly feel far removed from crowded Georgetown.
The C&O attracted nearly 5 million visitors in 2013, but on the blustery morning I chose, only about three others had ventured out. After measuring my foot against an alarmingly big animal print (did bobcats live around here?), I stopped at Lockhouse 10 (mile 8.8), one of the many C&O lockhouses you can rent for the night, where a friend met me with food.
"This is sort of boring," she observed a mile after joining me. I agreed. It wasn't that bucolic, either, especially on the stretch with the Beltway on one side and Clara Barton Parkway on the other. Then we reached the parking lot opposite Old Angler's Inn, at mile 12.3 (10801 MacArthur Blvd., Potomac; 301-365-2425), a restaurant packed with kayakers most of the year. This lot fills up early, so starting from Lockhouse 10 or the Carderock lot (mile 11.1) is a good option.
The two miles between Old Angler's and the falls is a popular stretch of the C&O, and for good reason. We gasped when we came upon the body of water known as Widewater, which resembles a serene alpine lake but is in fact a manmade part of the canal—one that floods frequently. "This looks like Norway!" my friend exclaimed, pointing at the boulders jutting out from the water. "Or the Rockies," I said.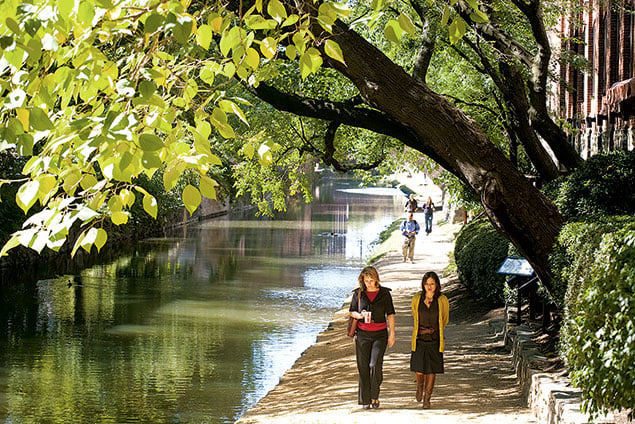 One section of the Billy Goat Trail branches off from this part of the towpath, but we continued along the canal to Great Falls, whose massiveness I properly appreciated for the first time. (Without the need to circumvent the churning waters, there likely would have been no C&O.) Almost six hours after I'd set forth from Georgetown, my friend and I stood on an overlook, taking selfies and basking in our accomplishment.
As dusk settled, we moved to a bench outside the Great Falls Tavern visitor center. There—like any good 21st-century hiker—I summoned Uber to take us home. Eight minutes later, reclined against the faux leather of the SUV, I couldn't help but think George Washington would have appreciated how efficiently we'd navigated his mighty Potomac.
Find out more information on the C&O Canal towpath.
Go Back to Our List of Great Walks ››
This article appears in our May 2015 issue of Washingtonian.