Rappahannock Oyster Co. is becoming a household name among Washington's shellfish-lovers. The Virginia oyster farm supplies over 25 restaurants in the area, and runs it owns popular eateries in Union Market and Southern Virginia. Now there's yet another place to slurp the briny Chesapeake Bay Stingrays and Olde Salts: Brine, a 190-seat Mosaic District restaurant from Rappahannock co-owner Travis Croxton.
Croxton has partnered on several projects in the past, including Southern Efficiency and Eat the Rich, and owns two sister Rocksalt restaurants in Virginia and North Carolina; the name was originally intentioned for the Fairfax eatery, but it was too close to the unaffiliated BlackSalt. Brine is his biggest venture yet, and arguably the most ambitious. An outdoor patio fits 70, while the dining room holds another 120 guests. Shuckers at the raw bar pop open clams and oysters, while cooks turn out wood-roasted meats and fish. Croxton tapped former Bourbon Steak chef John Critchley to helm the kitchen, and devise a seafood-centric menu that capitalizes on the bounty of the Bay—and not just popular catches like rockfish and crabs.

"We want to bring back some of the local fish, like croaker and perch," says Croxton. "There are a few fish that are in big demand, so when the season closes, the fishermen are out of a job. But if people would buy croaker, they'd have jobs year-round."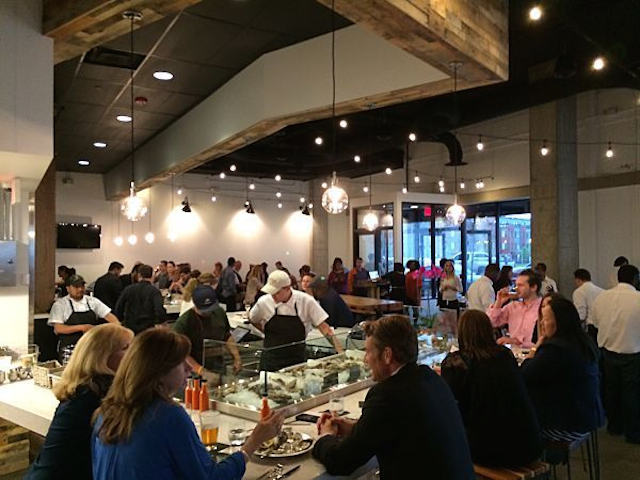 Guests looking to try the likes of croaker (and yes, rockfish) can order the filets simply grilled over a wood fire, served with sauces like salsa verde or lemon aioli. The rest of the menu centers around sharing, whether in the form of decadent shellfish plateaus or small plates such as plankton bucatini; Critchley takes marine phytoplankton—the tiny floating plants fancied by krill—and adds it to pasta dough along with toasted seaweed, fashioning umami-rich noodles that are tossed with brown butter, chilies, and Olde Salt clams. The kitchen also makes a nightly rotisserie, grilling a whole fish or "lambchetta," a sausage-stuffed lamb version of traditional porchetta. Not all the food is quite so high-minded–kids are welcome, and can order a burger or homemade chicken tenders.
Cocktails take cues from the kitchen. Barman Jo-Jo Valenzuela makes various components in house, like a carrot-infused tonic for the What's Up Doc, a rabbity riff on a classic gin-and-tonic. There's also a dark n' stormy for less exotic tastes, as well as a variety of wines and 20 local draft beers. Anyone looking to drink oysters should try a Flying Dog "Pearl Necklace," brewed with—what else?—Rappahannock River bivalves.
Brine. 2985 District Ave., Fairfax; 703-280-1000. Open daily for dinner. Brunch Saturday and Sunday, 11 to close. Lunch begins late May.