Large-format cocktails are increasingly popular among Washington's bartenders, from traditional scorpion bowls to newfangled drinks poured out of coffeemakers. Sticker-shock can ensue glancing at a menu—$45 for a drink?!—but remember that most are meant to be consumed by four people, or two with hollow legs. Sharing can even be more wallet-friendly than going solo, given the proliferation of $14 concoctions.
As for presentation, bars have gone well beyond the punch bowl when it comes to serving cocktails for a crowd.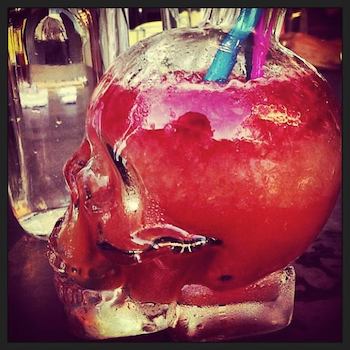 Drink from a skull: Farmers Fishers Bakers
3000 K St., NW
Booze literally goes to the head at this Georgetown Waterfront spot, where a rum-based zombie punch arrives in a human skull-shaped vessel. Don't want to channel Temple of Doom for cocktail hour? Try a mai tai punch, served in a flaming scorpion bowl.
Details: Serves two-to-four drinkers ($25).
Drink from a pitcher: Eat the Rich
1839 Seventh St., NW
We drink beer by the pitcher, so why not Moscow mules? Such is the mentality at Derek Brown's seafood-centric bar, where the list of "pitcher cocktails" includes a tasty Green Hat gin martini with Dolin Blanc vermouth and orange bitters (personal cautionary tale: don't try taking it down with just two people and a plate of whelks for sustenance). If martinis sound too classy, there's always the Beer 'n Clam—house-made clamato juice and Miller High Life.
Details: Serves four.
Drink from a bowl: The Gibson
2009 14th St., NW
Any of the new summer patio cocktails can be super-sized for a group, and served in a punch bowl alongside glasses of ice. Start with the aptly-named Mine's Bigger Than Yours, a boozy blend of Old Overholt Rye, bitters, lemon zest, and a touch of sweetener.
Details: Serves four drinkers ($42 to $45).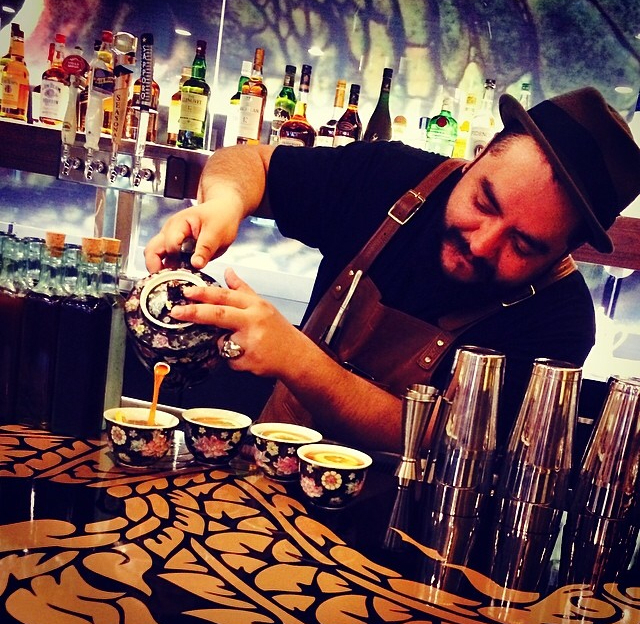 Drink from a teapot: Soi 38
2101 L St., NW
Tea time gets a boozy twist at this Thai restaurant, where tables can order an Emperor's Punch poured from an ornate teapot. The potent brew combines whiskey, fresh lemon, house-made tamarind syrup, chili bitters, and Thai tea. You won't miss finger sandwiches after ordering a plate of grilled pork neck as a snack.
Details: Serves two-to-four ($35).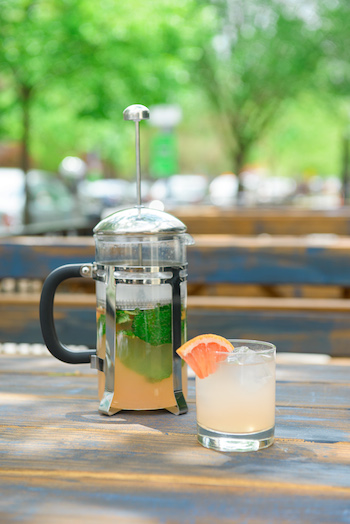 Drink from a coffeemaker: Provision No. 14
2100 14th St., NW
This new communally-minded bar/restaurant decided to get creative with their presentation, and serves shareable cocktails in classic French press coffee makers. Try a refreshing Grapefruit Press, made with vodka, fresh grapefruit juice, mint, and basil. Drinkers can push down on the fruit and herbs as they wish, releasing more flavor.
Details: Serves four ($40).
Drink from a (classy) bottle: SER
1110 N. Glebe Rd., Ballston
Keep the sangria flowing at Arlington's new Spanish spot by ordering one-liter bottles of the wine-based cocktail. Head out to the patio and try the sparkling variety, made with cava, white grape juice, and brandy. An added perk: happy hour runs nightly from 4 to 7 in the bar area, and includes the red, white, and bubbly sangria bottles for $20 (typically $32).
Details: Serves two-to-four ($32)