Armand's pizza birthday parties. Late-night trips to Steak n' Egg. Cravings for glazed Montgomery Doughnuts. Certain food experiences are in our DNA from growing up in Washington—like the urge to always take Rock Creek Park if given the option. Though many old favorites have closed, we still love the remaining stalwarts—even if the newcomers don't get it.
3265 Prospect St., NW; 5252 Wisconsin Ave., NW; 4600 East-West Hwy., Bethesda
No one's going to rhapsodize about an Ace sandwich from Booeymonger the way they do about a New Orleans po' boy or New York Reuben—but then again, they probably haven't taken down the baguette stuffed with turkey, grilled onions, melted Meunster cheese, and Russian dressing while stoned in a friend's car. Fancier sandwich shops have arrived on the scene, but we still love Booeys like a sophomore crush—the chill vibe, the reliably mediocre Booeymonger Ale, and proud dedication to 80's ingredients like Perdue turkey and Meunster cheese after all these years.
Order like a local: Miami burger (toasted bagel with center-cut smoked salmon and all the garnishes); crispy potato wedges; Gatsby Arrow (roast beef and brie); pair of Kosher hot dogs.
3300 Wisconsin Ave., NW
While thirsty college kids crowd sister restaurant Lauriol Plaza, locals head to Cactus for their swirl margs and baskets of freshly-fried tortilla chips; the menus are nearly identical, but the Upper Northwest branch is arguably better, and definitely less hectic. Does the kitchen make the best, most authentic Mexican food in town? Nope, but thank god—we just want to dig into a plate of saucy, cheese-smothered enchiladas or sizzling fajitas without contemplating the complexities of the chef's mole. Another perk of this Tex-Mex joint: most entrees are double the size, and half the price, of those at fellow DC restaurants.
Order like a local: Pitcher of swirl; guac and queso to go with those incredibly light, crispy chips; combination enchiladas; half-and-half steak and chicken fajitas; camarones diablo (fajita-style shrimp with spiced butter).
3236 M St., NW
G-town is where the Clyde's chain started, and it's still the only location that serves the crab tower: a "tall food" product of the '90s that stacks crab salad, seaweed salad, sliced avocado, and tobiko on a thick, crunchy rice cake, like a deconstructed, chef-ed up California roll. Contrary to description, it's absolutely delicious. Belly up to the back bar with a martini, far away from tourists hovering around the hostess stand.
Order like a local: Crab tower; skillet calamari; Clyde's chili; Tommy melt (cheeseburger and fried egg on an English muffin).
8012 Georgia Ave., Silver Spring
With its Andes mints by the cash register and dusty antique beer steins—and Washingtonian Best Restaurant certificates from the '80s—lining the walls, this Silver Spring seafood house might make you feel like you just stepped out of the DeLorean. The place to sit is at the horseshoe bar, where charmingly surly bartenders keep your glasses filled with Miller Lite and banter with regulars. The seafood isn't as Bay-fresh as we remember it, and prices can be steep, but the nostalgia is a draw and it's hard to argue with simple plates like crab norfolk, with lots of lump meat and plenty of butter.
Order like a local: Cold seafood platter, with shrimp, crab and lobster; baked stuffed shrimp; fries and coleslaw.
1303 Wisconsin Ave., NW
One bite of tortellini rose and we're back on prom night—and that magical time when a plate of gorgonzola-stuffed pasta with tomato-cream sauce fit just right with a little black dress. The Georgetown flagship may be trying to keep up with the times—farmers on the menu, negronis aging in barrels—but it'll always have a place in our hearts as long as the tapenade comes free, the bellinis are served frozen, and tortellini rose is on the menu.
Order like a local: Bruschetta; steak salad; tortellini rose.
5510 Connecticut Ave., NW
You know you're a Chevy Chase DC local when Pete—formally known as owner Pete Gouskos—has your favorite table waiting, and knows what dishes to bring without taking an order. Those are the kind of regulars this 26 year-old stalwart restaurant attracts, though first-timers aren't denied a warm, old-school welcome. Tables are dressed in crisp white linens, saganaki is flambeed table-side, and thimbles of Greek brandy appear after a large meal. And no, it doesn't make us miss Zaytinya one bit.
Order like a local: Saganaki flambé; spinach-feta stuffed mushrooms; fried calamari a la Ginzburg (with pepperoncini); horiatiki salad; whole branzini; sautéed swordfish with mushrooms and artichokes.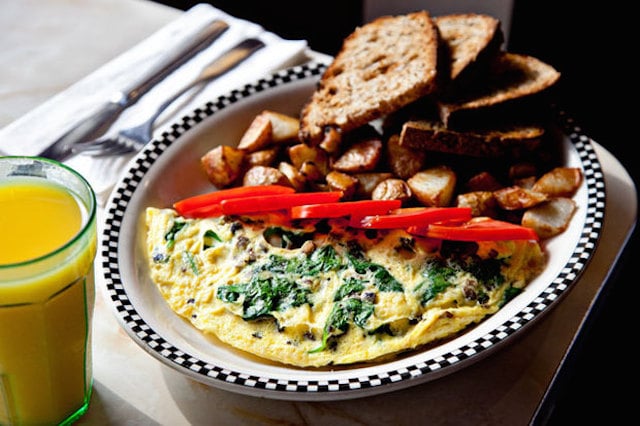 Multiple locations
Sure, the local diner chain now has a "food philosophy" on their website and a lineup of "Chef Ype's Selections", which includes a local kale salad. You know what else Chef Ype makes? Chicken tenders with honey mustard dipping sauce, and they're clucking awesome. Thank you, SD, for not getting too fancy on us.
Order like a local: Lumberjack breakfast (silver dollar pancakes!); chicken tender platter; Silver Diner sundae.
4705 Miller Ave., Bethesda; 3315 Connecticut Ave., NW
If you grew up in Bethesda or Upper Northwest DC, there's a good chance that the tubs of marinara and boxes of meat-filled ravioli in the freezers at these Italian delis are what many a family dinner were built around. They're always good to have on hand, but what we really crave nowadays is the addictive pizza, with the cheese baked into the crust and the sauce on top. It's sold by the slice or pie, and in a world where small $18 Neapolitan rounds are the norm, the $11 price tag for a pizza that could feed four seems stunningly cheap.
Order like a local: Plain pizza; white pizza with onions; Italian cold-cut sub.
7715 Woodmont Ave., Bethesda
Yeah, it's easy to hate on the chains. But the restaurant formerly known as Houston's—which once had locations in Georgetown and Rockville—gets a lot right. The name is pretty much the only thing that's changed. You'll still find bubbling spinach and artichoke dip served with salsa, sour cream, and salty, translucent tortilla chips (and it's every bit as delicious as it was when we were in high school), a veggie burger we'd drive out of our way for, and swift service with a smile. Pro tip: the airily-battered "flying" chicken tenders are off the menu, but the kitchen will make them if you ask.
Order like a local: Spinach dip; veggie burger; "flying" chicken platter; braised red cabbage with goat cheese; skinny fries.