Capitol Hill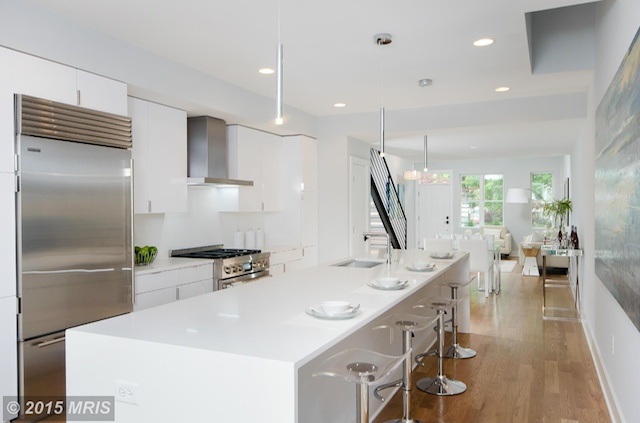 Where: 121 15th St. NE
How much: $1.199 million
When: Saturday and Sunday, 1 to 3 PM
Why: This 1900 rowhouse—in a coveted location two blocks from Lincoln Park—was renovated to a modern, minimalist aesthetic with a sleek, all-white kitchen, floating black steel and wood staircase, and rear glass wall that leads to a manicured backyard. There's a cedar roof deck, too.
Mount Pleasant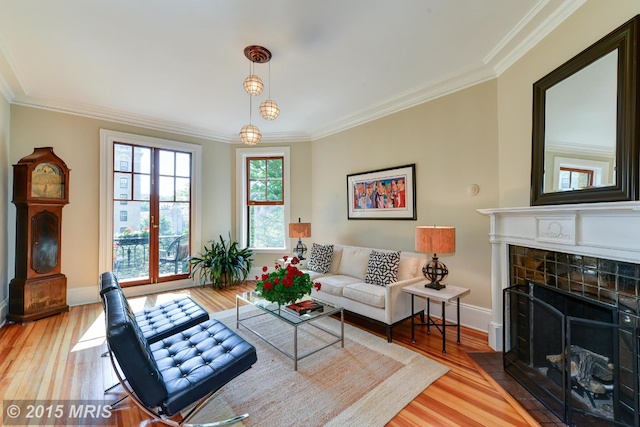 Where: 2853 Ontario Rd NW #302
How much: $885,000
When: Saturday and Sunday, 2 to 4 PM
Why: This two-bedroom corner condo offers plenty of historic 1905 charm—including a fireplace, wood-framed windows, arched doorways, and pocket doors—along with thoughtfully done updates. Some of the best features: More than 1,600 square feet of space, a pretty balcony, built-in display cabinetry, two stylish baths, a butler's pantry, and a vintage-modern kitchen that features butcher-block counters, white cabinets, subway tiling, and a double-farmhouse sink.
Burleith
Where: 3609 R St. NW
How much: $2.5 million
When: Sunday, 1 to 3 PM
Why: Though this townhouse sits squarely on the spendy side, the 3,600-square foot home stuns with a dramatic, light-filled modern design and landscaped backyard. Walls of windows join contemporary features such as a floating staircase, a slick master bath, and "state-of-the-art home automation." The full-floor master suite has two balconies, and there's a separate lower-level in-law suite.
LeDroit Park
Where: 1853 3rd St. NW
How much: $949,000
When: Sunday, 1 to 4 PM
Why: While this home's eclectic decor won't appeal to everyone, the four-bedroom 1914 rowhouse offers plenty of interesting details. Among them: Double-width doors, cool inset nooks, exposed brick, and a sleek contemporary kitchen with glossy white cabinetry, counters and appliances—and an unusual patchwork patterned wall. There's also a separate in-law suite downstairs, and small deck, brick patio, and yard in the back.
Capitol Hill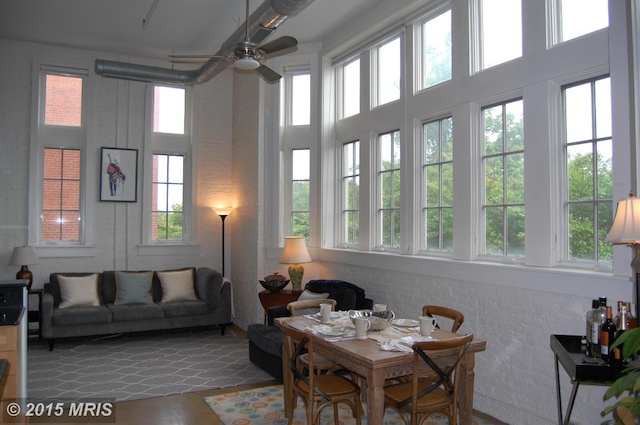 Where: 440 12th St. NE #103
How much: $589,000
When: Sunday 1 to 4 PM
Why: Part of the schoolhouse-turned-condo development Lovejoy Lofts, this two-bedroom apartment's standout feature is its original 14-foot ceilings and 15 windows—including a pretty arched version in one bedroom. Other highlights: The exposed and painted brick walls and concrete floors, and a plum location a few blocks from H Street hotspots.