Tommy Caldwell made history this January when he and Kevin Jorgeson successfully free-climbed the Dawn Wall–a treacherous, 3,000-foot section of the rock called El Capitan at Yosemite National Park. They only used their hands and feet, with ropes as their safety. Previously considered impossible, the feat made national headlines; President Obama even sent his congratulations.
Caldwell comes to National Geographic Live on June 3 and 4 to talk about his experience, using videos and pictures captured during the ascent. Both shows are sold out, so Washingtonian got ahold of him to talk the Dawn Wall, the climbing life, and the death of Dean Potter.
The Dawn Wall is known as one of the most difficult ascents in the world. Why did you decide to free climb it?
I've been really focused on free-climbing [El Capitan] for almost 20 years now and had done 11 different free routes up the wall. I've always been really curious about the limits of human capability. I was just looking for the biggest most ridiculously, huge challenge. That part of the wall was big and blank, and it looked hard. I started looking at it first to see if it was even possible. I spent some years training myself to grab on to these little tiny holes. I was rappelling down and climbing up to find the holes on that wall in order to find that elusive path that could be free climbed and lead from the bottom to the top.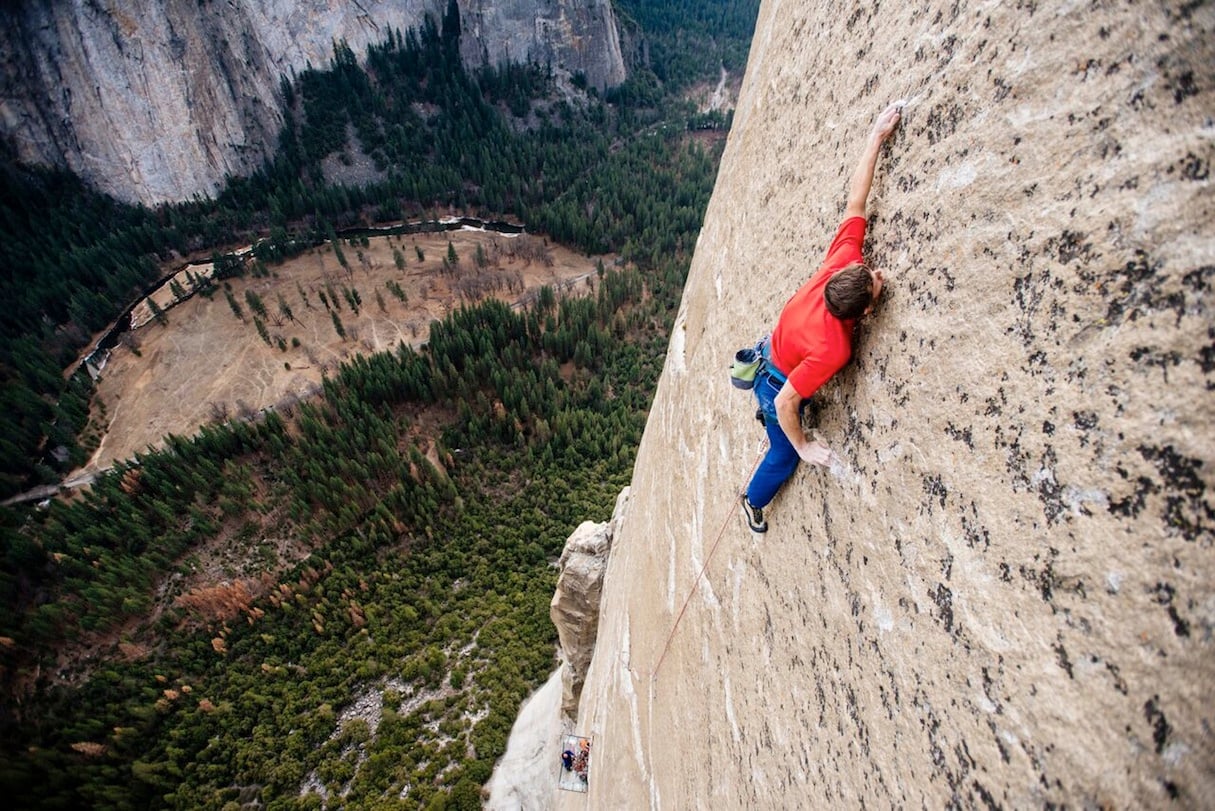 How did you train for the climb?
I spent a year finding the line… and we spent at least a season practicing and piecing it all together. On our third year, we practiced a bunch more and made our first ground up attempt. We made it about 12 pitches up before we failed. Then I tried it the next year again without Kevin. That climb was another failed attempt. I think that was maybe year five overall. I realized that we still had a long way to go, so then we spent a couple more years just training for it and working on it.
Finally, we went for our third ground up attempt this year. It was a process of trying it and figuring things out and then failing and going back and preparing. We needed to figure out logistics and were always making little improvements that got us closer to finally doing it in the end.
What made you stick with it for all of those years?
I had a sense on this route that I was like an explorer. I was trying to do something that was a bit outside of what anybody had tried to do before. If you ever have that experience in your life, if you ever have something like that presented to you, you have to seize it. It was very exciting, and it was a super creative process. We were figuring out how to live up on the wall and climb really hard in this crazy environment.
It was a documentary film project the whole time, so we were also learning a lot about vertical filmmaking. There were so many incredibly fascinating aspects to it. I think it was really the creativity that drove me, but also the fact that it was the one thing in the world that I could potentially be the best at.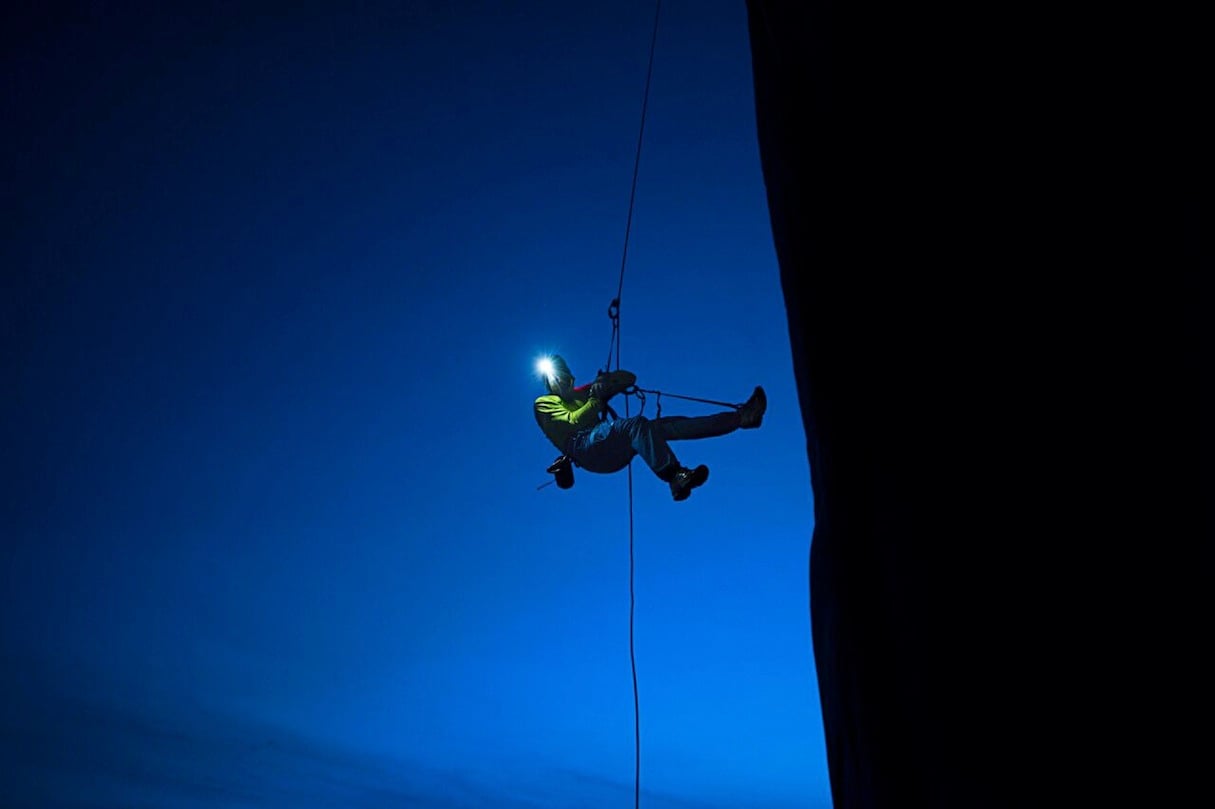 What was life like on the Dawn Wall?
Life on the wall is pretty hard. The exposure is dizzying, and most people will get vertigo if they're not used to that environment. You can imagine looking down, and these giant trees look like little broccoli below you. Cars look like little toy cars driving by. The upside of El Cap, where the Dawn Wall is, is straight south, so it's incredibly sunny. Even in the winter, it could be 20 degrees in the valley and like 80 on the Wall, because of the solar energy up there. You feel like you're an ant under a magnifying glass. It's so bright it almost obscures detail in the middle of the day. That sun hitting the rock created this incredible updraft, so it's quite windy. If you urinate, for instance, urine tends to go straight up and disperses all over everything within a quarter mile of you.
Then there's ice fall, so that can be scary at times, but also quite beautiful other times. You're living in these portaledges, so you're on these horizontal surfaces–just nylon stretched between metal bars. It's like three-feet-wide and six-feet-long, but it's unbelievably beautiful. In the mornings, when the sun comes up, you're the first thing to go in the sun of all of Yosemite.
What kind of equipment did you pack?
Most of what we had was climbing gear. One of the reasons the Dawn Wall climb went so viral is that you get great Internet access on El Cap. It's like the best Internet access in all of Yosemite, so we had our phones with us.
Skin care is such a huge issue that we had a huge kit of lotions and different kinds of sandpaper and razor blades to cut off little edges on your skin that might get ripped, catch on things, and tear. When we did the Wall, we brought a big Tupperware container full of fresh fruit and vegetables, because we needed a wholesome diet, mostly for our skin. Our skin was really such a big issue that not only was it a matter of putting stuff on the outside of it, but also trying to fuel your body in a way that it could heal quicker.
Whiskey. That surprises people. It's a little morale booster. It's always good to have a little party on the Wall at times–keep the stress as low as can be.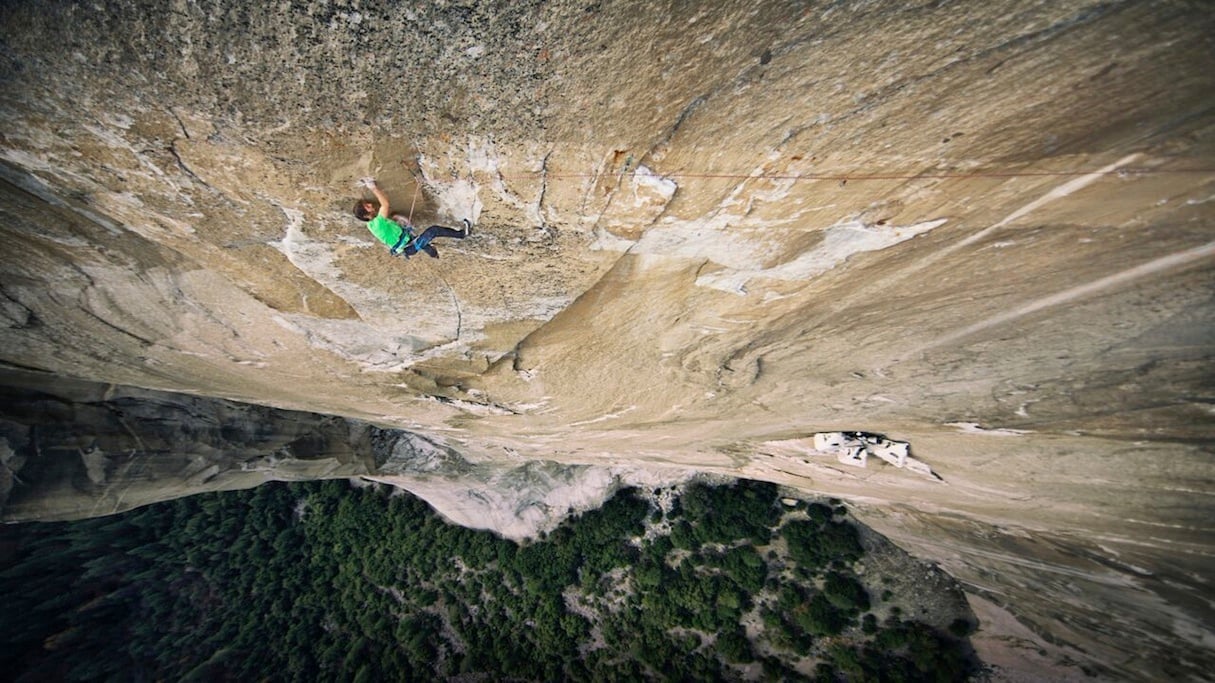 Besides fruits and vegetables, what else did you eat during the climb?
I used to eat nuts and fruit–real camping-type food. In later years, I started to realize that we could bring normal food up there. This last time, we brought avocados, bell peppers, onions, and big bags of kale. We even had hardboiled eggs up there. Of course, we had beef jerky and a lot of Clif bars. We also brought bags of Patagonia Provisions salmon. That was awesome.
The month of May has been rough for the climbing community, after Dean Potter died from a BASE jump crash at Yosemite. How'd you feel when you heard the news?
That was such a huge blow. There are specific things in our world that are incredibly dangerous. Wingsuit BASE jumping is the very, very top of that. Big alpine climbing objectives are maybe right below that.
I've probably had 20 friends die–people who were pretty close to me. I would say about 18 of them were because of snow. About 12 years ago, a big percentage of the core climbing community got into BASE jumping, and most of them are dead now. That game is pretty much a dead end road in almost every circumstance. Dean's death is a huge blow, but I wouldn't say it's unexpected. He was just this larger than life guy, so you think that maybe he's the invincible one. It's really sad that he's gone.
Climbing can obviously be very dangerous. How does your family feel about it?
The types of climbing that I choose to do I'm good at justifying. I do really try and pick things that I'm going to live through. I don't want to die, and I'm relatively cautious. I play with that line all the time. I want things that are very exciting, so much so that they can feel almost spiritual. El Cap, for me, is that without being that dangerous. It's steep, and it's shear, and you're in that incredible environment. You're taking long falls, but there is nothing to hit, and there's nothing that's going to fall on top of you.
The Fitz Traverse was a little different. That was pushing the safety margins further than what I felt really comfortable with as a father. In the moment, I'm always like, 'Yeah, it's going to be fine.' I'm sure when Dean was jumping off that cliff last week, he thought, 'Yeah, of course, I'm going to live through this.' I have to be careful from afar. I have to choose not to become a BASE jumper. I have to choose not to climb underneath big seracs.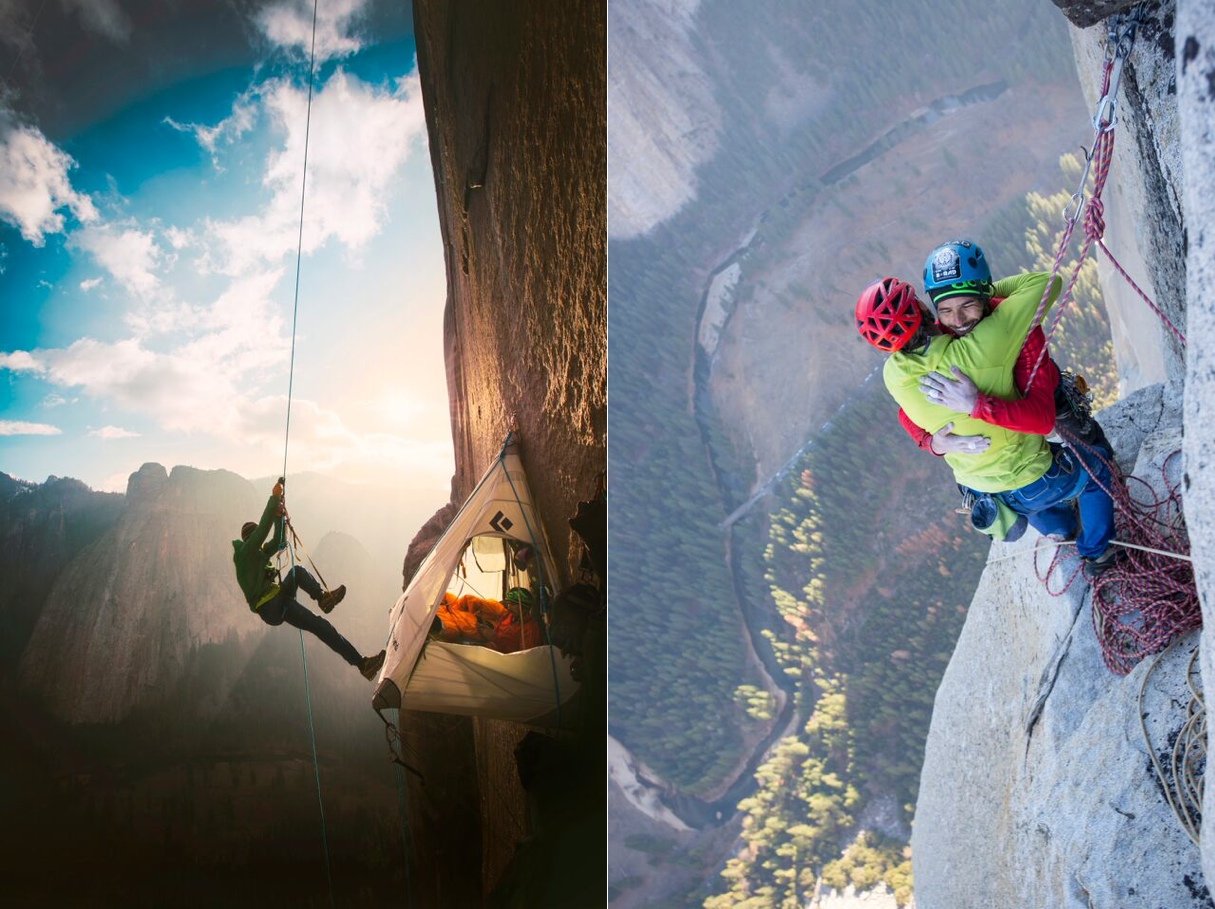 You've accomplished so much already. What's next?
My life has changed pretty drastically. I do a lot of interviews. I feel like every film festival and nonprofit in the world wants me there right now. So I've probably been spending about three days a week on an airplane. I feel this heavy weight to be a good ambassador for the sport. There are tons of awesome opportunities coming my way, so I'm trying to seize those, but also be a good ambassador for things like healthy adventure.
I've got a two-year-old, and so many people are wanting us to be examples of this way to raise your kids outdoors and just live this passionate life and have big goals. I'm going and portraying that message and trying to get that across to people. It's a teaching opportunity, which is super exciting. Also, I'm writing a book. I pretty much bailed on high school. I mean I graduated, but I wasn't even there for my own graduation. I haven't really used my brain in that way for a really long time, so I feel like this year is my chance to get back there and figure out how to use my brain again.
Tommy Caldwell speaks at National Geographic Live on June 3 and June 4. Tickets are sold out.