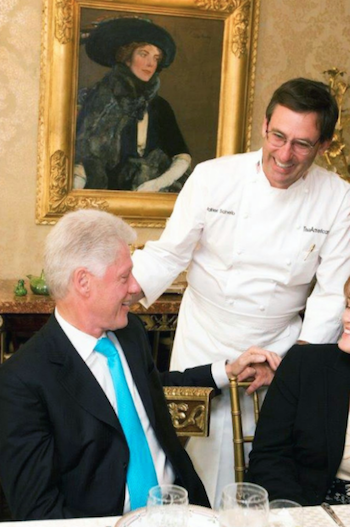 Walter Scheib, the chef Hillary Clinton hired to oversee the White House kitchen in 1994, was found dead Sunday in New Mexico, where he had recently moved. Scheib stayed at the White House for 11 years, where his job spanned from creating state dinners for Tony Blair and Nelson Mandela to teaching Chelsea Clinton to cook before she went off to college—along with serving breakfast, lunch, and dinner each day to the first family. He is credited with bringing a lighter, brighter, more seasonal mode of cooking to the residence, doing away with a heavier French style larded with butter and cream. At the time of his hiring, he had a relatively low profile, and Clinton chose him over bigger names like Nora Pouillon and Patrick Clark, the late chef from the Hay-Adams.
Before working for the Clintons and, for four years, the Bushes, Scheib was the executive chef at the opulent Greenbrier in West Virginia. He had also run the kitchens at DC hotels like the Mayflower and the Capitol Hilton. He grew up in Bethesda and graduated from Walter Johnson High School, then the Culinary Institute of American in Hyde Park, New York.
After he left the White House in 2005, Scheib was a speaker, competed on Iron Chef, and published his memoir, White House Chef: Eleven Years, Two Presidents, One Kitchen, which was full of dishy anecdotes on presidential eating habits (Bill Clinton indulged in things like a porterhouse with bearnaise sauce when Hillary was out of town; George W. Bush called him "Cookie" and hated "wet fish"). He also kept up a blog on his website, walterscheib.com.