You may have heard that the team behind popular U Street wine bar Vinoteca is opening a Colombian restaurant in Ledroit Park. The news is partially true: the Royal officially opens its doors in DC on Thursday, though not with a strictly South American identity.
"I tell people it's a small neighborhood tavern," says co-owner Paul Carlson. "A coffee shop during the day, a cocktail bar at night with some great food. A place we can express the things we like to eat and drink."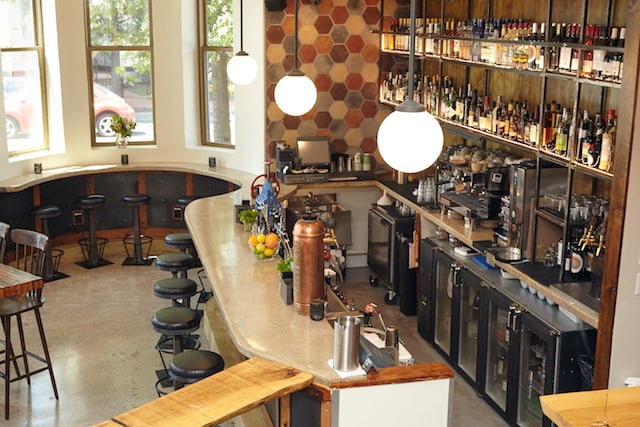 Carlson's mother is Colombian, hence the stuffed arepas, choripán breakfast sandwiches, and crispy plantains on the menu; his family is also behind the restaurant, and all live nearby. Joining traditional South American items are others Carlson's developed a taste for in the hospitality industry—Vinoteca opened in 2007—and favorites of chef Lonnie Zoeller and barman Horus Alvarez: house-made vermouths and French wines, a wood-grilled cheeseburger and whole-animal butchery. The perk of a 45-seat operation with a small-yet-eclectic menu: the mix comes off as homey instead of scattered.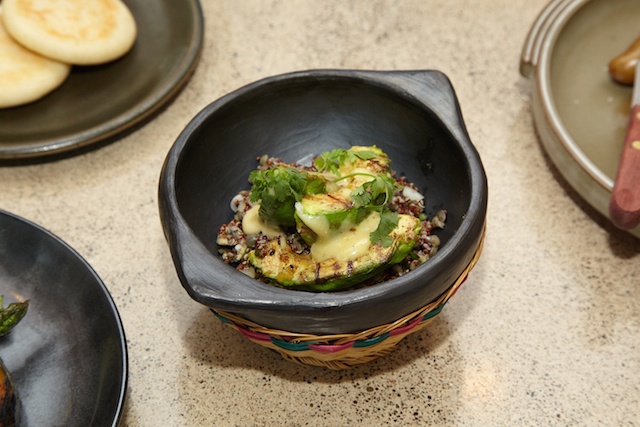 Service is designed to follow the low-key theme, and cater to locals at all hours, opening early each morning and closing between 1 and 2 am every night (though Mondays are dark for the first few weeks). Commuters can grab toasted bagels and house-made cream cheeses, Counter Culture espresso drinks, and pastries such as roasted plantain bread; guests can also linger in the light-filled space over fried egg arepas and free wi-fi. A day-to-night menu begins at noon. Diners order at the bar, receive a number to display at their table, and dishes arrive. Portions are meant to be snack/appetizer size—think beef empanadas, or grilled avocado with quinoa—or entrees, such as a pork morcilla sausage with roasted potatoes.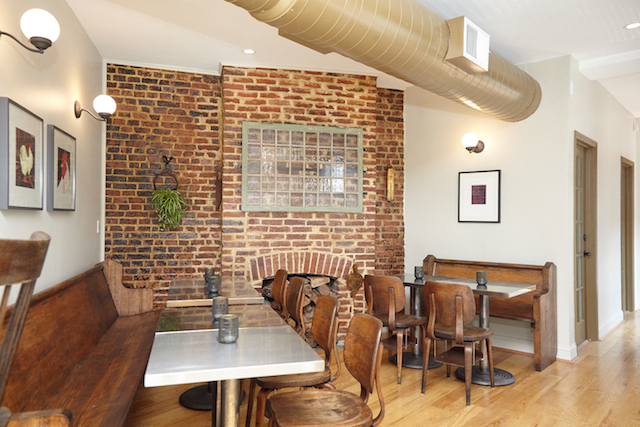 The relaxed vibe doesn't translate to an entirely casual approach. The kitchen takes the house-made, whole-animal path—Zoeller has already acquired half a cow, and will serve rotating cuts of wood-grilled steak and freshly-made sausages. Behind the bar you'll find Alvarez's homemade sipping vermouth, aged since December, which is poured from a vintage copper fire extinguisher built by Carlson. Another eye-catching bar toy: a hand-crank ice shaver from Guatemala, which churns out the cold stuff to-order for cooling cocktails like an Aguardiente Punch with blackberry puree. Like the food, the drink menu runs the gamut from Uruguayan wine to local beer, gin and tonics, and cachaca cocktails.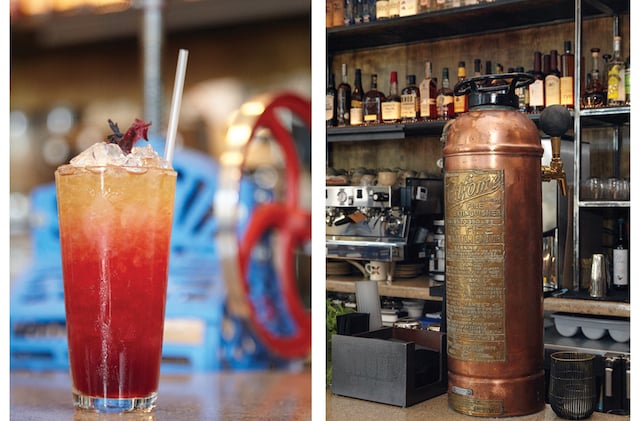 The Royal opens on Thursday with coffee and the afternoon menu, and will move into regular breakfast operations on Friday. Grab one of the eight seats outside of the corner cafe—or settle into a reclaimed church pew indoors—and welcome in the weekend.
The Royal. 501 Florida Ave., NW. Regular hours: open Monday* through Thursday, 7 am to 1 am; Friday 7 am to 2 am; Saturday 8 am to 2 am; Sunday 8 am to 1 am (*closed Mondays for the first few weeks).