A lot has changed for local designer Tala Raassi since she was dragged to prison by the religious police for wearing a mini skirt at her Sweet Sixteen house party in Iran. After spending four days in jail and receiving 40 lashes for her attire, she and her friends were released, and Raassi's parents sent her to Dubai before she went to live with relatives in Washington, DC.
Sixteen years later, Raassi is a bikini designer, running her bathing suit company, Dar Be Dar, out of DC. Shortly after launching Dar Be Dar, she shared the story of her life—from imprisonment at 16 to successful fashion designer—with Marie Claire, hoping to empower future generations of young girls to follow their dreams.
On Thursday night, Raassi will show her Summer 2015 swimwear collection with a runway show at The Penthouse Pool and Lounge at Vida Fitness' Navy Yard location. Attendees will sip DeLeon Tequila cocktails, watch a live runway show, and have the chance to meet the designer and shop her collection. To catch up with Raassi before the event, Shop Around got in touch for a Q&A.
Where did your interest in fashion originate?
Growing up in Iran, my mom was always very into fashion. It may sound crazy, but the women in Iran are super fashionable within the restrictions they have, so I kind of grew up loving that. And then when I moved to Dubai and saw a woman in a bikini walk on the same beach as someone in head-to-toe cover, the freedom inspired me to start a clothing line to empower women to follow their dreams.
How is your bathing suit line empowering to women?
To be honest with you, I didn't wake up and say, "I want to design bathing suits to empower women." That was never my intention. I wanted to do something in fashion. When I started designing bathing suits, it was because I love bathing suits, and to be really honest, it was because it was cheaper for me–from one yard of fabric I could get four bikinis. When I was [trying] to fund my new business, I didn't have a lot of money, and [so I picked] something that I loved that was cost effective, that's how I got started. It wasn't ever "I want to empower you in a bathing suit." It was about following my dream.
What kind of response did you get after your story was published in Marie Claire?
I certainly got a lot of letters and emails from girls telling me how much they'd been inspired to follow their dreams, and of course I had other people who said I shouldn't be a Muslim anymore and should turn to a different religion. Or I had very religious people who were judging me and were saying, "How is this empowering, putting girls in a bathing suit?" We live in a world that is very judgmental, so it was kind of hard for me to tell a very personal story when a lot of people have taken it a different way.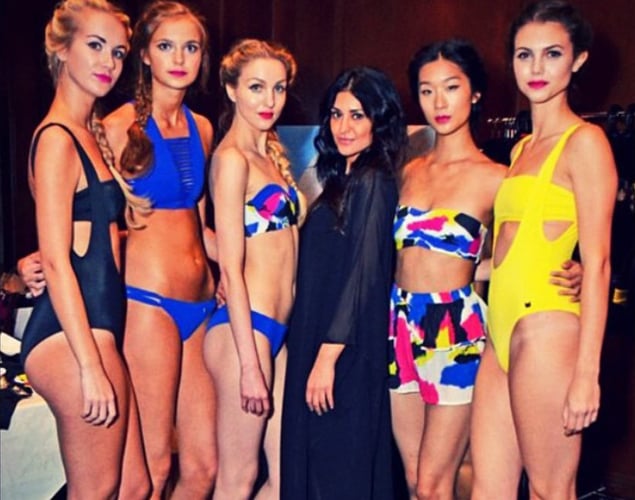 What does the name of your company "Dar Be Dar" mean?
Dar Be Dar is a Persian slang that means "door to door." It represents someone who is lost and all over the place. I chose this name after moving from the Iran to the United States and having to adjust after moving from a conservative country to a place where I had a lot of freedom. Also, over the past 15 years of literally going door to door trying to figure out how to build this brand, I felt like it represented me as a designer.
What can we expect from your Summer 2015 collection?
What really inspires me are people, cultures, and traveling. The current collection was inspired by my roots in the Middle East, so they have the evil eye and the hamsa hand on them. But I wanted to mix them up with South American bright colors, so its kind of like Middle East meets South America in the fabrics, which I design myself as well.
All of your swimsuits are handmade. What tips do you have for women looking for high-quality swimwear?
I think fabric is the main thing for bathing suits–the way that they stretch. For companies, the cheaper the fabric, the more cost comes down. My father once said, "I'm not rich enough to buy cheap products," because when you buy cheap products then you have to keep buying them. When someone is looking for a good-quality swimwear, they need to look in a store that carries high-end products and also look into the fabrics. We use a four-way stretch that is made out of Spandex and Lycra, and the great thing about it is that it stretches in all directions. It's very hard to work with on a manufacturing level, but it gives a lot more support on the body and you can stretch it as much as you want.
The runway show event will take place from 7 to 9 PM on July 16 at the Penthouse Pool and Lounge at the Yards, 1212 4th St., SE. This event is free and open to the public.