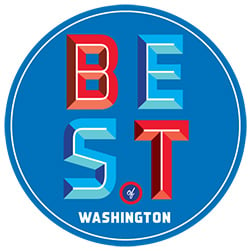 Start the week by honing your technique in a more private setting. This offshoot of Honey Pig—a great restaurant for Korean barbecue—rents private karaoke rooms. Mondays, you can get one from $30 to $60 an hour.
4231-R Markham St., Annandale; 703-942-5950.
You won't find lots of Blink-182 and Britney numbers at this karaoke night. The song selection is more cultivated, with deep cuts and a big focus on hip-hop and R&B.
1101 Kenyon St., NW; 202-232-5263.
Not for the faint of heart. With a full band backing you up and a huge crowd watching, you'd better channel your inner rock star and leave it all onstage.
410 Seventh St., NW; 202-556-2050.
If you're not entirely confident in your vocal abilities, the racks of ridiculous costumes and props at this weekly event can distract you from even your most embarrassing attempt at "Don't Stop Believin.'"
1942 11th St., NW; 202-232-6590.
No need to prepare your voice for this dive's karaoke night—the clientele is mainly college students and downtown office workers who find nothing wrong with drinking several 28-ounce beers in quick succession. So sing your heart out, be-cause barely anyone will remember it.
1823 L St., NW; 202-296-6686.
Another rent-a-room-style joint, this Adams Morgan basement bar can deliver a large Korean food-and-drink menu to you as you sing your way through its 70,000-strong song list. It charges $40 to $80 an hour on weekends; the smallest room holds up to four people, the largest 15.
42305 18th St., NW; 202-758-2971.
A pretty standard karaoke night in a pretty standard Irish bar in the pretty standard Courthouse neighborhood. But hey, you can't ask for much more on a Sunday night. Grab a Guinness and pat yourself on the back—you made it through a week of karaoke.
2051 Wilson Blvd., Arlington; 703-525-3600.
This article appears in our July 2015 issue of Washingtonian.