The District of Columbia's Office of Revenue Analysis (DCORA) released new findings today that show how the median cost of a three-bedroom home in Washington correlates to median test scores at the new elementary school attendance zones for District of Columbia Public Schools (DCPS), which go into effect in fall 2015. The findings are daunting for anyone in Washington who has small children or is considering starting a family. To buy a home in a zone that guarentees your child will attend a top-performing school, you'll need a budget far beyond the means of many.
DCORA wrote:
We found that a typical three-bedroom home in the attendance zone of a DCPS elementary school with the very top test scores – places where 80 percent or more students are proficient or advanced in reading – will cost over $800,000, and that is just the median price and does not incorporate post-purchase improvements to homes. Going down one tier does not help much either: in DCPS elementary school zones where 60 to 80 percent of students are proficient or advanced in reading, the median sale price of a three-bedroom home ranges from the high $600,000's to over $1 million. Not until you look at schools where 45 to 60 percent of students are proficient or advanced in reading will you find a wide range of median home prices, including several below $650,000.
In other words, if you want to send your child to the very best schools in the District, as determined by standardized testing–Ross Elementary in Dupont Circle, for example, or Thomson School, which covers Chinatown, Metro Center, and Mount Vernon Square—it may be possible to buy a home for less than $800,000, but many home prices will hover around or above that number. Even if you move to a district that is ranked a "2" on this scale (with "1" marking the highest-performing schools schools and "5" marking the worst) you can still expect to pay well over $600,000 for a home.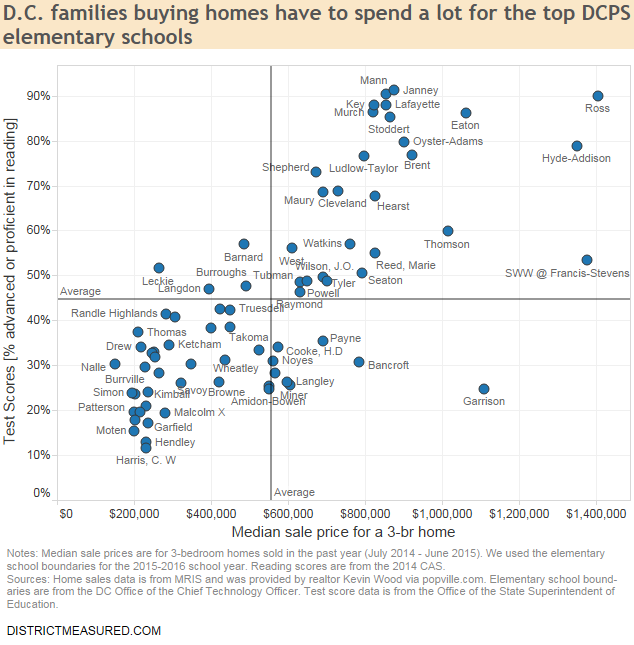 Residence in a particular school district is not the only method for gaining entry to that district–DCORA notes that, in 2012, 40 percent* of students attended a school outside their district after winning a slot via a lottery system (or due to the fact that students could then attend schools outside their own districts). And Washington's vast charter school system educates about 44 percent of its students. However, to guarantee admission to a top-performing school, one must reside in that school's district.
Also worth noting is the fact that DCORA's ratings for a particular school are, of course, based on a measure which many may find problematic. After all, the standardized testing debate still rages on in editorials, PTA meetings, and kitchens across the country. But while standardized tests may not be the ultimate determining factor of a school's performance, there is no doubt that schools with high performace records are more likely to produce students who excel in other arenas.
But at the same time, a quick look at two maps that DCORA provided confirms that Washington's top-performing schools are located in precisely the places most Washingtonians would imagine: they are concentrated almost entirely in the Northwest (with the exception of Ludlow-Taylor School near H Street), with a streak of Tier 1 schools following the path of the Metro's Red Line up through Woodley Park (where average home cost is over $795,000) and Cleveland Park (where average home cost is over $1 million), and then pooling out along the Maryland border.
The worst-performing school districts, on the other hand, are located in the deepest corners of the Northeast and Southeast, and the sole school district in the Southwest also received a "5."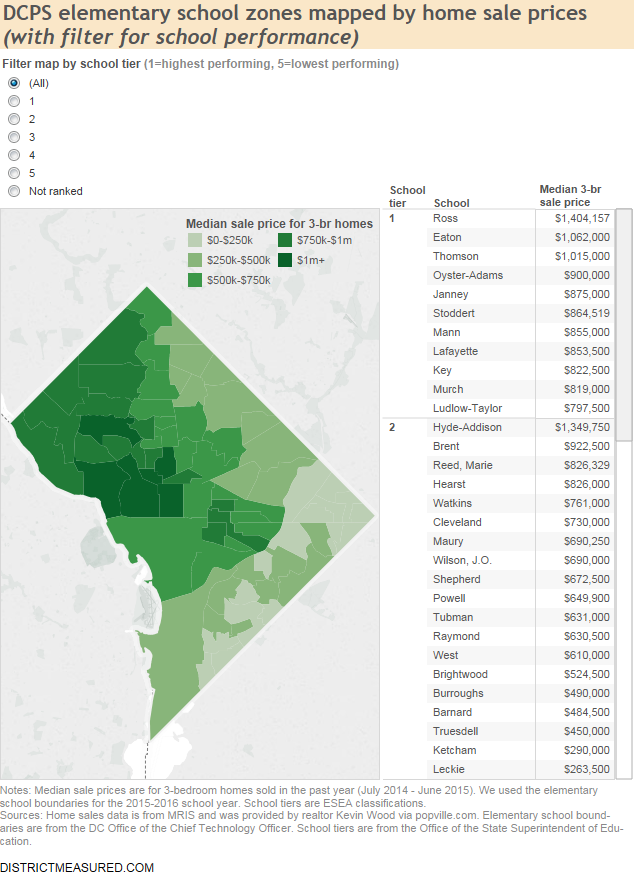 DCORA's post noted:
If you filter the map to show places where median home prices are below $500,000, you'll see that only elementary school zones on the eastern edge of the city fit this criterion. These schools mostly fall into the three lowest performance tiers of five, though a handful schools (Leckie, Nalle, Burroughs, Barnard, Truesdell) fall into tier two, the second highest performance tier.
Put bluntly, it's further proof that a solid public education in DC is a perk few can afford.
Correction: Since this piece was published, DCORA has informed us that some of its data was incorrect. In 2012, 40 percent of DCPS students attended an out-of-boundary DCPS school, not 71 percent as they initially posted. Some of these students didn't enter these schools through a lottery since, at the time, they had the right to attend more than one school. We apologize for the error.