On Monday, Urban Turf reported that Washington's shortage of available homes on the market has now continued for a shocking six years. As they explained, "The benchmark of a balanced housing market is usually a six-month supply of homes on the market. The inventory of active listings for sale in the District has been below the six-month level since July 2009." In other words, there have been too few homes on the market to meet demand since the second year of the Great Recession. And it's getting worse.
They went on to explain that the shortage has depleted from approximately a five-month supply in 2010 and 2011, to a less than two-month supply in early 2015.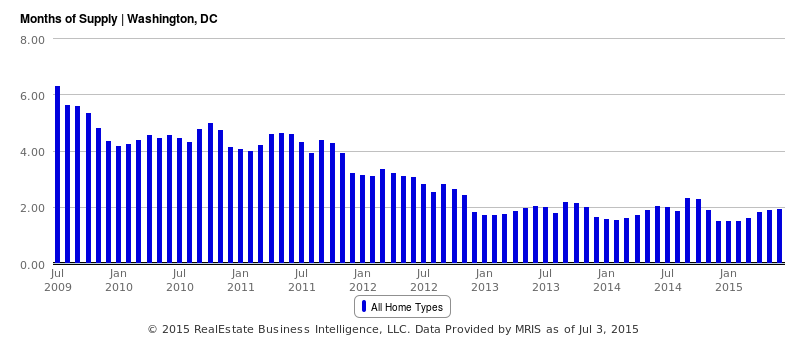 But the problem isn't a substantial decline in the number of homes coming onto the market. Instead, it's that demand in the District has soared so high that buyers are snapping up properties in shorter and shorter periods of time, reducing the number of available homes. As Urban Turf noted, "June marked the 18th month in a row that housing inventories rose in the area, and new listings were at the highest level for June since 2007." Real Estate Business Intelligence, which supplied the data, reports that homes for sale in DC are on the market for a median of just nine days, and that the median price of homes sold has grown by 5.8 percent in the past year, from $520,000 to $550,000.
The lesson? You'll need to be fast and flexible. It's more crucial than ever to know what homes are being listed and to immediately place a bid if your dream house pops up on the market. Want to wait a week to think it over? You may be out of luck.