Real Estate Business Intelligence released their report tracking area home sales for the month of July, and their data confirms everything you already knew and/or feared about the growing DC real estate market.
1. More Houses Closed This July Than Any July in the Past Decade
"For the period January through July, the number of closed sales of 29,651 is up 10.2% compared to last year," the report notes. For the month of July alone, 5,225 home sales closed, marking a massive 15.1% gain compared to last year. July also had 5,221 pending sales, the highest number of pending sales of any July in the past decade.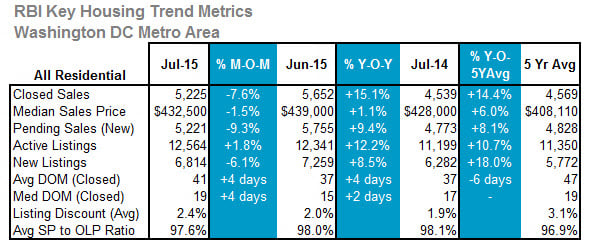 2. Prices Are Still Creeping Higher
There hasn't been another giant leap in prices like we experienced in 2013, but home prices are still rising. The median home price in July 2015 was $432,500, a slight decrease from June 2015, but a 1.1% rise from July 2014. The report says that "sales volume across the region was nearly $2.8 billion, up 17.6% compared to July 2014," but interestingly notes that the average prices of townhomes and condos were both down, by 1.9% and 3.3%, respectively. Median sale prices are now closer to pre-2008 recession prices than they've been in the past eight years.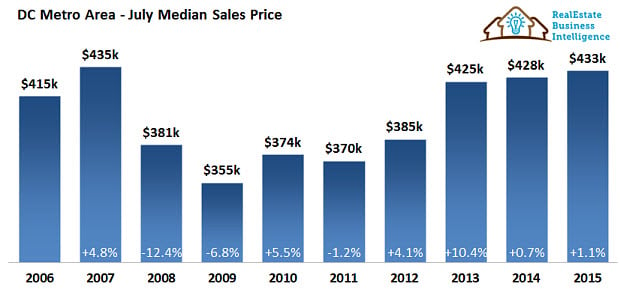 3. Inventory Remains Low
Like I wrote about in July, the amount of time houses spend on the market remains extremely low. For homes in DC, on average, a home is on the market for just eleven days. Although there were nearly 13,000 active listings for the region at the end of July, quick turnover is leading to scarcity in the market–and driving up home prices as bidders compete to secure a home.