The first thing you need to know about the four-story house currently for sale at 1410 15th St. is that it's spacious and elegant and features perfectly restored details, like carved fireplace mantles and pocket doors. The house is a real stunner. The second thing you need to know is that it includes a few other fascinating remnants–from its time as a brothel.
In 2007, when current owners Robert Winter (an attorney specializing in bankruptcy) and Andy Cordonnier (a partner at the law firm Grant Thornton) bought this five bedroom, 4,275 square foot home, they inherited its (ahem) lively history. Built for $5,000 and finished in the spring of 1895, the home was inhabited by "well known local tenor Herndon Morsel until 1921," according to a history compiled by Winter as a Christmas gift to Cordonnier. It was then sold to another owner who held the deed until 1954, and passed through a variety of hands before being managed by JC Associates from 1983 to 1997.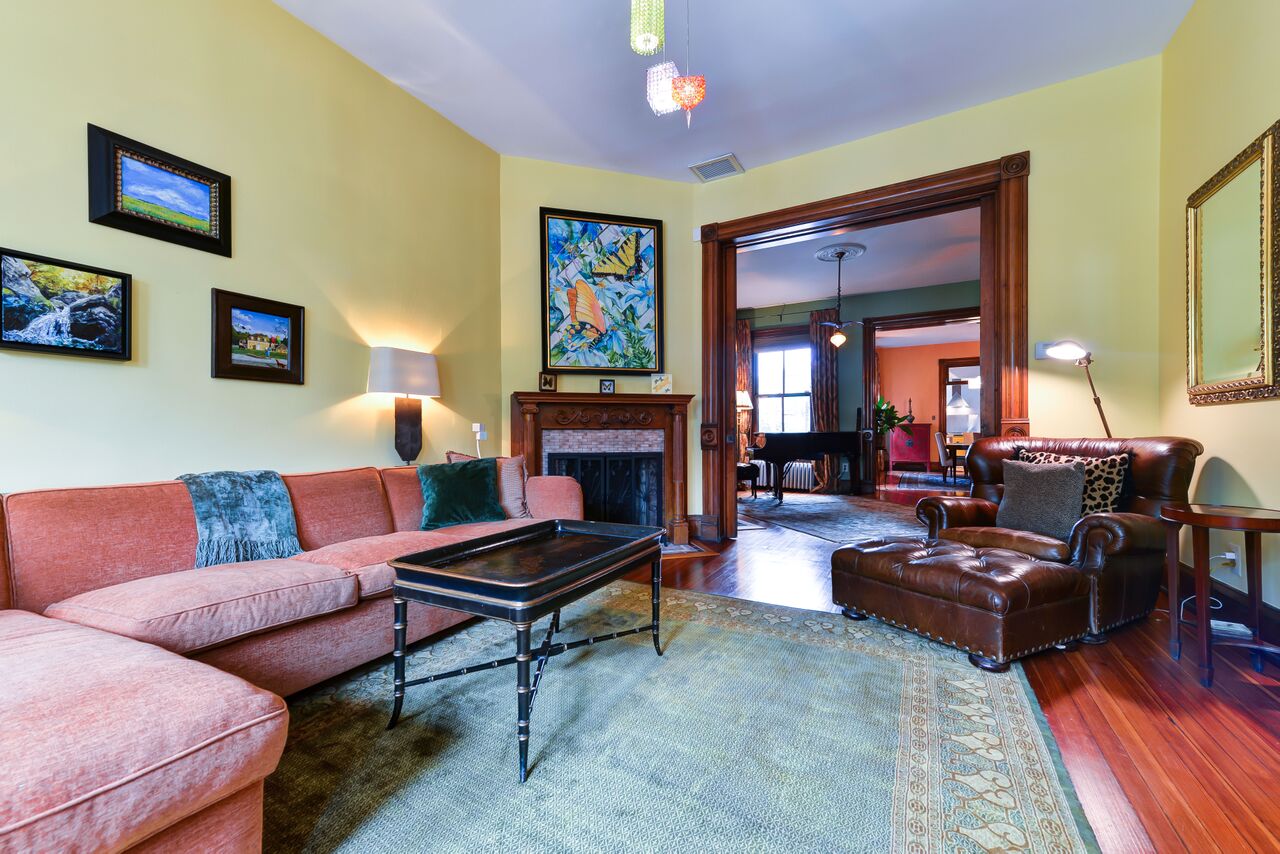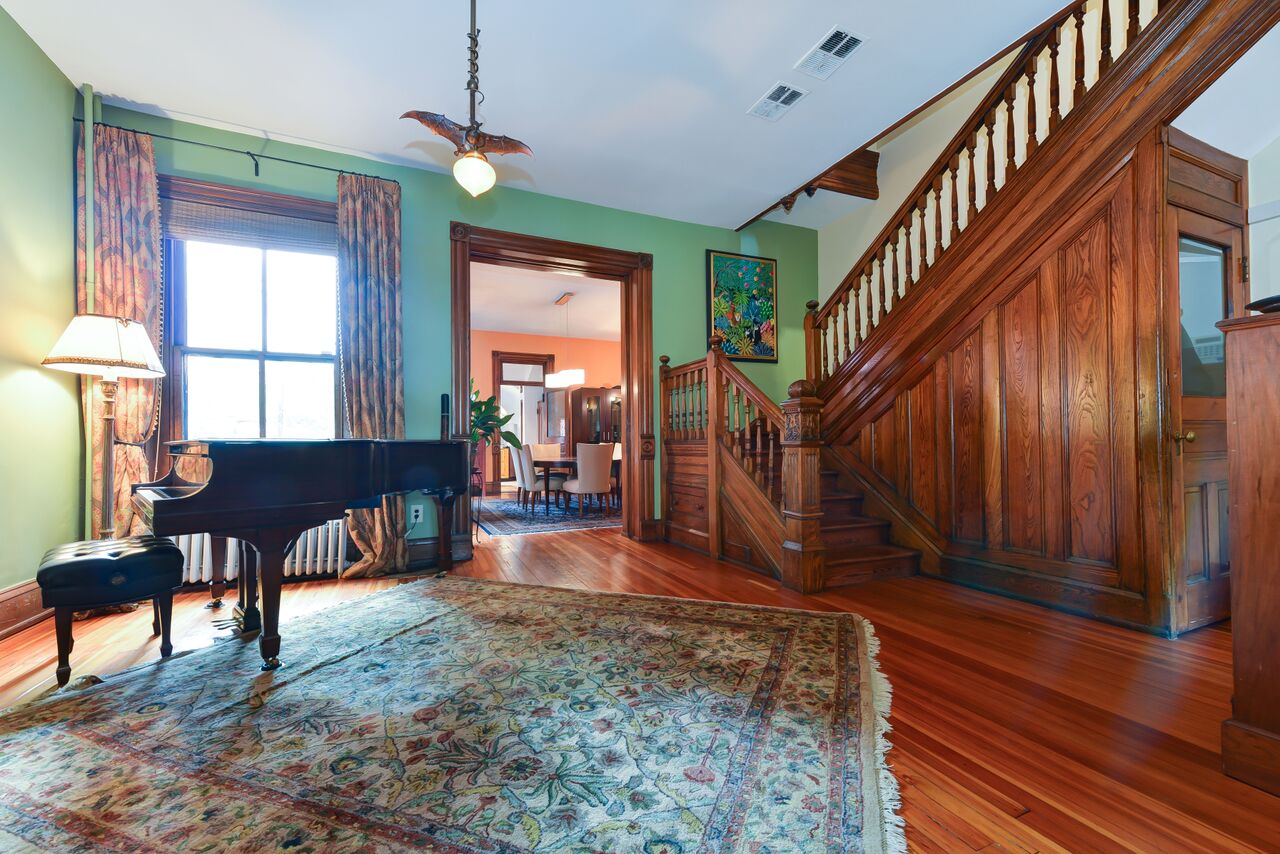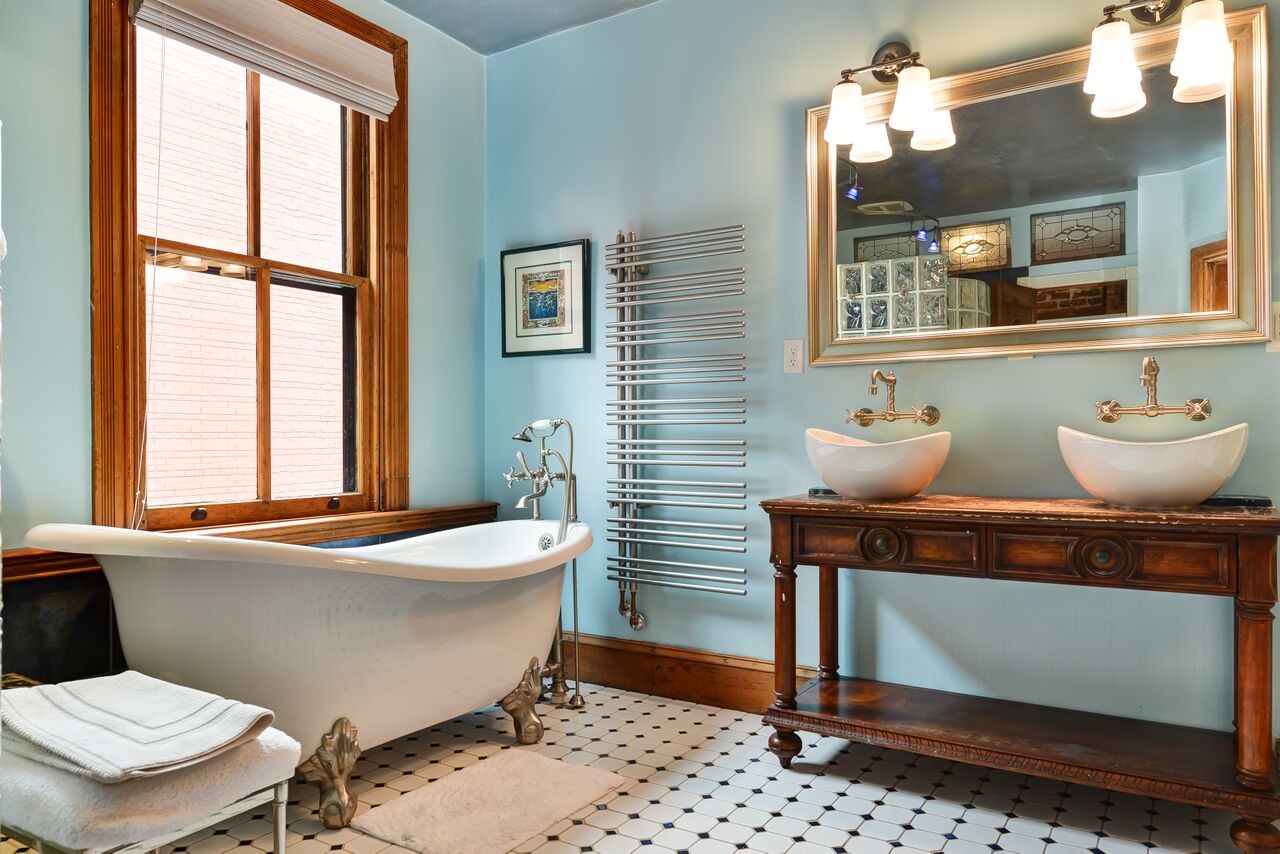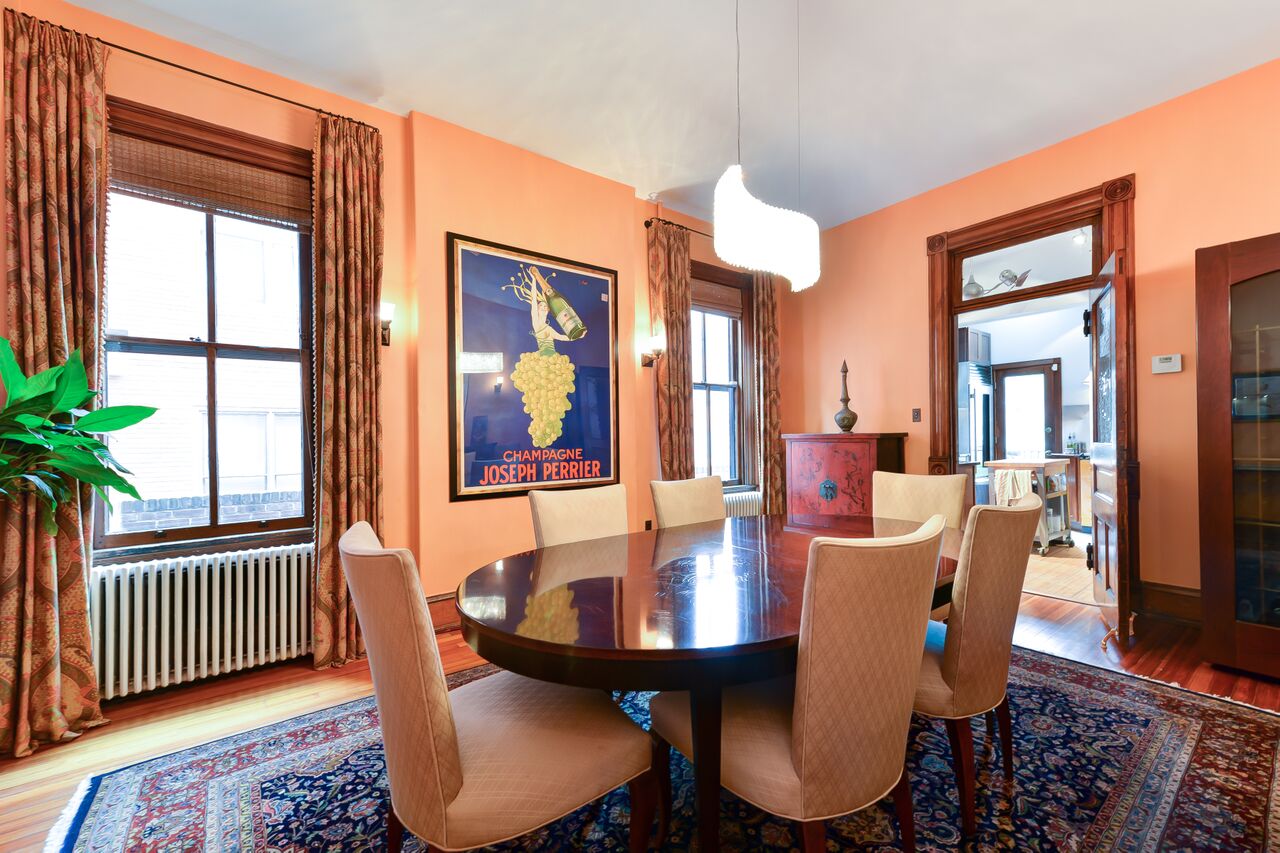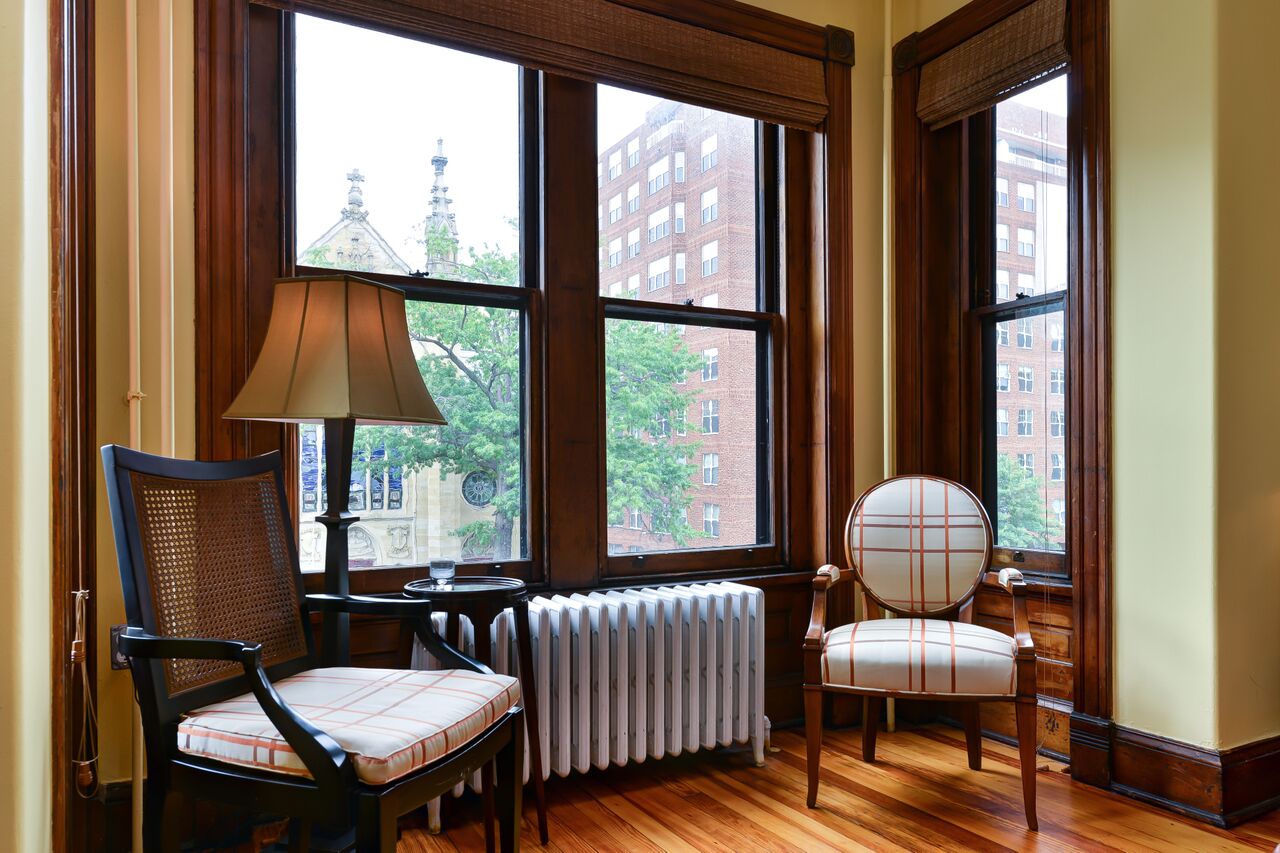 A 1997 article in the Washington City Paper by Jake Tapper (yes, that Jake Tapper), explains how he discovered what he called "the little whore-townhouse." A group of Georgetown friends rented the house and noticed that "every day, anywhere from five to 10 men would come by, seeking the previous tenants." Every time the housemates called Bell Atlantic for phone service, "the operators laugh[ed], explaining that the previous tenant used the line for incoming phone-sex calls." Strange mail arrived from around the world (all written by men and sent to one woman in particular) and an assortment of strange fixtures and "three dust-covered condoms" in the bottom of the dumbwaiter, which nobody would touch or remove, made the new tenants curious about the house's past. It turns out that in the months before, the home had been raided by DC police, with a handful of "customers" taken away in cuffs. The establishment was then disbanded.
Some of those physical remnants remain. A light positioned just outside the window of a back bedroom let customers know that the ladies of the house were available on a given evening. A certificate of occupancy that the current owners display in their basement reads "Not Sexually Active," a legal requirement the previous owners obtained before moving in. But the most jarring detail is the medicine cabinet installed in an upstairs bedroom. Open it and you can still see the hole where wires once connected a video recording device, set up to capture…whatever went on in that bedroom.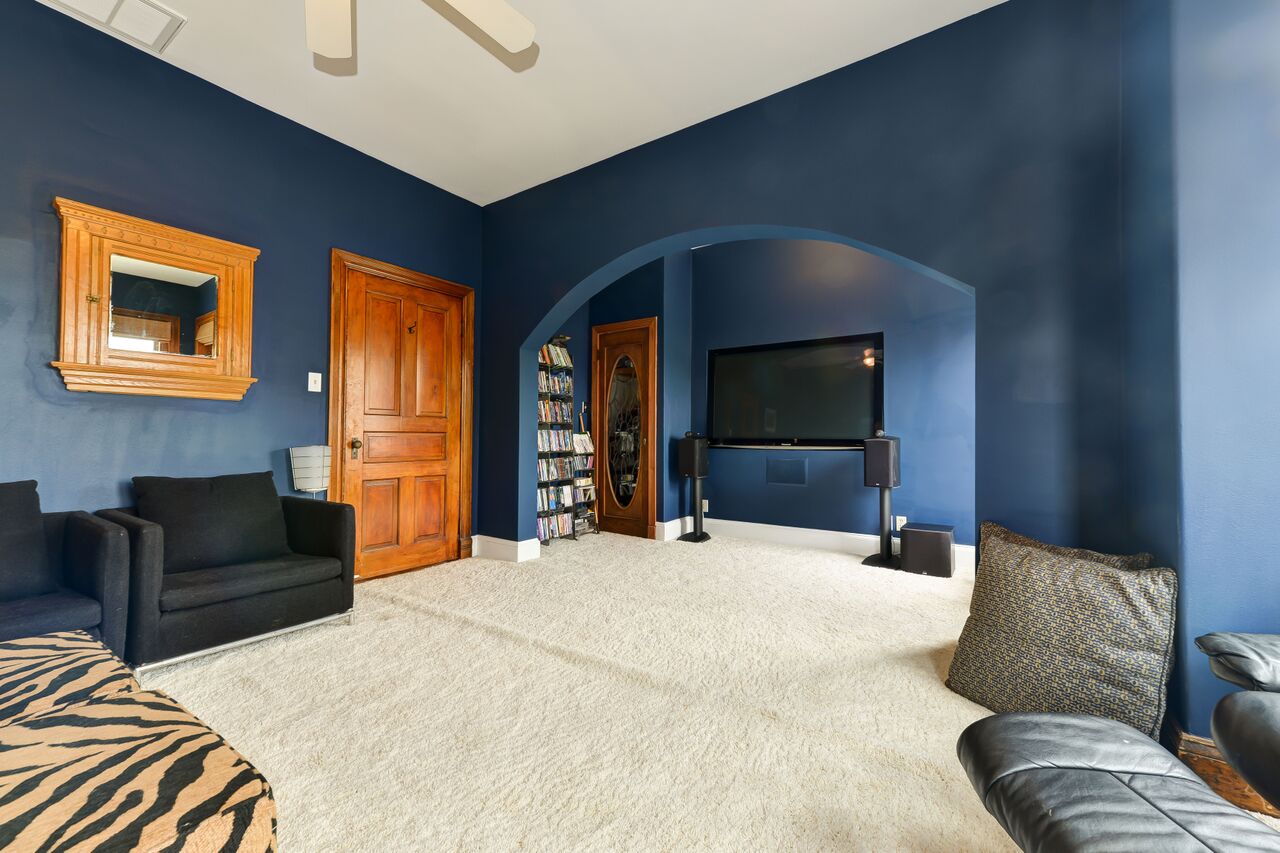 The current owners, who are looking to downsize to a smaller home in Logan Circle and also own a second home in Provincetown, MA, claim that not much needed to be done after they purchased the home eight years ago. Its perch on 15th St. makes it "even more convenient than New York City," says Cordonnier; it's just one block from Whole Foods, CVS, Starbucks, Dolcezza, Vida, and more than a dozen restaurants and bars. Winter and Cordonnier have thoughtfully decorated the home to complement the artful woodwork and what Winter refers to as the "natural warmth" of the house. Rich wall colors gracefully escort the eye from room to room on the first floor, and bright, funky wallpaper is tucked away in the powder room and vestibule. With huge (original) windows and eastern and western exposure, the house is beautifully lit, even on gray days. A lush, European-style backyard features trailing vines and a secluded dining area. Pocket doors allow the space to flow easily; the house easily holds dozens of people, and Winter and Cordonnier both claim that the ability to entertain scads of people is one of the home's features they'll miss the most.
For more details on this historic property visit
Compass
.