Chef Mike Isabella might be the most ambitious empire-builder among Washington's current group of restaurateurs. The toque just opened Pepita in Ballston, and has two more eateries debuting this fall: Yona noodle bar—a partnership with chef Jonah Kim—and the Greek taverna-inspired Kapnos Kouzina in Bethesda. Adding to this list, Mike Isabella Concepts just announced three more projects today: another Kapnos Kouzina, which Isabella confirmed will be going into the shuttered Gypsy Soul space in the Mosaic District (slated for early 2016), and a second coastal-inspired Kapnos Taverna for College Park; the original opened in Ballston early this year.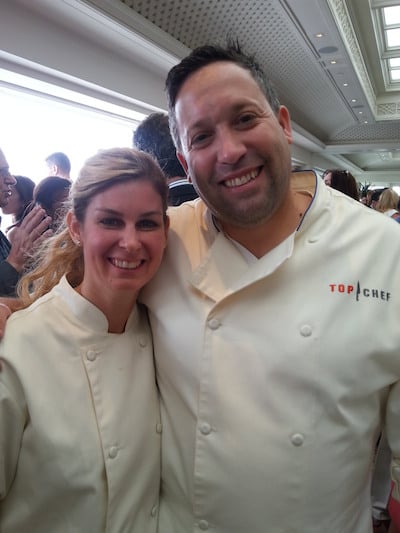 Perhaps the most exciting news, as far as new concepts go: a partnership with fellow Top Chef All-Star Jennifer Carroll for Requin, a French-Mediterranean restaurant destined for DC's Southwest Waterfront. The eatery in the Wharf development is slated for 2017, with Carroll acting as executive chef and partner. Here are the early details from the Isabella camp.
Requin will pop-up first in the Mosaic District.
Virginians will get the first taste of the restaurant, which will pop-up this fall in the former Gypsy Soul/future Kapnos Kouzina space. More permanent than your average preview, Carroll will serve dinner Tuesday through Saturday through the end of 2015.
The name is French for "shark."
Here's a helpful frog who can help with the proper pronunciation. You may not find shark on the menu, but coastal French dishes will draw from the sea—think whole fish, wood-fired shellfish, and seafood roasts, all of which will all be part of the pop-up menu. Carroll has a strong background in fin fare, having worked as a sous chef under Eric Ripert at Le Bernadin.
A large patio will double the size of the restaurant in warm weather.
The 4,000 square-foot, glass-enclosed dining room will be located on the Wharf's main boardwalk, which is currently under construction. During mild weather the restaurant's glass walls will raise, and open onto a large outdoor seating area overlooking the Potomac.
The wine list will be bigger than any other Isabella spot.
What better to go with the classic cheese cart that Carroll has planned for the space?
Dishes will extend beyond Mediterranean seafood.
Carroll will cater to carnivores will options like a dry-aged ribeye. She also told the Washington Post that the pescetarian side of the menu will draw from all over, not just the Riviera, including local catches and Maryland crabs.
Stay tuned for more details about the pop-up and permanent restaurant.
Requin. Pop-up: 8296 Glass Alley, Fairfax (Mosaic District).