One of the benefits of getting married in DC is that this city is the queen of black tie soirees–Washingtonians know how to throw classy events, whether they're in honor of the President or in celebration of your marriage. Megan Erhardt and Michael (Mikey) Christin's wedding was just that–a classic, elegant wedding that lit up one of DC's finest venues, the National Museum of Women in the Arts, all captured by Sarah Bradshaw Photography.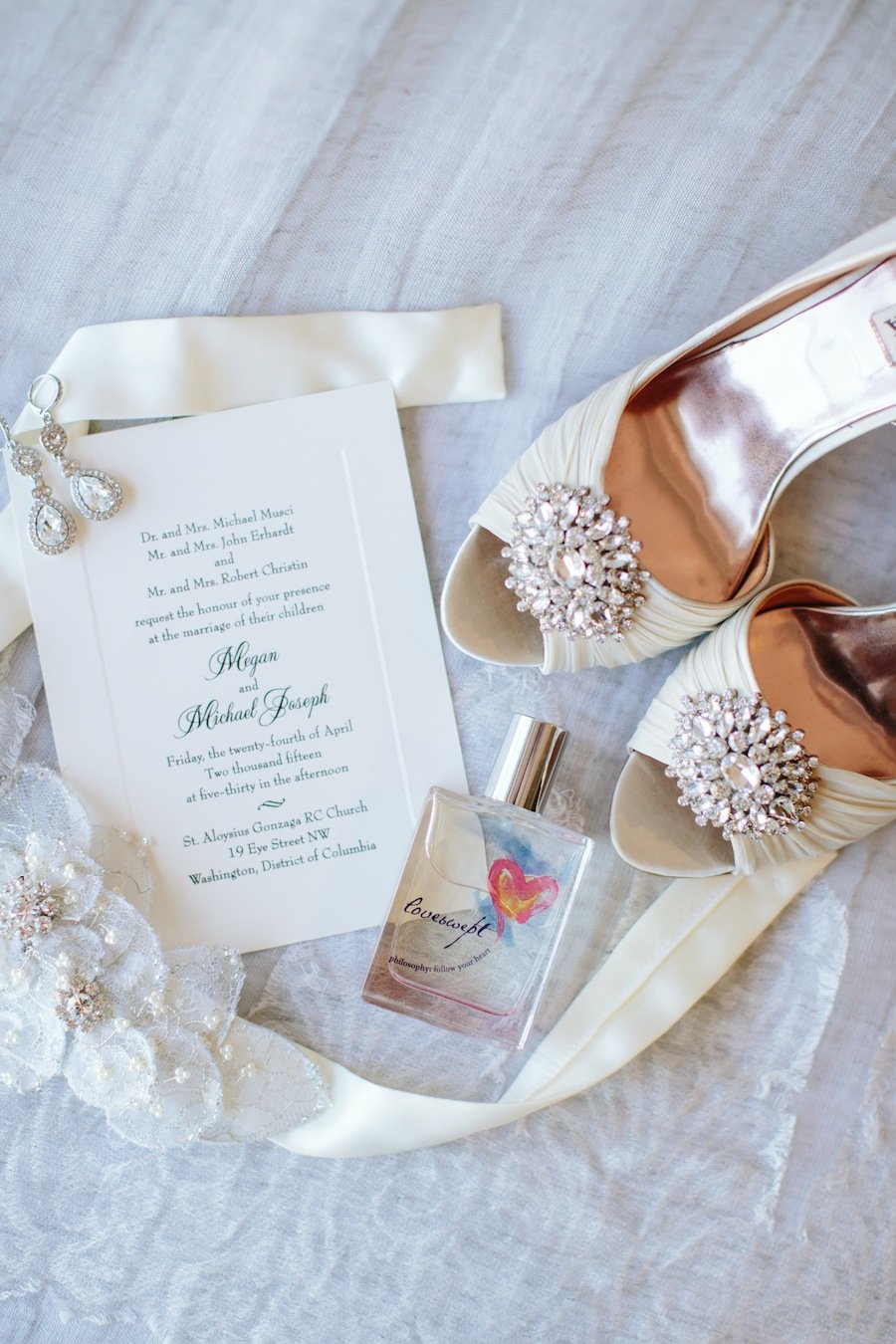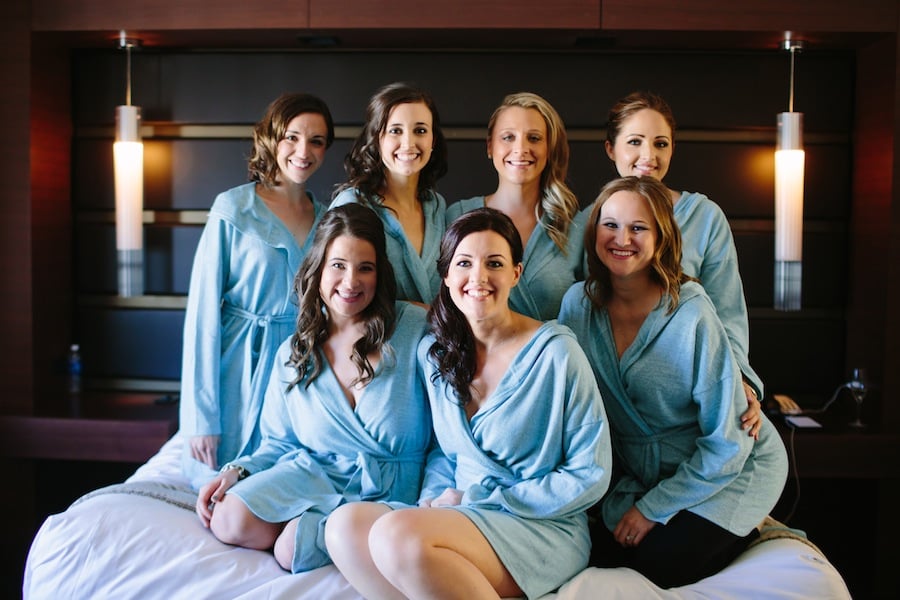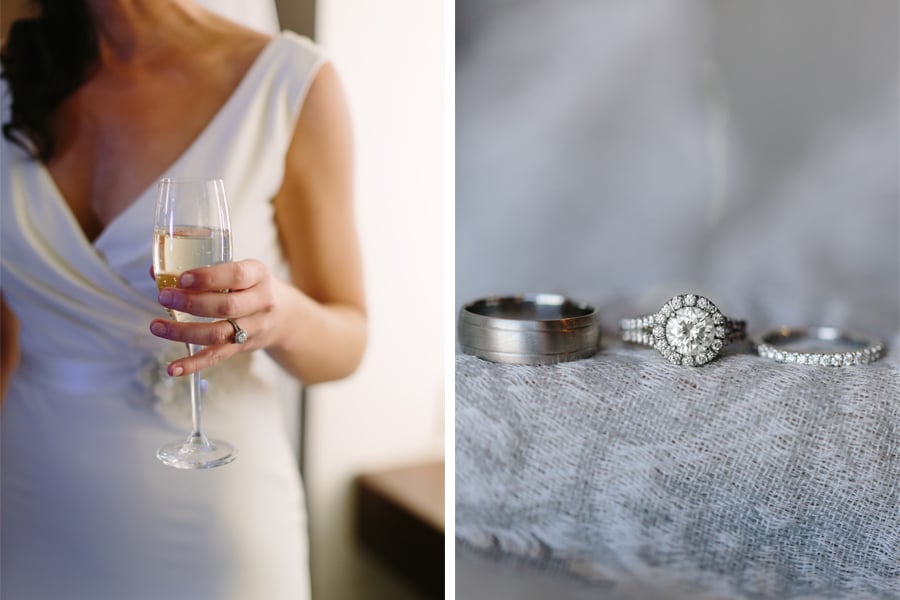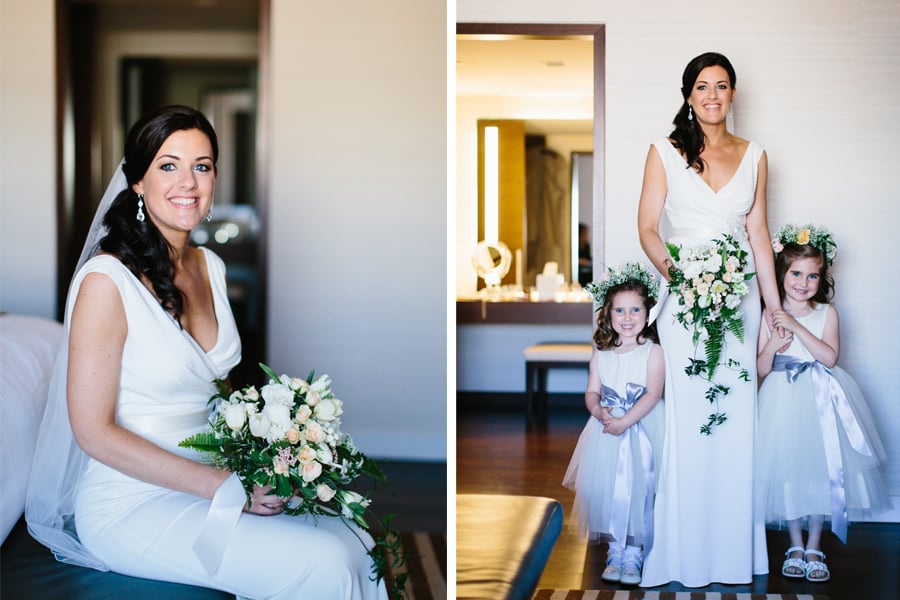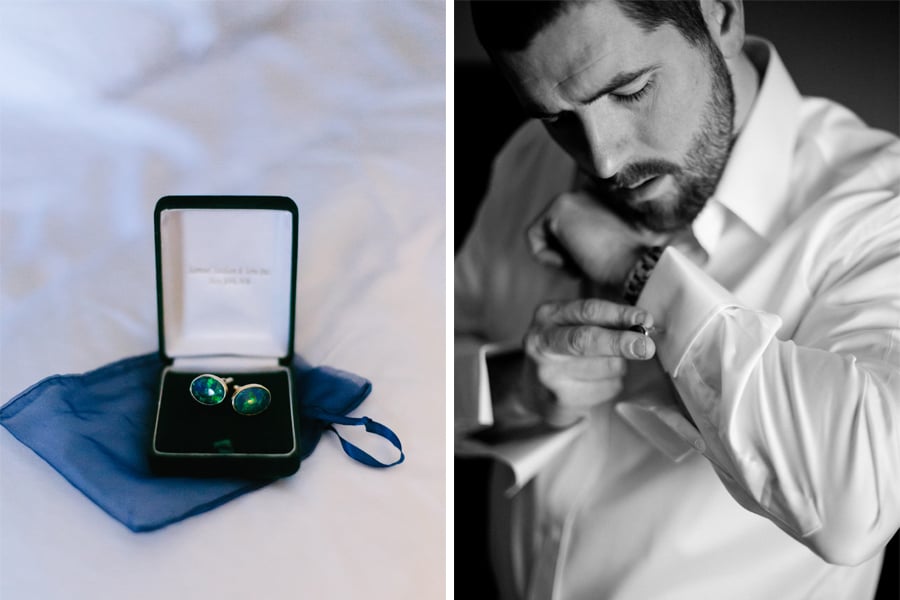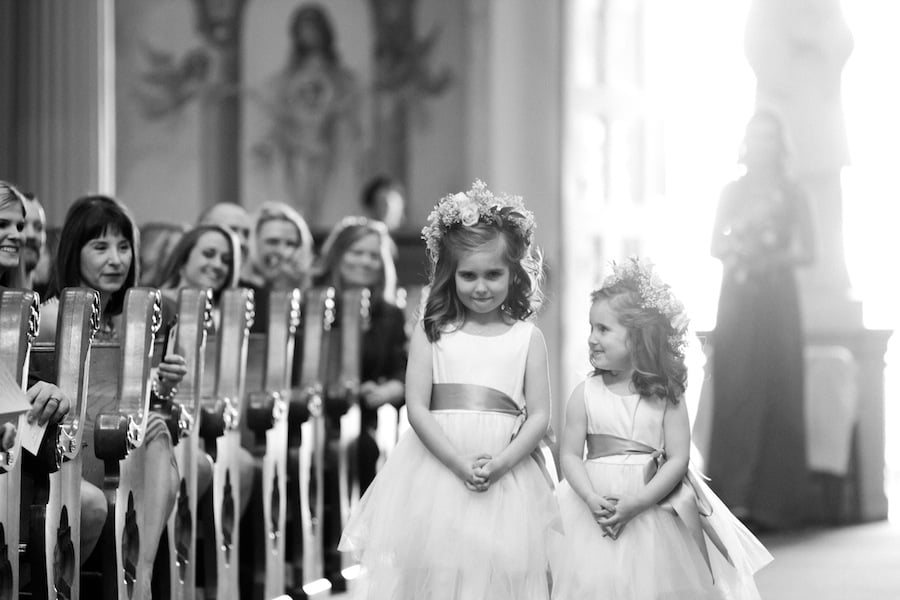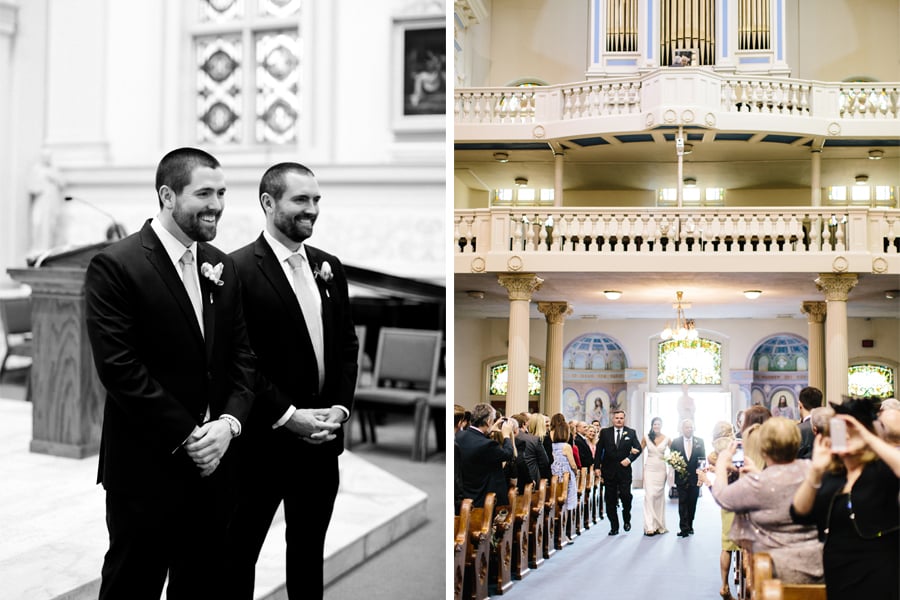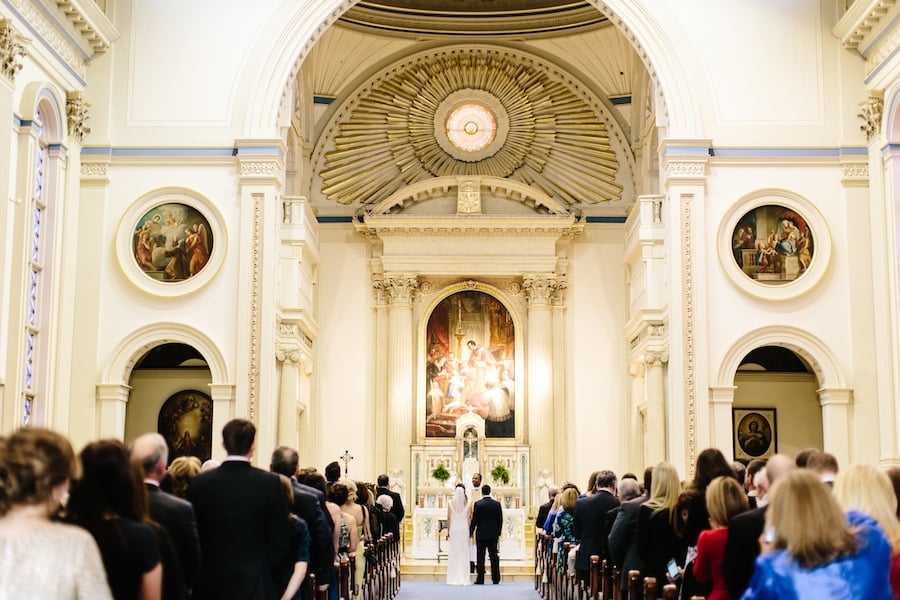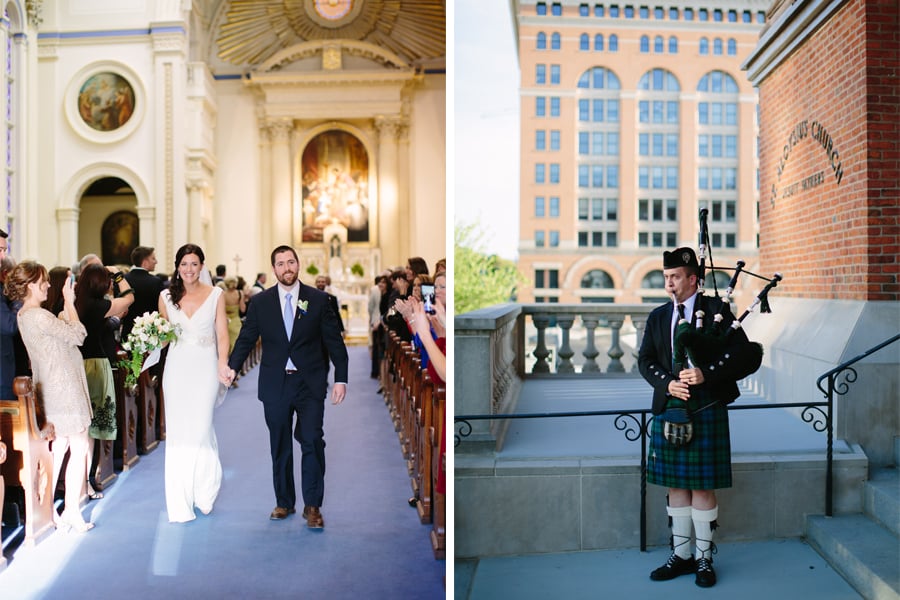 Though Mikey had his eye on Megan since they ran into one another at a bar in Georgetown in 2008, Megan was dating someone at the time and doesn't recall having ever met Mikey until three years later. It was September of 2011, and as the two of them gathered with mutual friends for a night of bar hopping via limo bus, little did Megan know that Mikey had only showed up because he'd heard she was recently single. Megan was attracted to Mikey's sincerity and honesty, and the two soon met up again at Pizzeria Paradiso in Dupont.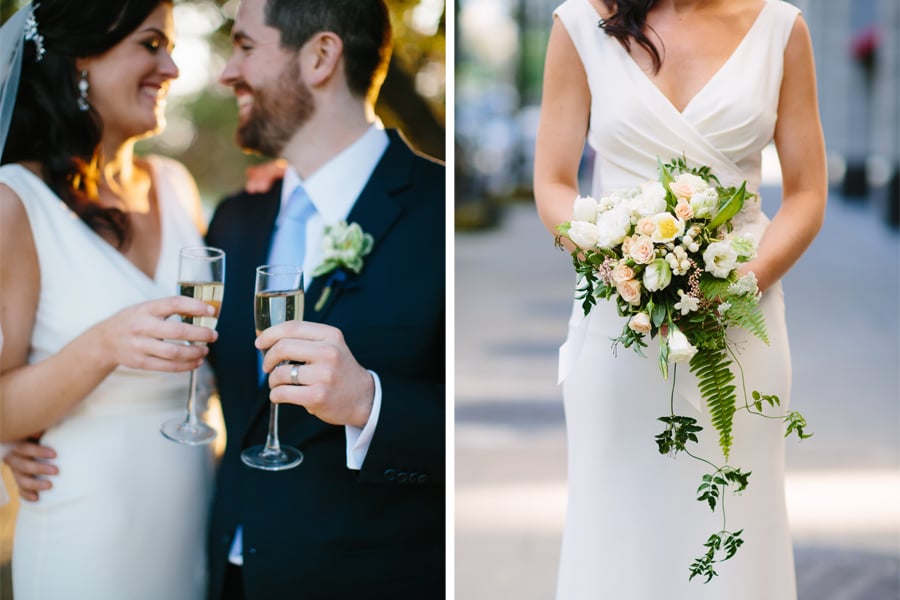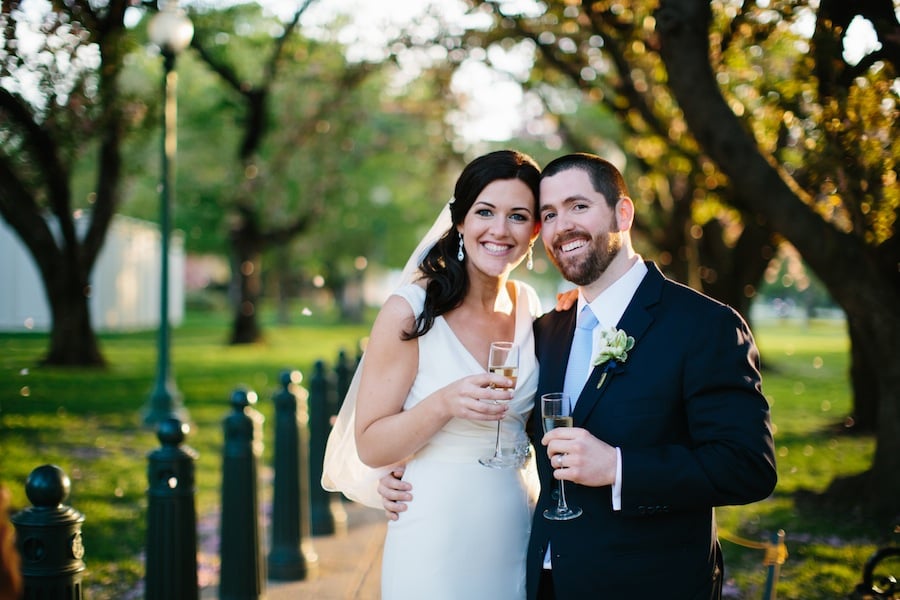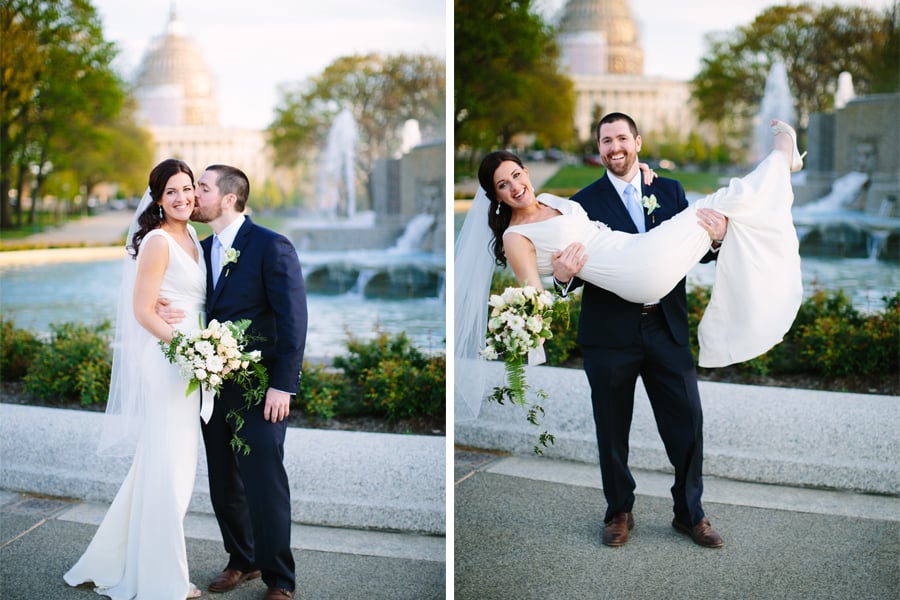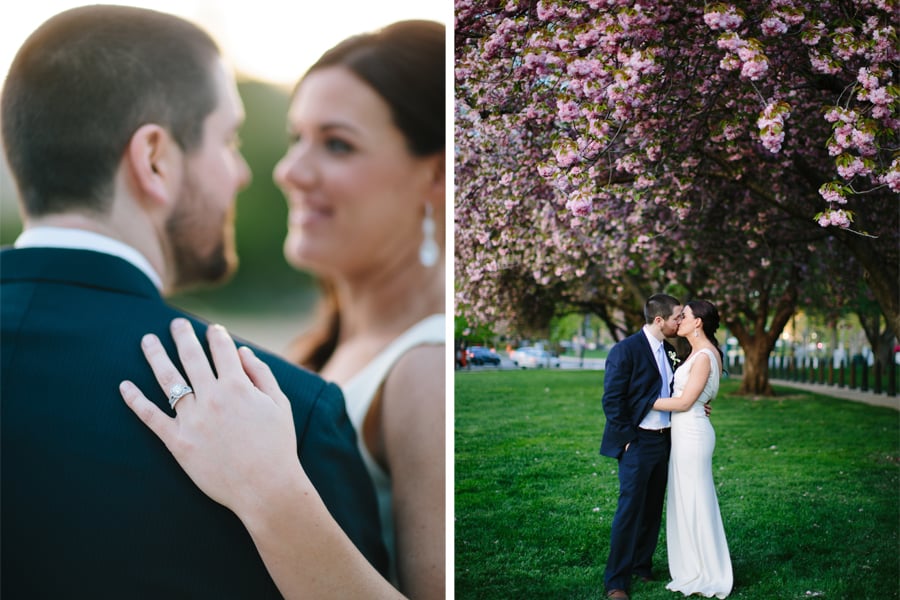 They'd dated for three years when they were out for their usual Friday night pizza. As they ate, Mikey repeatedly brought up the fact that they didn't spend enough time sightseeing. Though Megan was inclined to head home to the couch after their meal, she finally let Mikey lead her down to the Mall, where they went for a stroll by the monuments. Under the pretense that he'd never seen it in person before, Mikey led Megan up to the World War I Memorial, and it was there that he got down on one knee and proposed.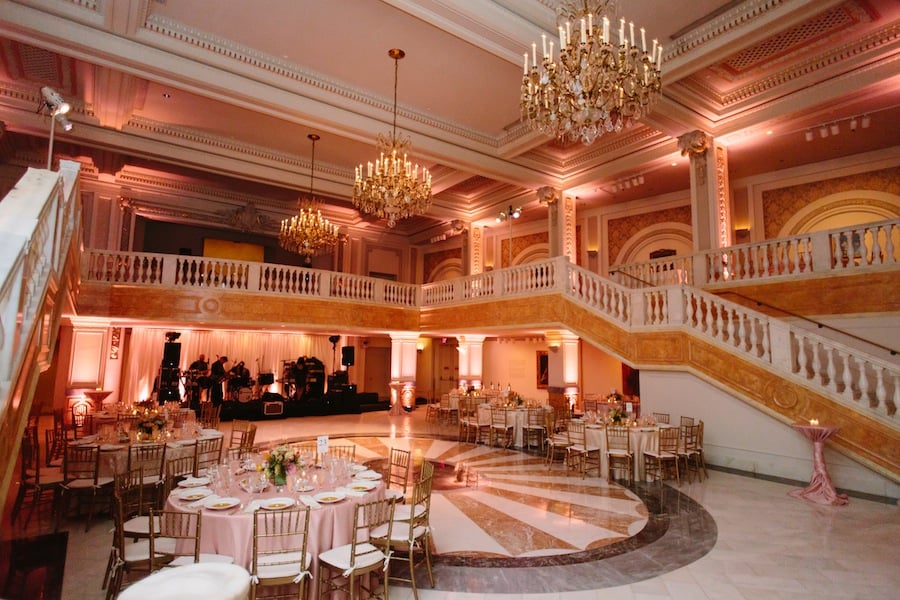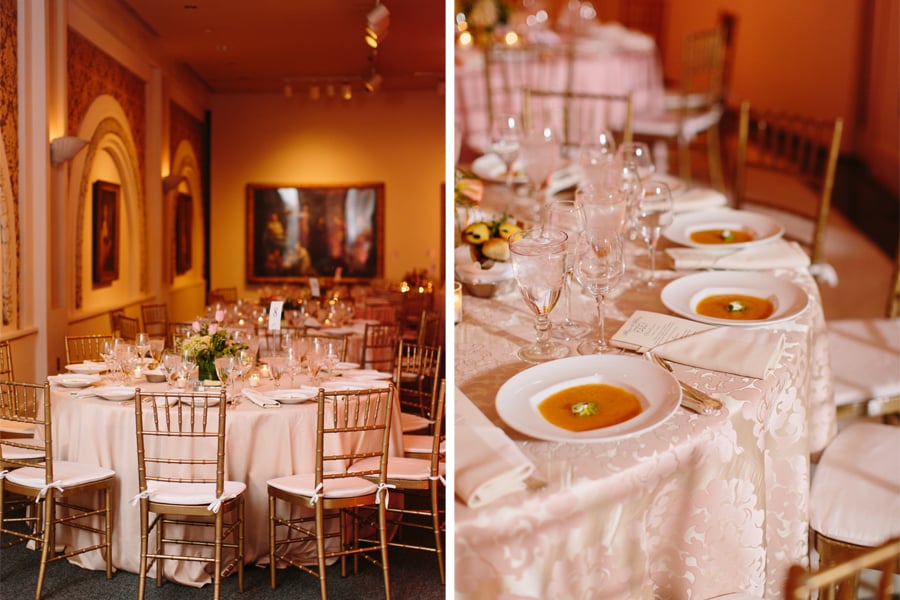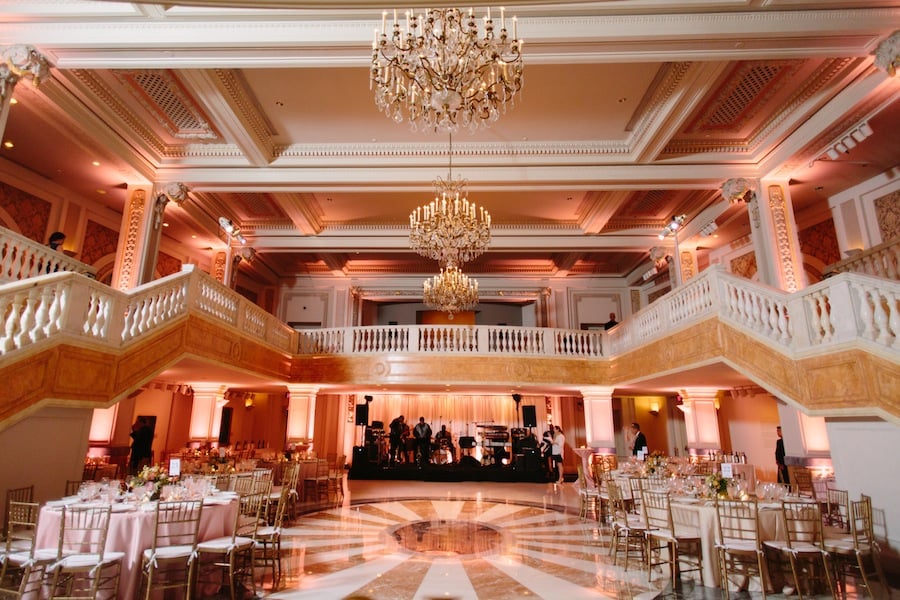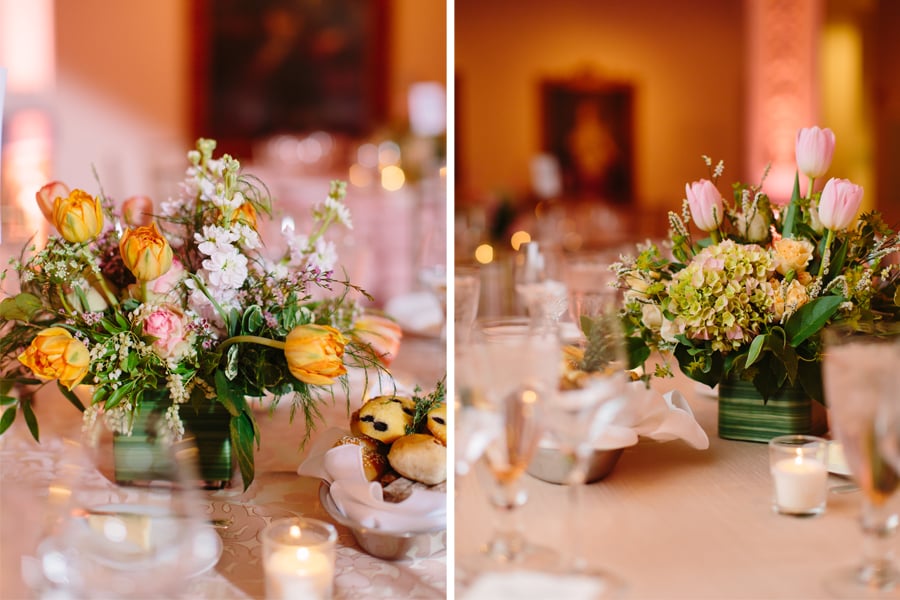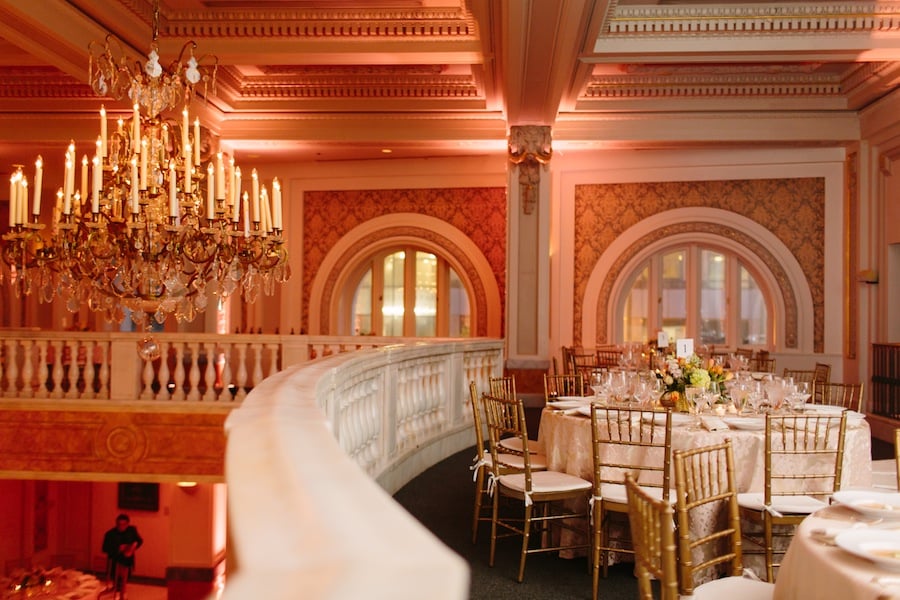 For their wedding on April 24, 2015, the pair planned for an elegant church ceremony followed by a glamorous reception at the National Museum of Women in the Arts. Though the halo of light coming in through the church doors behind her at first blocked his view of his bride coming down the aisle, Mikey says,"I will never forget how beautiful she looked at that moment."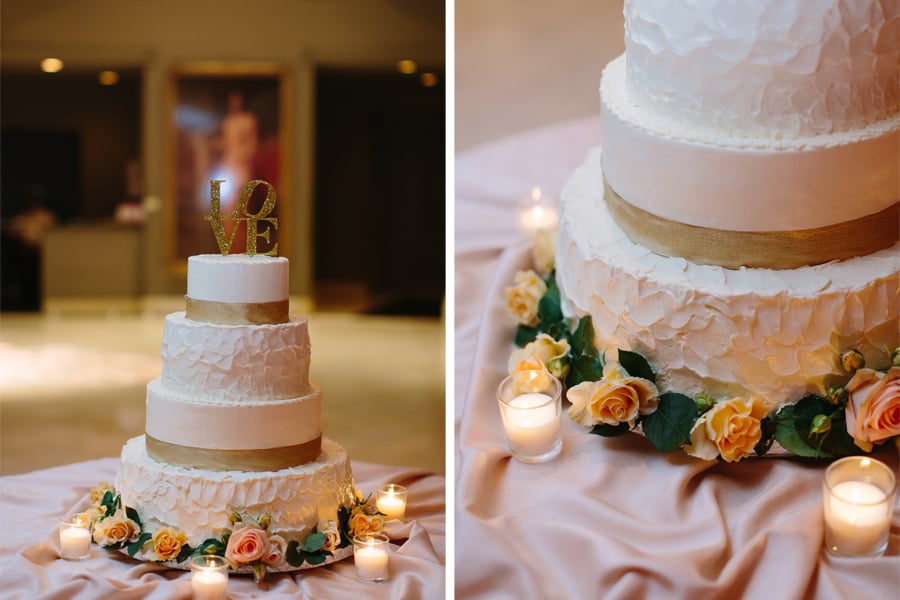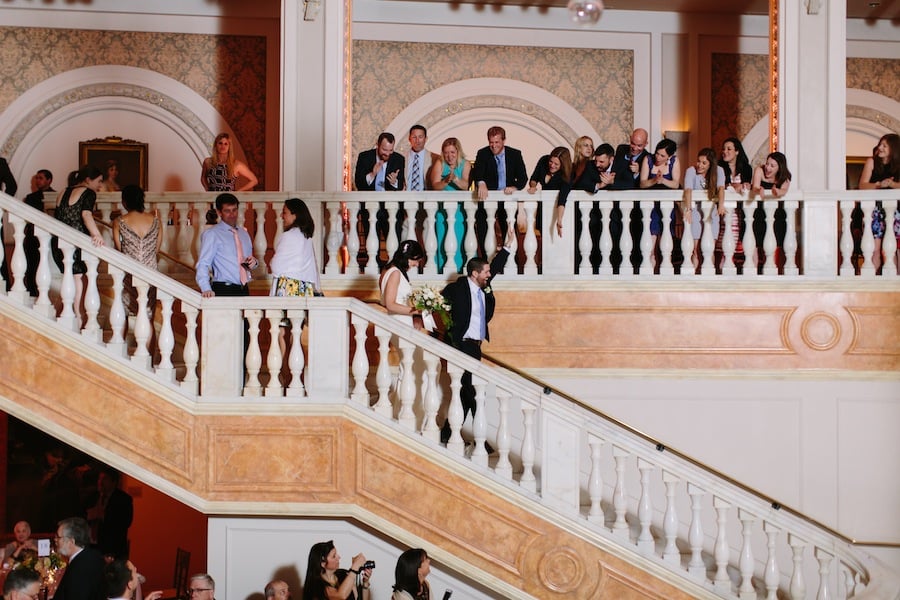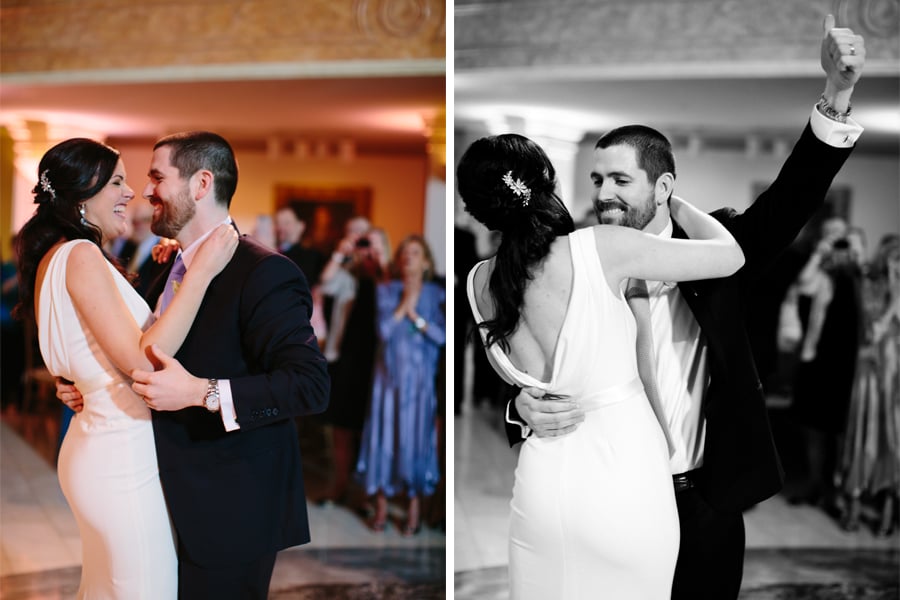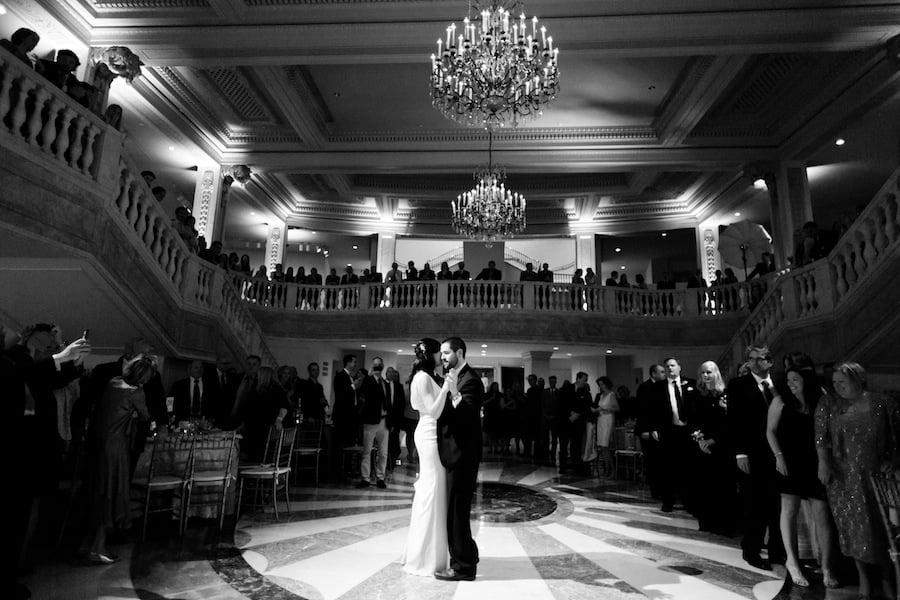 For the reception, they filled the mezzanine above the dance floor with round tables and gold Chiavari chairs, feasting on lemon cake layered with fresh blueberries. At the end of the night, Mikey and Megan sent their guests home with custom koozies before heading off for their Maui and Kauai honeymoon.
VENDORS
Ceremony Venue: Saint Aloysius Gonzaga Church | Reception Venue: National Museum of Women in the Arts | Photographer: Sarah Bradshaw Photography | Bride's Gown: Badgley Mischka, BHLDN | Groom's Tux: NITA Fashions | Hair Dresser: Hair By Jewels | Makeup Artist: Behind the Veil | Event Coordinator: Meghan Haven, Ridgewells Catering | Cake: Ridgewells Catering | Florist: Laura Francis, Floral Presentations | Caterers: Ridgewells Catering | Transportation: Moran Transportation Management Group | Videographer: Groom's father | Favors: Koozies from Custom Ink
Looking for your own amazing reception space? Start here.