Fans of Red Light should visit the 14th Street spot this weekend, as the bar is temporarily closing after service on Sunday for renovations. Owner Aaron Gordon says the changes are more of a "minor facelift" than a full remodel, which will include a new wooden bar, brighter paint, and an updated outdoor space.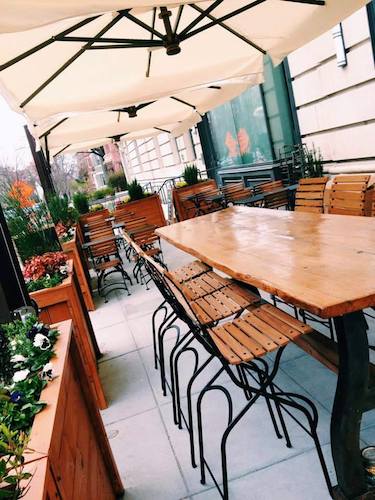 When the bar reopens in two weeks, the look will be less lounge-y. "We want to make it into a much more inviting, high-energy space," Gordon says. To help accomplish this, small tables outdoors will be replaced by long ones fit for groups, and a 40-foot drink rail overlooking the bustling sidewalk.
The kitchen is also tweaking its focus, moving away from desserts–the opening theme–and exploring a broader spectrum of savory dishes. Fresh items include brats in a blanket, made with homemade dough and local Logan Sausage. Chef Alina Bothen is also adding deep-fried Swedish meatballs (kroppkakor) to the menu as a nod to her heritage, served with mashed potato dumplings, mustard sauce, and berry jam.
Gordon plans for Red Light to be closed for no more than 14 days. In anticipation of cooler fall weather the team will also add heat lamps outside, so guests can take advantage of the new digs even after the temperatures drop.