September 1 is National Gyro Day, and we'd like to celebrate a rare form of the popular Greek sandwich: homemade gyros (pronounced "yeeros"). The protein cylinders found spinning in delis and food trucks are most often processed "meat cones" purchased from a gyro meat supplier, and can contain MSG, soy extenders, and hidden allergens such as wheat and lactose.
That's not to say all cones are the equivalent of Grecian Spam. Quality versions exist, and "Chicago gyros"—as they're called due to the Windy City's Kronos Foods, the largest producer in the world—are a style in their own right. Some of the DC's most popular Greek spots, such as Zorba's Cafe and the Greek Deli, outsource their gyro meat. Homemade versions require a lot of time, labor, and are generally more expensive for both the kitchen and consumer. That being said, the flavor payoff is huge. Instead of spongy, salty strips, a truly homemade gyro yields a pile of roasted meat, some parts juicy and others crispy from time on the spit.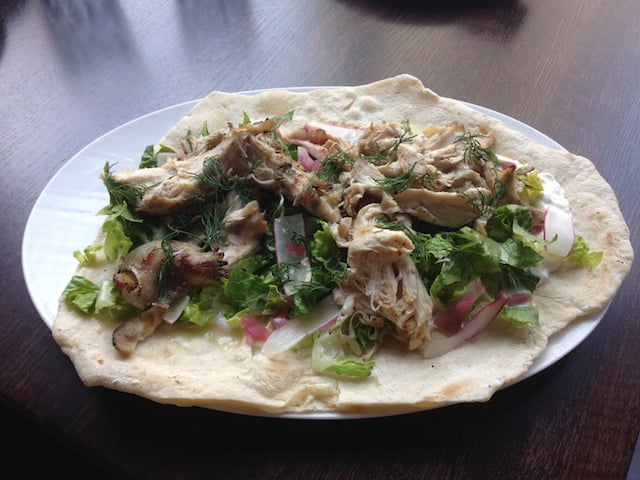 4000 Wilson Blvd., Arlington
Chef Mike Isabella's new Greek spot in Ballston is gyro central at lunchtime, offering five varieties stuffed with spit-roasted meats, falafel, or salmon. We're partial to the lamb variety—a similar version can be found at sister G sandwich shop in DC—where a tangle of juicy, crisp-edged meat is piled atop freshly hearth-baked flatbread with tzatziki, dill, shaved radishes, and pickled onions ($14 a la carte; $15 as an express lunch with a side and soft drink).
110 Lawyers Rd., NW, Vienna
Head to this cozy counter-order spot in Vienna for the ambrosia of gyros, arguably the best in Washington. Marinated pork shoulder stands in for beef or lamb, stacked on a spit that spins slowly for hours. Not only is the tender meat sublime, but so are the accompaniments: bright tzatziki, crunchy red onions, and a handful of crispy fries ($8.50). The kitchen also offers an outsourced beef-lamb "Chicago Gyro," but we opt for the house special every time.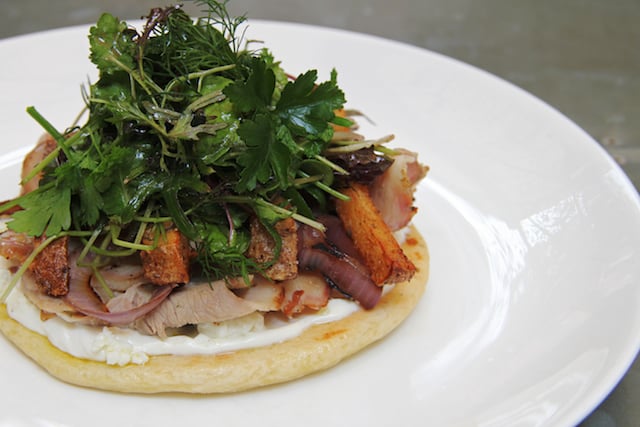 1734 N St., NW
The daily-rotating lunchtime gyro from chef Anthony Chittum is as far from a "meat cone" as one can get. The filling varies by season and local availability; one might find tender hunks of lamb, or today, a slow-roasted Berkshire pork shoulder. All arrive atop house-made pita with yoghurt sauce, tangy feta, grilled red onion, fat slices of local tomato, and olive oil-fried potatoes ($14).
4806 Rugby Ave., Bethesda; 1946 New Hampshire Ave., NW
While a number of places offer roasted meat gyros, Yamas builds their own traditional cone. Chef Sofia Lemus marinates halal beef and lamb for 24 hours in garlic and herbs, layers alternating slices in a cylindrical shape, and slow-roasts the meats on a spit. The peppery shavings are stuffed into fresh pita with plenty of tzatziki ($8.95). Note a fast-casual spinoff of the Bethesda cafe has opened in the District.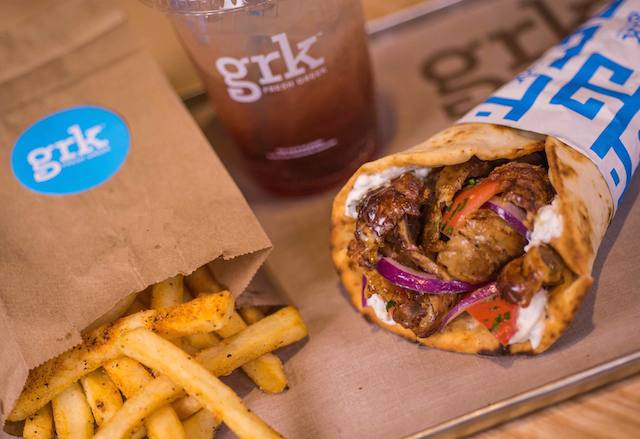 1140 19th St., NW
This fast-casual chain out of New York takes more care with its meat than your average quick-grab place, stuffing their "yeeros" with locally-sourced chicken, pork, or a combination of lamb and beef. The meats turn on spits behind the counter, creating an appetizing display. Following the Chipotle model, diners can opt for sandwiches or platters, and pick between three tzatzikis (try the habanero-spiked "kaftero" for kick). Another perk is a marinated portabello mushroom filling for vegetarians.