Breaded or battered, pounded thin or plumped up in a brine, there's one dish we crave across a global range of cuisines: fried chicken. Here's how different regions make the stuff—and where to sample it.
Asian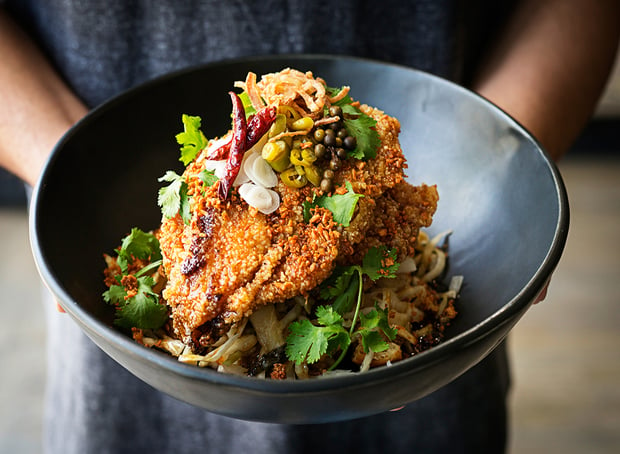 Korea
What it is: "The other KFC" is characterized by a flour-and-cornstarch coating and a double dip in the deep fryer, which results in shatteringly crisp skin often glazed with soy or hot chili sauce.
Where to dig in: Bonchon (multiple area locations). Many knockoffs exist, but the South Korea-based chain fries it best.
Japan
What it is: Kara-age, a style of batter-free frying, works beautifully with morsels of poultry marinated in soy, garlic, and ginger. Traditional potato-starch coating adds crunch but not heaviness.
Where to dig in: Order chicken thighs with ponzu dipping sauce at Izakaya Seki (1117 V St., NW; 202-588-5841).
Thailand
What it is: Gai tod, a popular street snack, varies in preparation but often gets its crispness from rice flour and a side of fried shallots or lemongrass.
Where to dig in: Johnny Monis's rendition—tossed in palm sugar and fish sauce—makes an appearance every few weeks at Little Serow (1511 17th St., NW; no phone).
Taiwan
What it is: A salt-and-pepper crust is one of this street-cart staple's signatures, often delivered with chilies and herbs.
Where to dig in: The version at Maketto (1351 H St., NE; 202-838-9972) blends mouth-tingling Chinese five-spice, pickled peppers, and sweet-spicy caramel. Unorthodox, but one of the best of its kind in Washington.
European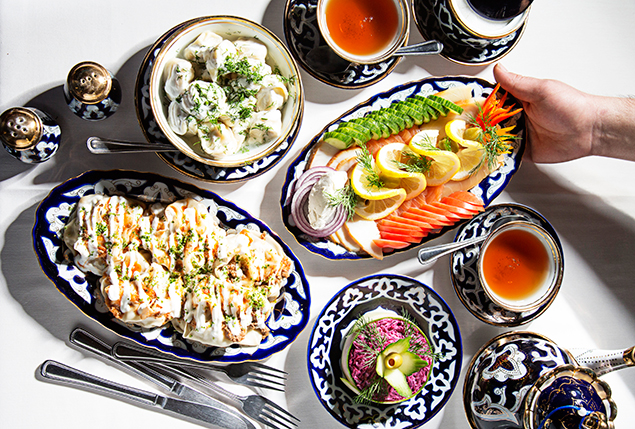 Russia
What it is: The only thing better than plain fried chicken: a crispy Kiev-style breast stuffed with garlic butter and dill.
Where to dig in: Chicken Kiev at Rus Uz (1000 N. Randolph St., Arlington; 571-312-4086) is about as indulgent as it gets—especially if you precede it with dumplings.
Germany
What it is: Veal schnitzel may be the classic, but we're partial to tenderized chicken cut-lets dipped in egg wash and bread crumbs, pan-fried, then spritzed with lemon.
Where to dig in: Head to Old Europe (2434 Wisconsin Ave., NW; 202-333-7600), which has been around nearly 70 years.
Italy
What it is: Chicken Milanese—breasts pounded thin and crusted with Parmesan, lemon, and herbs.
Where to dig in: We love the version with arugula-prosciutto salad at Ris (2275 L St., NW; 202-730-2500).
American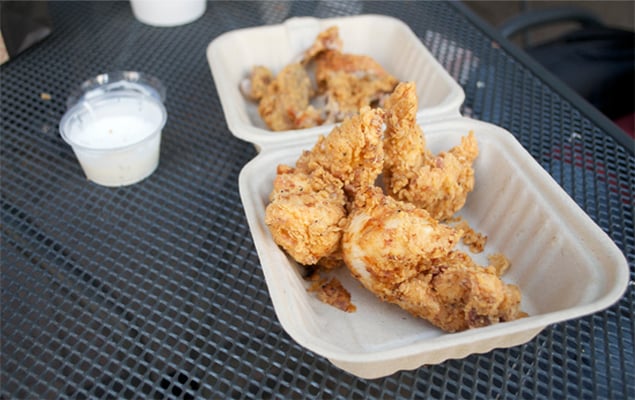 Nashville
What it is: Nashville "hot" chicken runs true to its name: Mouth-searing pieces are often soaked in a cayenne-buttermilk bath, dredged in spiced flour, deep- or skillet-fried, then sometimes glazed in a mix of lard and even more cayenne. A nest of white bread and pickles soaks up the fiery juices.
Where to dig in: Reserve 2216 (2216 Mount Vernon Ave., Alexandria; 703-549-2889), where the dish is gussied up with a cornmeal waffle.
Buffalo
What it is: There's a whole freezer-to-fryer industry when it comes to Buffalo wings, but America's most common deep-fried bar snack is best made fresh with plenty of butter, vinegar, and cayenne in the sauce.
Where to dig in: Clyde's (multiple area locations) keeps it classic with a tangy heap of hot wings, celery, and thick house-made blue-cheese dressing.
Philadelphia
What it is: Chicken and biscuits. Chicken and waffles. Why not chicken and doughnuts? The combination caught on at Philly's Federal Doughnuts and has since migrated across the country.
Where to dig in: Astro Doughnuts & Fried Chicken (1308 G St., NW, 202-809-5565; 7511 Leesburg Pike, Falls Church, 703-356-0800) fries up tasty rounds alongside buttermilk-soaked fried chicken—or you can combine the two in creations such as a fried chicken BLT on a savory doughnut.
This article appears in our September 2015 issue of Washingtonian.