Uni-topped lamb tartare sounds like a dish found on 14th Street, but it's one of the many ambitious options at Reston's new restaurant: Red's Table. The 181-seat eatery overlooking Lake Thoreau opened Monday in the former Lakeside Inn space, which was completely remodeled for the new concept. Behind the venture are three local brothers—Matthew, Patrick, and Ryan Tracy—as well as restaurateur John Jarecki of Alexandria's Light Horse Tavern.
Chef Adam Stein, who also helms the kitchen at Light Horse, embraces a local-when-possible, homemade approach. The kitchen bakes all bread in-house, cures their own bacon and corned beef, sources steaks from Virginia and Maryland, and will rely on the Reston Farmers' Market for seasonal inspiration.
"People don't want the same old stuff from the watered-down chain restaurants," says Stein. "They want the lamb tartares and hamachi crudos."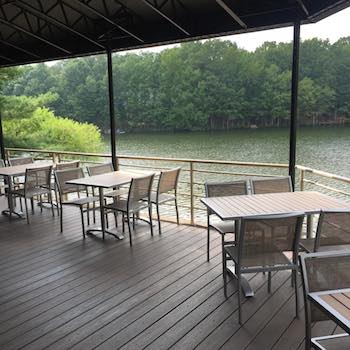 Not all of the dishes are made with adventurous eaters in mind. Buttermilk-fried chicken, hollandaise-sauced steak, and beer-steamed shrimp with Old Bay dot the menu. The place is designed to be neighborhood-friendly, both in the comfortable sense—guests can drop by for a $14 dry-aged burger on house brioche—and by offering a variety of experiences for potential regulars. Those looking for a weekend splurge can stay local and order the $125 Thoreau Plateau for two to four, laden with raw bar specialties, charcuterie, and Vermont cheeses.
Seafood stars on the menu given the lakeside location, though Stein's oven-roasted mussels soubise or whole crispy snapper aren't drawn from the nearby waters. Instead guests can appreciate the surroundings by grabbing a table by the floor-to-ceiling windows, or posting up on the 50-seat patio. The outdoor space is equipped with gas heaters and an awning for year-round service.

The restaurant is currently open for dinner, with lunch and brunch to begin the week of September 28. One very un-14th Street aspect of Red's: reservations.
Red's Table. 11150 South Lakes Dr., Reston; 571-375-7755. Open nightly for dinner. Full hours (beginning September 28): Open Monday to Wednesday, 11 to midnight; Friday and Saturday, 11 to 2; Sunday 10 to midnight. Outside patios close at 10 nightly.