Filipino food isn't abundant in DC, which is partially why the arrival of Bad Saint in Columbia Heights has been met with such excitement. The other factor: there's no Filipino restaurant like it—the ornate sliver of a space, the progressive menu, and a team of industry vets who're drawing from experiences at places like Komi (co-owner Genevieve Villamora), Room 11—co-owner Nick Pimentel is a partner—and Ardeo + Bardeo, where chef Tom Cunanan most recently cooked.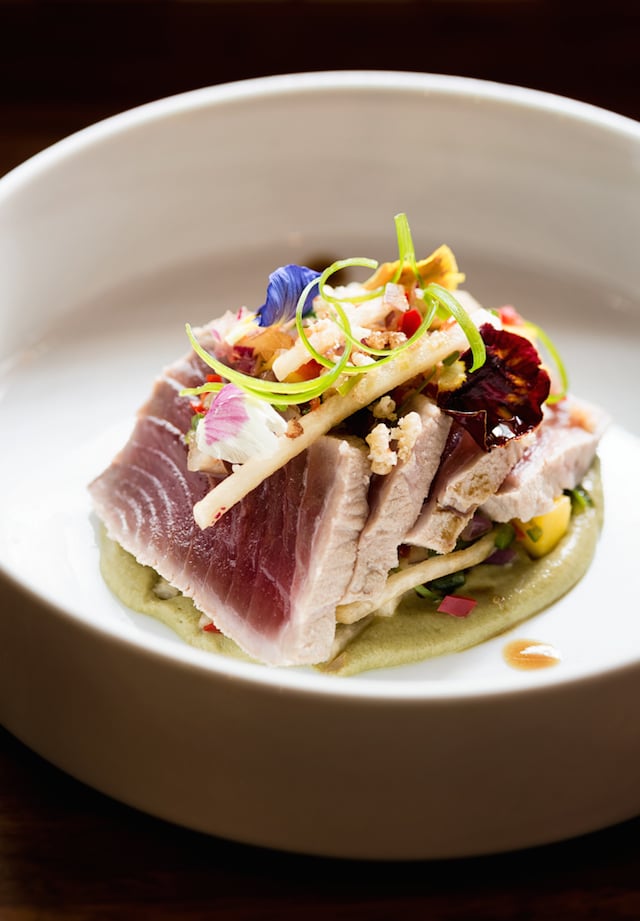 Another factor is the newness, and not just the restaurant itself. Washingtonians are well-versed in styles of ramen and the best pho shops, but modern Philippine cuisine is still unexplored save for Restaurant Eve's new Filipino tasting menu. Many won't recognize the different regional styles and specialties that Bad Saint's kitchen represents.
"People have a misconception about Filipino food—that it's all rich and meat-heavy," says Villamora. "For millennia, before the Spanish came, it was largely a plant and seafood-based diet."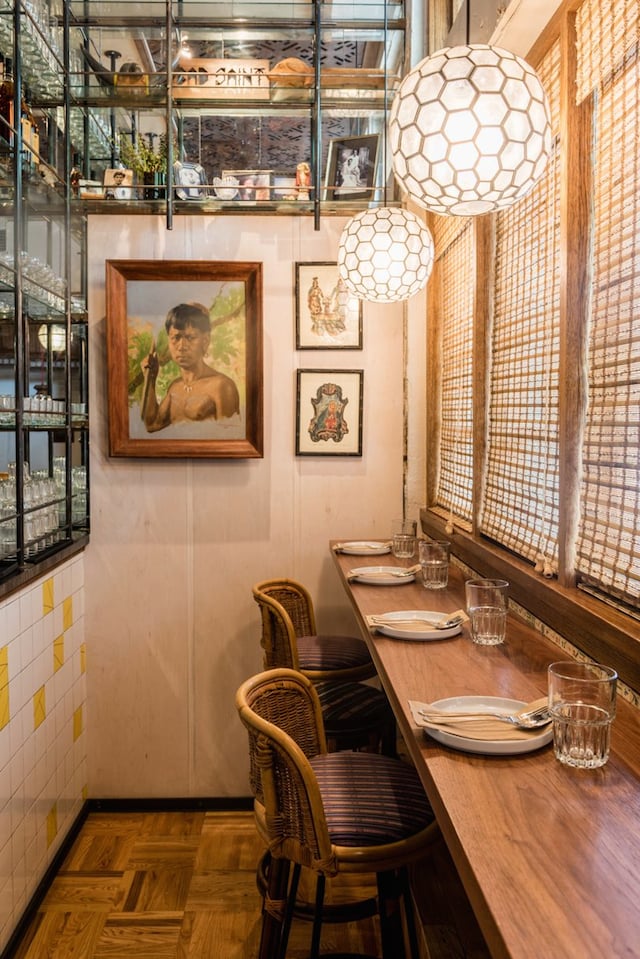 Bad Saint's menu offers an array of tastes, and even includes a vegetarian section with vegan options. Villamora walked us through her ideal meal, showing off a range of dishes from light to robust, homestyle and innovative: ginisang gulay, dark greens sautéed with ginger and garlic; kinilaw, a ceviche-like preparation of yellowfin tuna with charred avocado puree; stir-fried pancit rice noodles with vegetables, mushrooms, and lemon oil; clams sautéed with Chinese sausage and chilies; tapa, air-dried beef with a slow-cooked egg that Villamora describes as "pure comfort food," and finally inihaw na liempo, grilled pork belly that diners wrap in lettuce leaves. Cunanan marinates the pork in lemongrass, ginger, sugar cane vinegar, and a surprise ingredient: Sprite.
"It's a Filipino thing," says Cunanan, "Sprite adds sweetness and tenderizes the meat."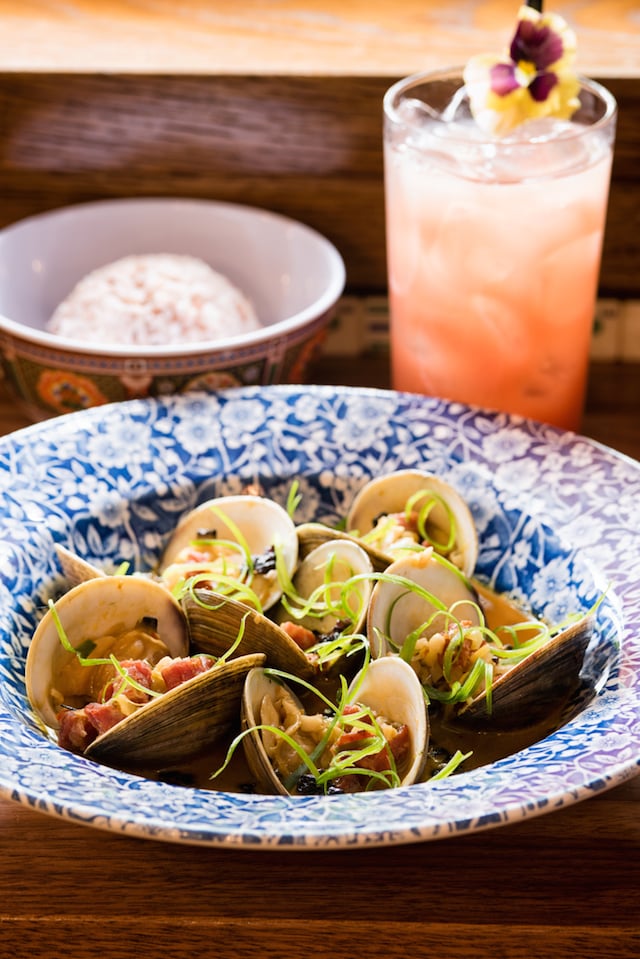 It might be tempting to grab a group and try everything, though parties are limited to four. Only about two dozen seats fill the space, many at counters by the window, or in the back near images of Saint Malo—the Louisiana town from which the restaurant takes its name, home to one of the earliest immigrant populations from the Philippines. Another fun fact: the bathrooms are papered with 1980's prints from Filipino punk magazines, which Pimentel collected as a teenager.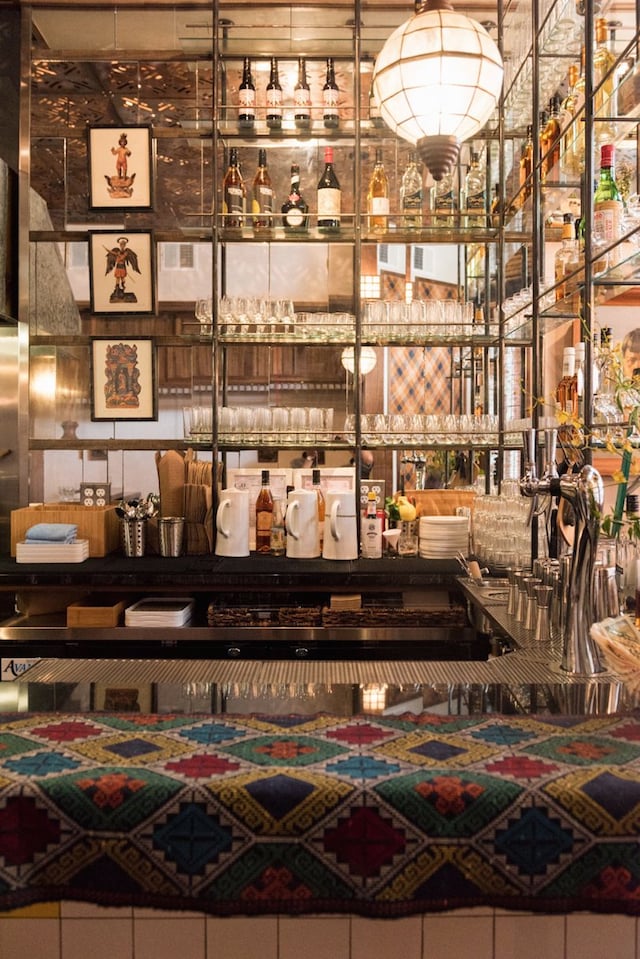 Though you won't be able to drop into Bad Saint solely for the bar—those three stools will be prized for dining—the cocktail list is worth browsing for creations like the Manila Sling, made with sherry, acai grenadine, and a white jasmine tincture. Rounding out the beverages is an eclectic mix of local craft beer and effervescent Spanish wine, ciders and Mexican Coke.
"We're paying homage to the mom and pop-style of restaurants that came before us," says Villamora. "Still, we've all been in the industry for over 30 years, collectively. It's a different thing that we're bringing."
Bad Saint. 3226 11th St., NW. Open Monday and Wednesday through Sunday, 5:30 to 10; Friday and Saturday, 5:30 to 11. Closed Tuesdays.