There are plenty of reasons why Washingtonians have their eyes on the ABC drama Scandal as its fifth season premieres on September 24: Lead character Olivia Pope is based on Washington crisis manager Judy Smith, and the juicy plot gives viewers a peek at the scabby underbelly of a fictitious White House. Just as satisfying as any jaw-dropping twist is Pope's impeccable "where did she get that?" wardrobe. Lyn Paolo, Scandal's costume designer, is the brains behind Pope's look. She's also responsible for shattering stereotypes about DC's work uniforms: Gone are boxy, shoulder-padded red suits; in are gorgeous Alexander McQueen jackets and warm hues.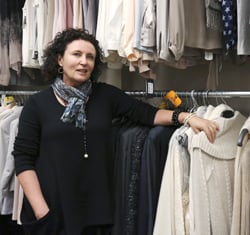 While working as a costume designer on The West Wing, Paolo learned a thing or two about the unspoken fashion rules in political Washington. Early in her Scandal gig, she decided that Olivia Pope would break them. "I try to look to designers who are just pushing the envelope ever so slightly in their suiting," Paolo says. "People are shocked when I tell them [Pope] wears a lot of Armani. I'm sure they assume Armani is super-conservative, but the fabrics and silhouettes are stunning, and we tailor everything to fit perfectly."
On September 25, the Emmy-winning costume designer visits DC to discuss how fashion can shape TV characters. Paolo describes her work as storytelling, painting the narrative through clothing—and the tale she tells in Scandal is one of a much sexier, fashion-forward city. At this Smithsonian Associates event, learn how to use clothes in crafting your power as Paolo talks with Washington Post fashion critic Robin Givhan. $35 members, $45 nonmembers; S. Dillon Ripley Center.
Update: Lyn Paolo's Smithsonian Associates event will no longer be held at the S. Dillon Ripley Center. It will now be held at the Hirshhorn Museum's Marion and Gustave Ring Auditorium.
This article appears in our September 2015 issue of Washingtonian.