What makes a truly great cheeseburger? We found the perfect recipe, but there are plenty of variations around Washington: thick and thin, beefy and veggie, capped with gooey with American or aged Vermont cheddar. Here are 18 of our favorites around DC for celebrating National Cheeseburger Day–or any day.
Proper Burger at Duke's Grocery
1513 17th St., NW
You may not look proper devouring this East London-inspired pub's burger, but it's worth attacking with abandon. Two Creekstone Farms beef patties—thick enough for medium-rare—make for a mouthful, smothered in a sweet-tangy mix of melted Gouda, chili sauce, aïoli, house pickles, and arugula. ($12)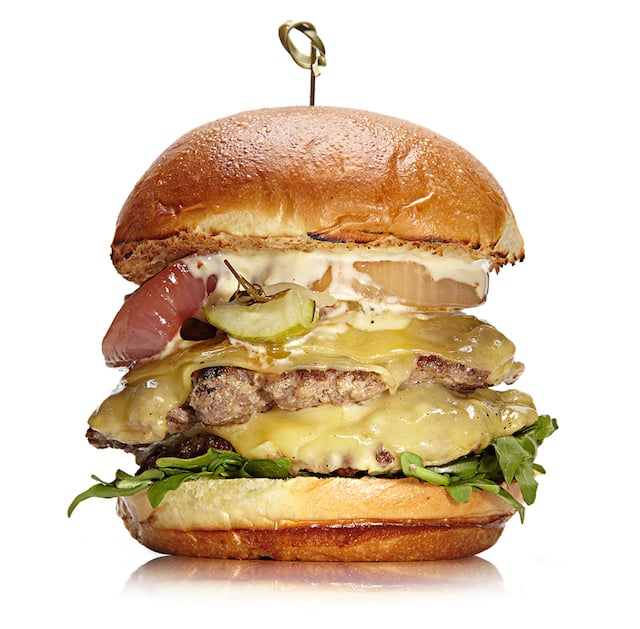 Bacon cheeseburger at Green Pig Bistro
1025 N. Fillmore St., Arlington
You'll surely wonder, as you chomp down into this decadent spin on an American classic, why all bacon cheeseburgers don't come with bacon ground into the beef. This is a full five-napkin affair—a lusciously sloppy handful that makes other high-end burgers look prim and proper by comparison. Here's to a burger with pedigree that's gloriously unafraid to be gut-busting junk food. ($16)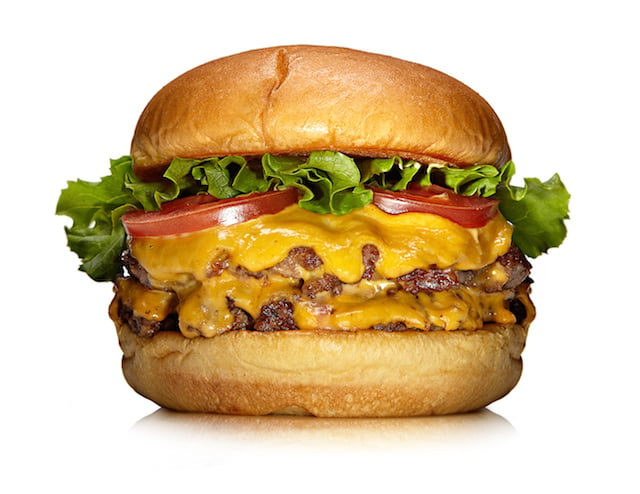 Shackburger at Shake Shack
Multiple area locations
New York's high-end restaurateur Danny Meyer smartly raided the grocery aisle—not the four-star kitchen—for the fixings at his Manhattan burger stand, which has since launched dozens of locations around the country (and counting). American cheese, Martin's potato rolls, green leaf lettuce, pickles, and mayonnaisey ShackSauce are all these just-greasy-enough burgers need. For something a little fancier, try the SmokeShack gussied up with bacon and chopped cherry peppers. ($6.69 for a single)
The Mack at Ray's Hell Burger
1650 Wilson Blvd., Arlington
Here it is, the Platonic ideal of a cheeseburger. No twists on tradition, no chef-y touches—just a hand-ground, prime-beef patty, well seasoned and perfectly charred on the grill. Two slices of American cheese enhance the meat without upstaging it, while a thickly cut beefsteak tomato provides a welcome touch of sweetness. ($7.99 to $11.99)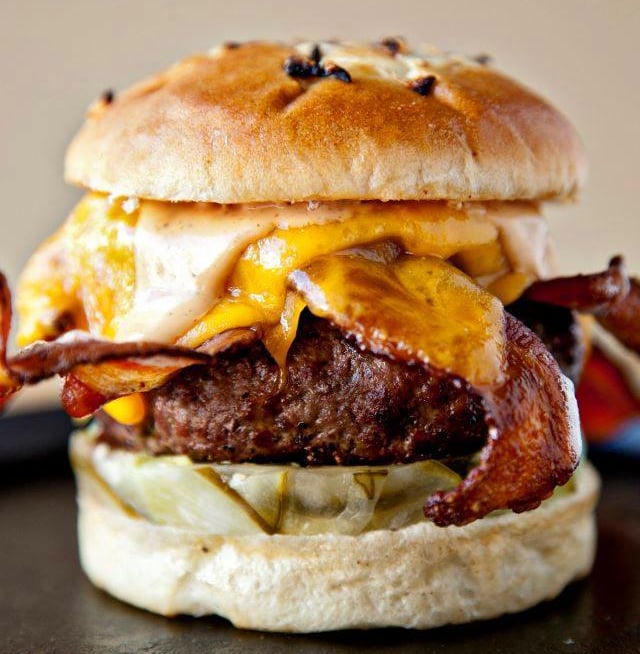 Bacon cheeseburger at Mintwood Place
1813 Columbia Rd., NW
Chef Cedric Maupillier has a proven track record with riffs on French fare, though he can throw down when it comes to the most American of dishes, too. A mound of juicy dry-aged beef takes a turn on the wood grill, then is finished with melty cheddar, a fistful of smoky bacon, and lightly-pickled lettuce for crunch. ($17)
Prime Angus truffle burger at Food Wine & Co.
7272 Wisconsin Ave., Bethesda
We tend to roll our eyes when we hear "truffle" and "burger" in the same breath, but this dish is a true masterpiece. In fact, the often overpowering flavor of the fungi, which are in the sottocenere cheese and whipped into an aïoli, recedes into the background, allowing the rest of the burger—a house-ground patty piled with roasted mushrooms, sweetly pickled and crispy fried onions—to take the spotlight. ($19)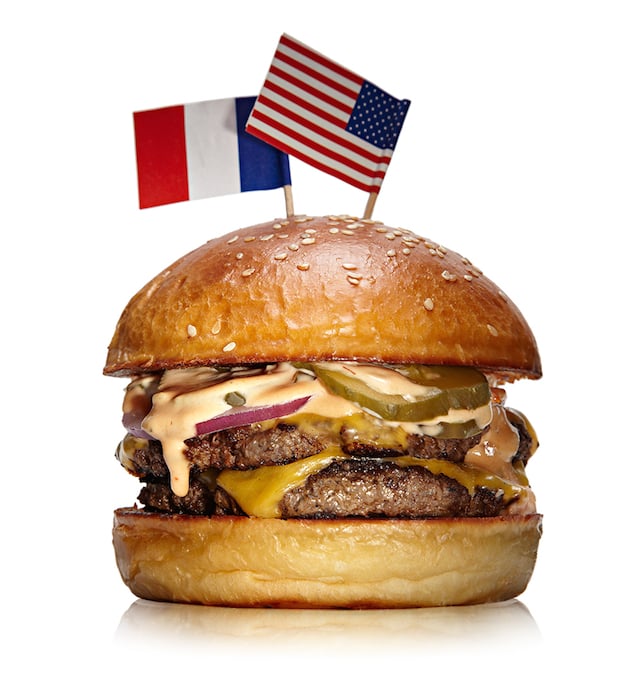 Burger Américain at Le Diplomate
1601 14th St., NW
It's hard to imagine, but pretend you were homesick in Paris—wandering around and looking for something familiar to soothe you. This French bistro puts out the burger you'd fantasize about finding, an homage to the Golden Arches with perfectly salted, skinny double patties, creamy "special sauce," red onions, pickles, and American cheese. On the side: excellent, salty fries that will also remind you of a drive-through—in the best way. ($15)
Le Petit Mort at Slash Run
201 Upshur St., NW
Petworth's punk-burger bar serves plenty of cheesy creations, including the molten cheddar-stuffed Juicy Lucy. Though this spot is no-frills, we're fans of the serious-sounding Le Petit Mort (translation: the little death), where a well-seasoned patty is shrouded in blue cheese and creamy garlic aioli, and topped with wine-sauteed mushrooms and arugula. If this is the end, we're happy to see it arrive.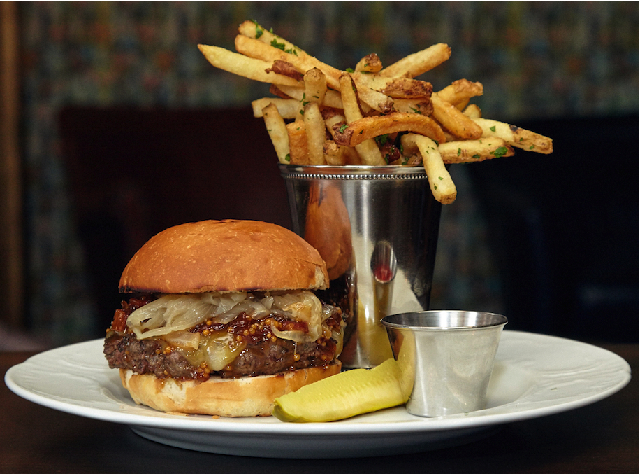 All-American Tavern Burger at the Riggsby
1731 New Hampshire Ave., NW
Chef Michael Schlow's retro American restaurant in the Carlyle Hotel calls for a great cheeseburger, and the kitchen delivers. A thick patty is topped with aged Vermont cheddar, and robust bacon-onion jam that's lightly sweet without the cloying quality of others we've sampled. The combination is rich and juicy, but not nap-inducing–all the better when a slice of superb chocolate ice box cake arrives for dessert. ($15)
Baja turkey burger at the Counter
11922 Democracy Dr., Reston
The handful of dried cranberries that adorn this thick turkey patty don't inspire much confidence—until you take a bite and realize how nicely the sweet-tart fruit accents the burger. Zestily spiced sour cream and pepperjack cheese make good accessories, too. ($10)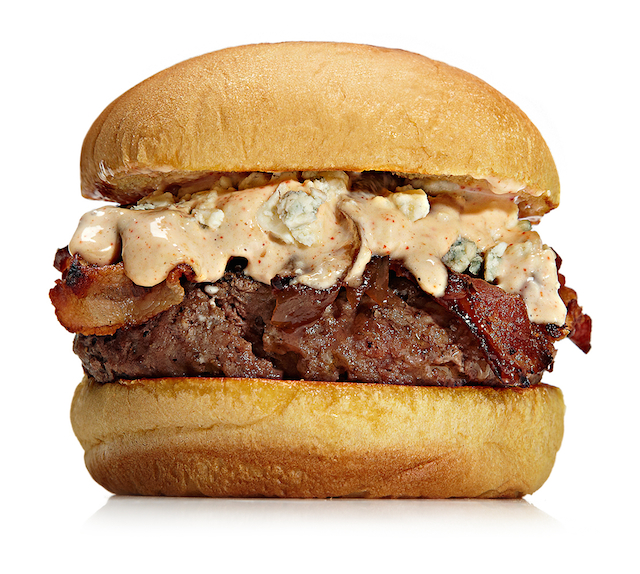 Prez Obama Burger at Good Stuff Eatery
303 Pennsylvania Ave., SE; 3291 M St., NW; 2110 Crystal Dr., Arlington
At his folksy milkshake-and-burger joints, Spike Mendelsohn dolls up fast-food-style burgers (thin, griddled patties; squishy buns) with an offbeat array of accoutrements. This tribute to Washington's most famous burger fan—who has brought his staff to the Capitol Hill location for lunch—is our favorite, with crumbles of Roquefort cheese, thick and crisp bacon, and sweet onion marmalade. ($6.98)
Lamb burger at Bourbon Steak
2800 Pennsylvania Ave., NW
You won't go wrong with any of the bar menu's burgers (also served in the restaurant at lunch), from classic beef to succulent turkey. Still, we most often crave the Mediterranean-inspired lamb rendition, made with house-ground meat from local Border Springs flocks. An olive-oil bun enriches the dish, accented with tzatziki, tangy feta, and tomato-onion chutney. Skip beer—this refined burger deserves one of the lounge's stellar cocktails. ($19)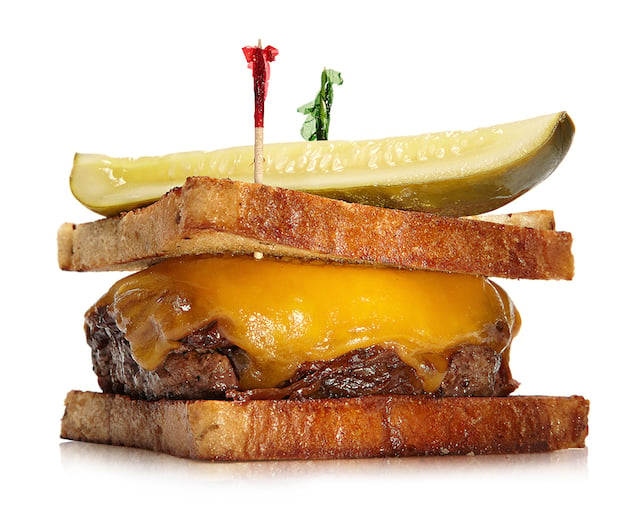 Patty Melt at Bidwell
1309 Fifth St., NE
Union Market's lone full-service restaurant can be uneven, but chef John Mooney has nailed is this retro classic. Wisely, the kitchen doesn't gussy up the sandwich up beyond recognition. Instead, he has put his effort into perfecting each element: griddled rye that crunches like a dream, a tightly packed patty that blushes pink, melted cheddar that delivers gooeyness and tang, and caramelized onions that have never tasted sweeter. ($14)
Veggie burger at Woodmont Grill
7715 Woodmont Ave., Bethesda
We love our meat burgers, but the vegetarian version at Woodmont Grill has been a staple on the menu since the restaurant's early days (when it was known as Houston's) for good reason. The black-bean-and-rice patty gets its hue—and flavor—from beets and chopped prunes, and the slight sweetness is an excellent foil for the toppings: lettuce, pickles, jack cheese, yellow mustard, and mayo. ($17)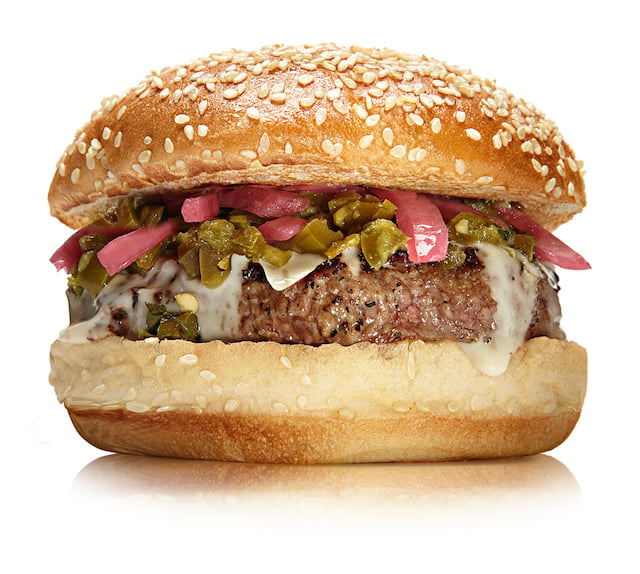 New Mexico Burger at Bobby's Burger Palace
Mutiple area locations
For Bobby Flay, the important numbers when it comes to burger making are 80-20. Twenty refers to the percentage of fat in the beef and explains why the patties here are so juicy. We're partial to this smart Southwestern spin, which cloaks the beef in an unexpectedly sophisticated queso and adds heat and crunch with green chilies and pickled red onions. Points, also, for an assertively salted and peppered patty, and a seeded bun that doesn't ride high. ($7.95)
The Original at Red Apron Butcher
1309 Fifth St., NE; 709 D St., NW; 8298 Glass Alley, Fairfax
Few burgers do high/low as well as Nathan Anda's. Shredded lettuce, Thousand Island-like sauce, and a blanket of cheddar recall our favorite short-order creations, but there's nothing budget about the ingredients. Anda blends local brisket, short rib, sirloin, and chuck for the patty, all atop perfectly buttery buns. ($10)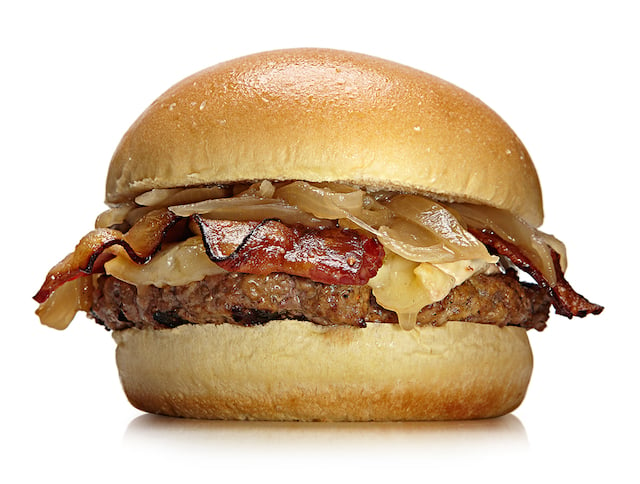 Sacré Bleu at Holy Cow
2312 Mount Vernon Ave., Alexandria
If Brie and honey on a beef patty sounds like sacrilege, this Del Ray burger shop—the sister to nearby Pork Barrel BBQ—will likely convince you otherwise. The caramelized onions, puffy brioche bun, and thick-cut bacon make this burger the perfect union of savory and sweet. Grab an order of onion rings or sweet-potato fries to round out the meal. ($8.95)
Cheeseburger at Five Guys
Multiple area locations
This fast-food chain is Washington's entry into the national burger conversation—what started as an Arlington carryout now has more than 1,000 red-and-white-tiled locations across the country. It's easy to taste why. The double-stacked burger itself is a simple thing: all salty, greasy, diner-thin goodness. There are no fancy cheeses—just American—but the toppings are up to you. We go for a tried-and-true mix of ketchup, mustard, mayo, pickles, lettuce, and onions. ($6.29 to $6.79)