Two days before Chinese President Xi Jinping rolls into down, the Newseum is denouncing China's press restrictions with six can't-miss banners.
Xi landed in Seattle Monday, kicking off a six-day visit to the United States. He'll make his way to Washington on Thursday for an official state visit, complete with a 21-gun salute, a meeting with Congressional leaders and a White House state dinner.
Xi's visit comes amid a period of heightened tensions between the US and China due to accusations of cyber espionage, a faltering Chinese economy, and China's land-reclamation efforts in the South China Sea. And then there's China's approach to press freedom.
The museum unveiled today six exterior banners that protest the state's suppression of media, and by extension Xi's heavy-handed campaign to crack down further on press freedoms since he took office in 2013.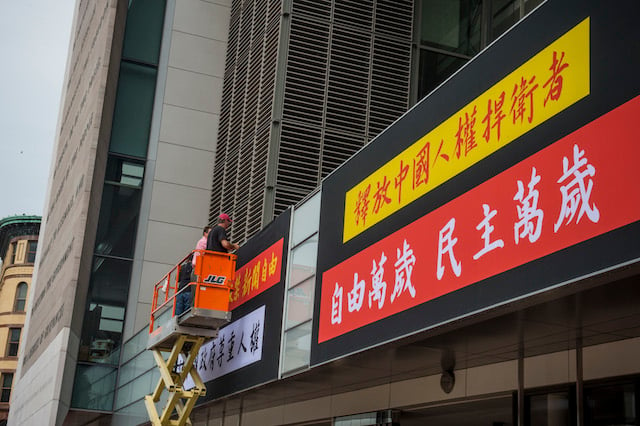 The banners contain Chinese-language messages that advocate for human rights, democracy and free speech. Among them: "Release human rights defenders in China," "Long live freedom, long live democracy," and, "Lift restrictions, free the press."
The display marks the first time the Newseum has used its prominent façade along Pennsylvania Avenue as a vehicle for activism.
"All people should be able to speak truth to power without fear of government retribution," says Newseum CEO Jeffrey Herbst in a press release posted to the museum's website. "While the banners on the front of our building are temporary, the freedoms that permit their display are permanent, universal, and are a fundamental human right."