DC style doesn't look so shabby from the wardrobe of Scandal protagonist, Olivia Pope, played by Kerry Washington. But that's because costume designer Lyn Paolo–who has a long history of dressing faux Washingtonians from her work on The West Wing–has her back.
The premier of Scandal Season 5 is set for Thursday, September 24, at 9 PM, but Paolo won't be at home with a glass of red wine to watch the episode–instead she'll be at The Limited in Pentagon City holding court with The Limited's CEO, Diane Ellis, as they celebrated the launch of their female-empowerment focused campaign, "The New Look of Leadership." And on Friday night, Paolo can be found talking fashion with Washington Post's Robin Givhan at the Hirshhorn.
Though we can't all have a costume designer as experienced with power dressing as Paolo picking out our clothes, she has great tips for creating a not-so-boring professional wardrobe. Shop Around gave Paolo a call while she was on the set of Warner Bros. Studio in Hollywood, and though Paolo warned us in her soft, sweet British accent that her cell reception was bad, we managed to get the following fashion insights.
You've worked on Scandal since the beginning. How'd you land the job?
I got a phone call from a young lady who said my boss Shonda Rhimes is trying to reach you. The director of the pilot called and we had a discussion about doing another show set in DC. I was slightly concerned about doing another show about politics, because I do try to do something new each time I work on a new show. But what I loved about the script is that it wasn't about somebody in the White House–it was about this person who was a powerful and yet feminine woman who lived in her own world, as opposed to in a circle in the West Wing. I did some sketches and some mood boards and Betsy (Beers) and Shonda hired me.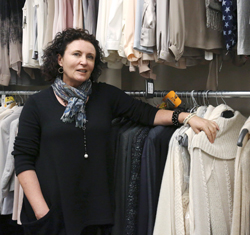 How did that process of creating a mood board for Olivia Pope work?
Obviously I would never know the characters as well as Shonda would. It is a big collaborative process. Judy Smith, who is the basis for Olivia Pope is a very stunning woman, tall and beautiful and razor sharp. I looked at pictures of her and I looked at pictures of other powerful women in DC–the movers and shakers of the time–and came to the resolution that Olivia should break the mold ever so slightly. My final mood board was all of these light tones–whites and grays–and we went to the network and showed them that. The network was so lovely and embraced the idea of trying to do something on television that was more fashionable than had previously been done in a show that revolved around Washington.
How does one create a more fashion-forward Washington?
I always say that Olivia Pope is not running for office. She does not have to stick to the DC rules. Honestly, I think the lighter tones made a big difference in being a wee bit more fashion forward. And also, we go with really classic lines. Even though I think Olivia does dress in a more conservative way, I try to look to designers who are just pushing the envelope every so slightly in their suiting. People are shocked when I tell them that Kerry wears a lot of Armani. I'm sure people assume Armani is super conservative, but their fabrics are stunning, the silhouettes are stunning, and I tell people that the truth of the matter is when it comes to Olivia Pope, the devil is in the tailoring. It feels like it's fashion-forward and less conservative, but the truth of it is we show the silhouette of our actor and we truly tailor everything impeccably.
How much does Kerry Washington weigh in on what Olivia Pope wears?
Film is a collaborative medium. We all work together as a team. I know in my heart that Kerry and Shonda know Olivia Pope way better than I do because they are living with her daily. I'm dressing 60 different characters an episode, so I'm trying to tell a story of who those people are, whereas Kerry is trying to figure out what Olivia Pope would do in a situation. And then when Kerry and I are in the room, we discuss her scenes and sort of act out what she would be doing at this moment. I do that with every single character on the show because that's my job. I'm a storyteller and my medium is the clothing.
How long do you have to plan costumes for 60 characters?
We only get eight days prep on an episode of Scandal. Last season, when we had flashbacks of Cyrus in his wedding to his wife and then his wedding to Michael, it was the whole team–production, design, props, costumes–and we laughed that we could put on two or three weddings in eight days, when it takes most families a year to plan a beautiful wedding.
What brands can fans shop to get Olivia Pope's look?
I don't like to say, because believe me, the brands that we purchase for Kerry are completely out of my price range. But what I say to most people is that Kerry rarely wears a suit. We mix and match–so her pants will be Armani but her jacket will be Stella McCartney. People assume that she's wearing a suit, but she rarely, rarely does. Part of my job is to know what will or won't work on a particular person's body, so find a silhouette that you know works well on you. Once you find that, stick to it. I do it for myself–I literally will find a skirt I like and buy it in every color. I don't like to dictate to our audiences and say "buy this" because we're all individuals, so find what works for yourself.