Commuters who normally rely on the Orange and Silver lines might be in for a jolt Tuesday morning when trains on those routes start skipping the Stadium-Armory stop during rush hours. The alteration to service is the latest response to last week's electrical fire that knocked out a nine-megawatt transformer that powered the station in the Hill East neighborhood. But riders might not be as prepared for the latest service disruption as the Washington Metropolitan Area Transit Authority thinks.
Metro said last Friday that it will take at least six months to fully repair the damage caused by the blaze, forcing the Orange, Silver, and Blue lines to run more slowly than usual. But on Sunday, the transit agency revised its remedy with the announcement that Orange and Silver will skip Stadium-Armory entirely and will be served only by Blue trains. The news was first delivered in the form of a news release that has since been repeated several times by television and radio broadcasts, along with Metro's social-media feeds. Metro spokesman Richard Jordan says station employees will also make verbal announcments to let customers know as they pass through the turnstiles.
But people who live near the station worry the message will be missed. Leave it to Tim Krepp, the professional tour guide and civic rabblerouser, to offer a simple remedy. On Monday afternoon, he and his daughter, Megan posted homemade signs at the station's north entrance with a simplified version of Metro's 437-word press release, plus a line of snark for good measure.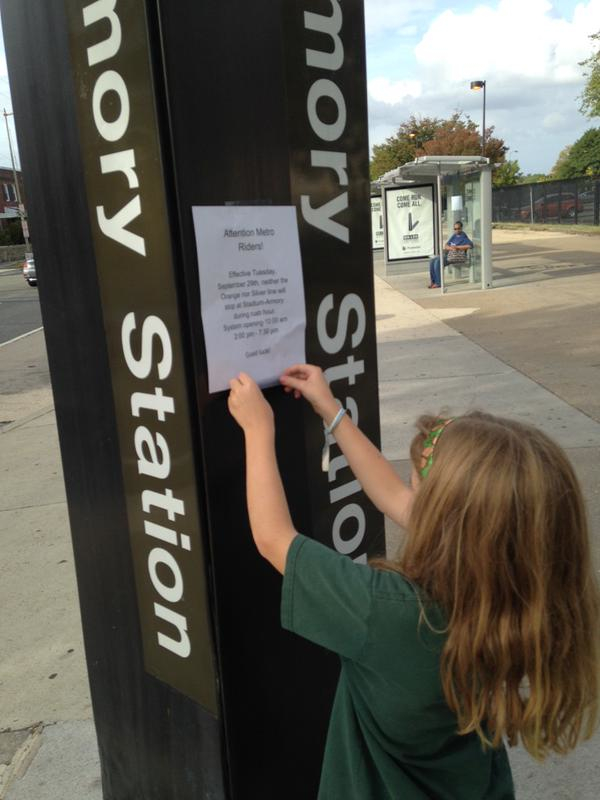 "I get it. There was a fire, you gotta fix shit," Krepp says in an interview. "I remember walking down A Street and I had been talking about it on Twitter with the usual people and had thought the whole world knew about it. But it hit me how few people are actually reading Twitter and know about it."
While Stadium-Armory is far from the busiest station in the system—an average of 2,809 people board there on weekday mornings—it is used by people who live and work on the periphery of Capitol Hill, and by students and faculty at Eastern High School, many of whom live along the Orange Line after it splits from the Blue-Silver track. Jordan tells Washingtonian has not consulted with DC Public Schools about the service disruption, and his remedy offers little.
"The plan right now is to keep the Orange and Silver skipping the station until the repairs are complete," he says. "People can also take the Orange Line and switch at one of the transfer stations."
This does not bode well for people who depend on the Orange or Silver lines to get to and from Hill East. Metro already slowed rush-hour headways on those routes from six minutes to eight minutes; the latest service change adds in a wait for an additional train that only runs once every 12 minutes during peak times.
To Krepp, the messaging seems poorly timed—the initial press release went out at 3:52 PM Sunday, when more people are watching football than checking the transit agency's website—and another instance of Metro backsliding on any efforts it's making to regain the public confidence's after a year of visible, and sometimes deadly, mishaps.
"This was a system that had a degree of trust in it, and it's squandered any good will in the past," he says. "We want to find out what's going on. They repeatedly lied to us. I don't think we know what the truth is. I don't think they have a firm grasp or understanding of the situation."
A straightforward sign with a cheeky signature might be exactly what the situation needs instead.