We love pizza: thick and thin, fancy and cheap, Neapolitan-style and New York. Washington pie joints offer all kinds of styles, and we tasted around to find the best.
10417 Armory Ave., Kensington; 301-832-1065
Frank Linn traded his mobile farmers market pizza oven for this shoebox-size permanent space, outfitted with an oak-burning pizza oven. Take the excellent Hot Mess, accessorized with a trio of cheeses—mozzarella, Gruyère, and Romano—plus deeply sweet caramelized onions, pickled jalapeños, and house-cured bacon. We also like the plain, but not plain-tasting, cheese pie featuring tangy-sweet tomato sauce made from an heirloom recipe.
3715 Macomb St., NW; 202-885-5700
It used to be that people came for the pizzas and "discovered" the small plates. Now they come for the small plates and "rediscover" the pizzas. Many pies call themselves Neapolitan, but few are as topographically complex—the bubbling and marvelously hillocked surface makes for a different bite nearly every time. Chef Peter Pastan is obsessive in his pursuit of high-quality ingredients, so splurge on the cockle pie with tiny, sweet clams.
1541 14th St., NW
2 Amys co-owner Peter Pastan creates a different kind of pizza at his intimate 14th Street dining room. A house grain mill produces hearty flour for the dough, which results in a more robust crust—perfect for assertive toppings such as roasted cauliflower, capers, anchovies, and bread crumbs (one of the best cheese-free options in the city). The seasonal small plates sometimes outshine the pizzas, but we're happy with a mix of both.
1063 31st St., NW; 202-337-4444
The crusts at the canal-side Georgetown spot are a near-perfect balance of chewy and crisp, and the wood-burning oven lends them an irresistible smoky perfume. In the Neapolitan fashion, you should expect a certain wetness at the center. Fold the flap back, and—in the case of the excellent La Regina—enjoy the creamy disks of buffalo mozzarella and tender prosciutto di Parma.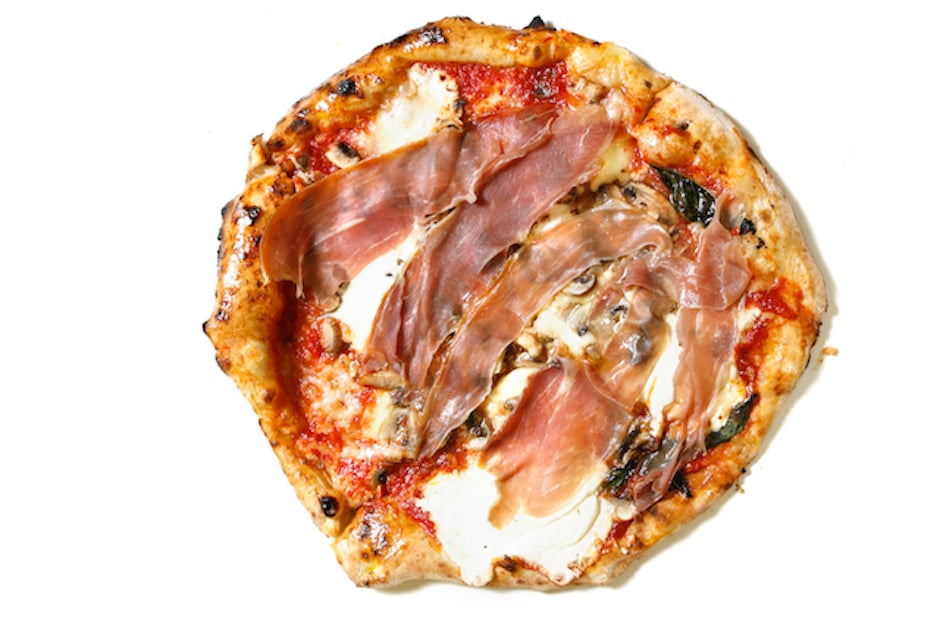 707 Sixth St., NW
There's plenty to explore beyond pizza at Mike Isabella's Italian-American joint—superb vegetable plates, Chinatown-style ribs—though we keep coming back to the pies. Thin-crust, perfectly-charred rounds emerge from the oven with creative toppings; we still love the Jersey Shore decked out with fried calamari, a staple since opening, as well as the Hawaiian-style Pineapple Express with country ham and charred pineapple.
4509 Knox Rd., College Park; 301-422-8122
Ledo's been so comforting to so many for so long that it's easy to forget that this landmark—a decades-old fixture in nearby Adelphi—produces such a strange and singular product. It's rectangular. The crust is slightly sweet. The cheese is smoked provolone, and toppings include green olives and bacon. There are a lot of great pizzas out there, but nothing says home quite like this one.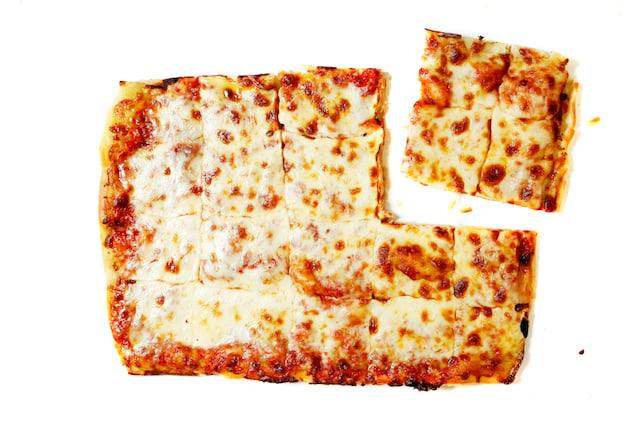 1610 14th St., NW; 202-803-2389
There's a reason wait-times stretch beyond an hour at this buzzy spot: the Neapolitan-style pizzas are some of the area's best. The thin, pliable crusts are spread with a bright, tangy marinara, and never turn soupy. You won't go wrong with any of the combinations, though we love the Finocchiona with salami, shaved fennel, olivata, and fiore di latte mozzarella. Deal-seekers should drop by the bar for daily happy hour (4 to 6:30 and late-night), where pizzas are served at a discount.
4926 Cordell Ave., Bethesda; 301-718-6427
We love owner Mia Ballinger's eight-year-old, yellow-painted pie shop. The wood-oven pizzas emerge with bubbling edges, and the Neapolitan-inspired crusts aren't so thin that they disintegrate under their toppings. There's a lovely Margherita, but the Salsiccia—with its fiery mix of pepperoni, sausage, pepper flakes, and mozzarella—might be our favorite.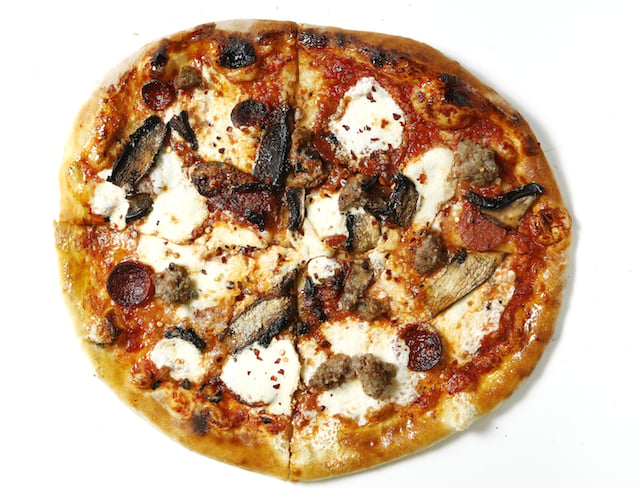 5104 Wilson Blvd., Arlington; 571-312-7230
You don't expect to find a slice of Naples in an Arlington strip mall, but co-owner Enzo Algarme recreates a sense of his home. A red-tiled wood oven churns out certified Neapolitan pies, as well as creatively-topped rounds with over 20 combinations. You can do well with a simple Margherita, but we gravitate toward less orthodox combinations, particularly a pie with chorizo and red peppers or garlic-roasted tomatoes with artichokes.
1828 L St., NW; 202-290-1910
Chef Ruth Gresser was on the forefront of Washington's wood-fired pizza movement, having opened the first Pizzeria Paradiso. Now she's pioneering the fast-casual version from Veloce, her new downtown fast-casual shop where a gas-fueled brick oven produces thin, crispy rounds similar to those in sit-down restaurants. Diners can pick between crusts–including a tasty grain & seed–sauces, and toppings, such as seasonal veggies and three kinds of superb house-made sausage.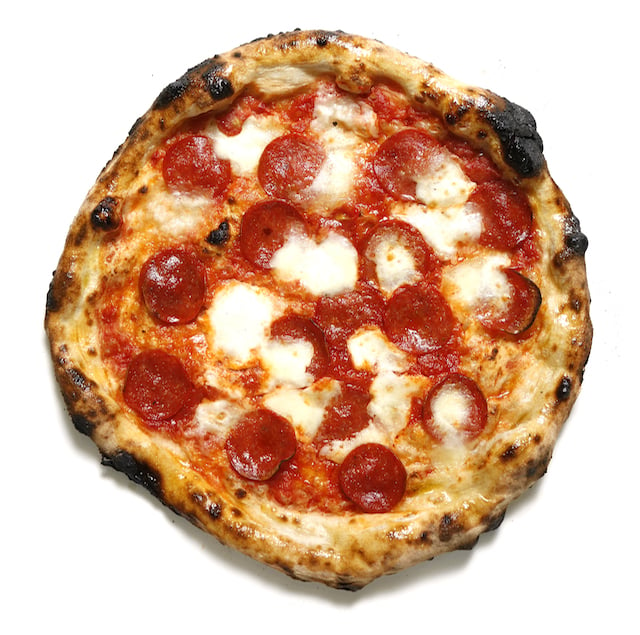 909 Bay Ridge Ave., Annapolis; 410-990-1846
This wine bar in Annapolis is sending out destination-worthy pizzas, the best in the area. Chef Justin Moore has an unerring sense of what combinations work best, and his crusts—light and airy but remarkably sturdy—combine the best qualities of brick-oven and wood-burning pies. The Charcuterie pizza is a typically virtuosic display, in which nine ingredients (including American Berkshire prosciutto, bacon, spicy soppresatta, and local mushrooms) are made to taste, miraculously, like one.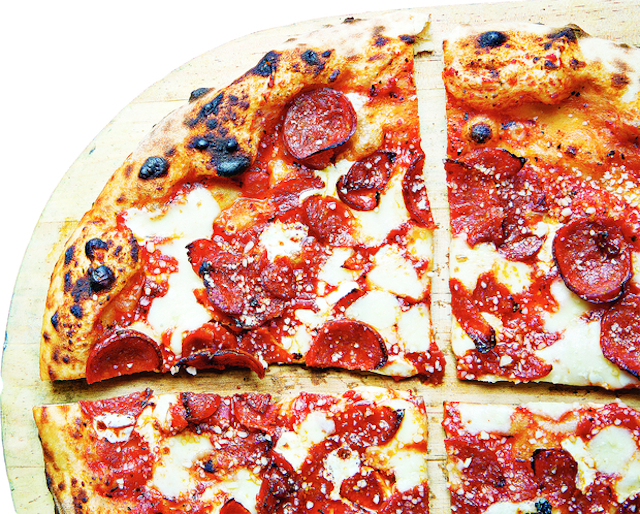 305 Pennsylvania Ave., SE; 2100 Crystal Dr., Arlington
Buffalo-chicken pizza may seem like overkill, but we're happy to indulge at Spike Mendelsohn's Capitol Hill pie place. A solid, puffy crust serves as the chef's canvas, where he may pile on spicy boneless wings and blue cheese, or the makings of a Mediterranean salad for The Greek In Us cast-iron pie.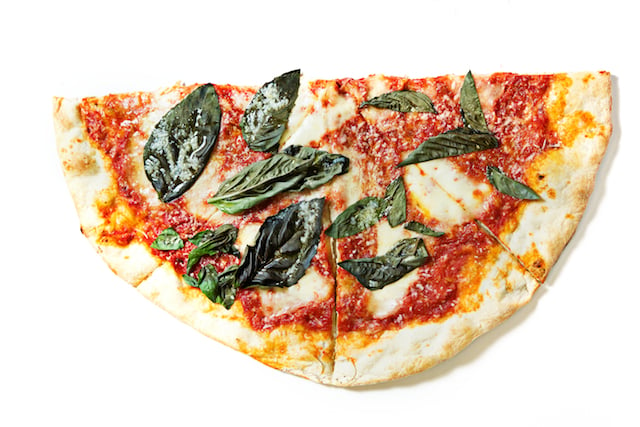 Multiple area locations
The plain slices are great at this local chain of Connecticut-style pizzerias, sporting just-thick-enough crusts. Even better are the more offbeat creations, such as the Boola Boola—loaded with meatballs, caramelized onions, and hot peppers. Vegetarians will find lots to love, especially the Edge of the Woods, with fried eggplant, spinach, and ricotta.
400 S. Maple Ave., Falls Church; 703-226-3460
The upscale 2941 Restaurant now shares chef Bertrand Chemel with its casual pizzeria sister, and the food is better than ever. The sunny dining room and patio are pleasant places to order classic-leaning pies, such as zesty pepperoni or the garlicky Orso, a white pie topped with four cheeses and prosciutto. Weekly deals, including half-off wine on Wednesdays, make this an even more enticing option.
300 Massachusetts Ave., NW; 202-408-7800
This snug cafe is like the New York pizza shop we always dream of—and can never quite find. The massive pies and slices are nothing fancy. What sets them apart is the layer of slightly sweet sauce, touches such as house-made mozzarella, and a sturdy crust that never turns greasy. The basil-strewn Margherita is the standout, but a more biscuity version called the Grandma is pretty wonderful, too.
4705 Miller Ave., Bethesda; 3315 Connecticut Ave., NW
It seems like an amateur mistake to put pizza sauce on top of the cheese, but that's what makes Vace's pies so irresistible. The stalwart Italian deli has been using the tried-and-true formula for decades, baking mozzarella directly into the crust with a layer of lightly-sweet tomato sauce on top. Order it by the slice or as a whole, wallet-friendly pie. The market also sells great dough if you want to try making a home version.