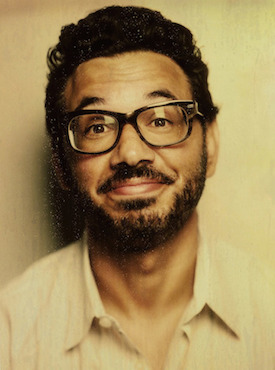 Al Madrigal is really excited about his "Donald Trump cilantro" joke. It's brand new, it's a true story, and it will definitely be included in his Kennedy Center performance on October 3. But he's not telling what it is just yet.
Here's what he is saying: The acclaimed comedian admits he's "super excited, honored and thrilled" to headline this show in DC, where he has reason to believe his political jokes will go over well.
"Comedians love DC," he says. "You're getting people that actually understand all your material. Smart, fun people. It's the opposite of Fort Lauderdale."
Madrigal's stand up consists of long-form storytelling pulled from his own history and experiences. He started performing in 1998 and has no plans to stop, saying the feeling of a successful set is "not something you can easily walk away from."
That said, his talent has found plenty of additional outlets. He's been The Daily Show's senior Latino correspondent since 2011. For several years he hosted a podcast with two fellow comedians called Minivan Men. He's had roles on shows like NBC's About a Boy. His hour special, Half Like Me, won the Mixed Remixed Festival's Storyteller Award this year. And in 2013 he launched the podcast network All Things Comedy with Bill Burr. "They make fun of me constantly at The Daily Show because of all the stuff I have going on," he says.
They're going to keep making fun of him. Madrigal is in the process of turning All Things Comedy into a "multi-channel network for professional comedians." He has recently sold both a travel show and an animated show called Tijuana Beach to Comedy Central, and has a deal with CBS to write his own family sitcom. He's working on a movie and is almost finished with a new app. "I'm just putting my head down and making stuff," he says. "It's the same reason I started doing stand-up. If I didn't try I'd regret it."
Whatever medium he's working in, Madrigal proves it's possible to be sincere, impactful and still wickedly funny. It's that recipe, familiar to all fans of The Daily Show, that he hopes to apply to his future projects. Of the upcoming CBS sitcom he says, "There's going to be heartfelt moments. It's going to really make people think about issues that are important, and it's going to be ridiculous. And it can be all three, no doubt about it."
Of course there's a downside to keeping busy. Madrigal's many projects mean less quality time with his wife and two children: "I see the guy who gets to go to the lake on the weekends. There's a little bit of a grass-is-always-greener."
But Madrigal, who has a business background and used to work for his family's human resource management company, knows he's on the right side of the fence. "These are the problems that are associated with the dream that I had," he says. "It's all sorta working out, and these are the problems that go along with it working out."
As of Saturday's show, Madrigal will have been on the road, away from his family, for almost two weeks. Fortunately, he's set to fly back home after the performance. "I go home the next morning," he says. "I've missed like three of my son's football games. And again, I'm going to talk about all of this on stage."