Cuban Pizza at Graffiato
707 Sixth St., NW
Fans of a classic Cuban sandwich will love the Carlito's Way pie, decked out with roasted pork, capicola ham, provolone, mustard sauce, and pickles ($17).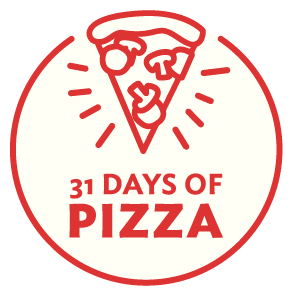 Naan Pizza at Spice 6
5501 Baltimore Ave., Hyattsville
Our favorite bet at this Chipotle-style Indian eatery: a baked-till-crunchy naan loaded with spicy lamb kadai, mozzarella, finely chopped chilies, and cilantro ($9).
Alsace Pizza at Mia's Pizzas
4926 Cordell Ave., Bethesda
A Neapolitan-style pie meets Alsatian flammekueche—the wonderfully rich bacon-and-onion tart—and the marriage makes for one of our favorite pizzas. The salty-sweet, sauceless round with pancetta, Gruyère, and caramelized onions is set off by a dusting of Parmesan ($15). For an authentic flammekueche try Mintwood Place, which dishes up
Barcelona Pizza at Fire Works
2350 Clarendon Blvd., Arlington; 201 Harrison St., SE, Leesburg
These twin pizza-and-beer hangouts think beyond the mozz' for many of their pizzas—and this Spanish-inspired pie ($13 for a small, $19 for a large) is one of their best. Besides nutty, melty Mahon cheese, the expert crust holds chorizo, colorful roasted peppers, and olive tapenade.
Thai Pizza at Franklins Restaurant
5123 Baltimore Ave., Hyattsville
This peanut-sauced pizza ($13) with peanuts, cilantro, crunchy bean sprouts, and mozzarella sounds dubious, but trust us: It works. The ten-incher comes with smoked chicken, but we liked it even better when we asked the kitchen to sub in shrimp.
Greek Pie at We, the Pizza
305 Pennsylvania Ave., SE; 2100 Crystal Dr., Arlington
Spike Mendelsohn channels his Grecian heritage with this cast-iron-baked creation ($4 a slice, $20 a pie) topped with kalamata olives, threads of red onion, tomatoes, plenty of oregano and feta, and a sprinkle of sesame seeds.