Bacon and quail egg pie at Frankly…Pizza!
10417 Armory Ave., Kensington
The salty, smoky mess of house-cured bacon and Gruyére and Romano cheeses—plenty rich, thanks to runny quail eggs—is set on a puffy, oak-fired crust. The great news: even if you sleep through brunch, the dish is always available on the lunch and dinner menus.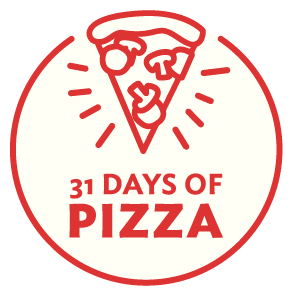 Brunch potato pizza at Graffiato
707 Sixth St., NW
Chef Mike Isabella's take on a morning pie reminds us of another favorite comfort food: a stuffed spud. The pizza comes topped with slices of potato, broccolini, cheddar cheese, and chewy bits of thick-cut bacon, plus a soft egg.
Egg and two-meat pie at Fireworks Pizza
2350 Clarendon Blvd., Arlington
Get your sausage and bacon fix at this Arlington pie joint, which heaps both breakfast meats on its pie. It wouldn't be brunch without a little more excess, so you'll also find sliced potato, creamy white sauce, fontina cheese, and a sunny-side up egg.
Breakfast farmer's market pizza from the Red Zebra
Sunday location: Dupont Circle farmer's market
Don't miss this mobile wood-fired pizza oven, stationed at the Dupont Circle FreshFarm market on Sundays (among other locations). The seasonal lineup can change week to week, but one staple is a morning pie with smoky Surry Sausage from Virginia, sweet potatoes, cheddar, eggs, and a drizzle of spicy honey.
Mexican-style brunch pizza at Matchbox
Multiple area locations
Can't decide between huevos rancheros and a pizza? Try Matchbox's mashup pie, which combines sausage, smoked gouda, scrambled eggs, pico di gallo salsa, and chipotle sour cream.
Feta and egg pide at Cafe Divan
1834 Wisconsin Ave., NW
We're fans of Divan's wood-fired pides, canoe-shaped Turkish pizzas, filled with creative ingredients (spicy Turkish pastrami, smoked eggplant). Though it's always on the menu, we're partial to the brunch-like pita with Turkish feta and kashar cheeses, parsley, and baked eggs.