Thousand Island dressing. When was the last time you ate Thousand Island dressing? Until recently, my answer would have been "about 30 years ago, out of a Kraft bottle." But that was before I found myself in a Merlot-colored banquette at the Riggsby and ordered the chopped salad—a bowl of crisp lettuce, cherry tomatoes, green beans, bacon, and crumbles of egg, all bound by that tangy, pink mayonnaise dotted with cornichons.
Throwback food, grandma food, whatever you want to call it, it takes up lots of real estate on the menu, which, says chef/owner Michael Schlow, was inspired by childhood memories of his parents' cocktail parties—a time when people didn't go out to dinner; they nibbled on stuffed mushrooms and cheese and crackers in one another's suburban living rooms. It's a departure for the chef, whose portfolio includes three Italian restaurants in New England as well as branches of Tico, his Latin American place, in Boston and DC.
Part of the fun of dining at the Riggsby is rediscovering dishes that most chefs have deemed antiquated or staid but that nonetheless deliver zings of nostalgic pleasure. The reason the chopped salad is so good is that Schlow and his deputy, former J&G Steakhouse chef Philippe Reininger, haven't messed with it too much—it's not delivered with tweezers or deconstructed into piles—but have handled every element thoughtfully. The bacon is cooked just before dinner service so it doesn't go flabby. The veggies are chosen for peak freshness but also for maximum texture. And of course, that Thousand Island dressing doesn't come from a bottle. His Caesar, with plenty of Parmesan and black pepper, is pretty great, too.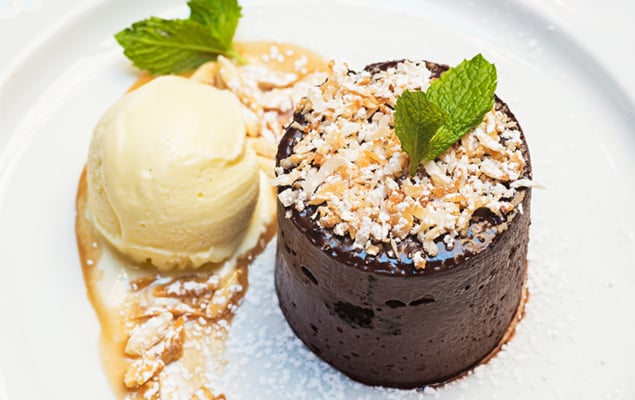 A "snacks" category is easy to bristle at—at many places it's an obvious bid to jack up the tab. Here you'll want to try as many as you can: terrific deviled eggs topped with a pane of crispy chicken skin and a sliver of Calabrian chili, tater tots with puréed interiors laced with jalapeño, and freshly fried potato chips with lush onion dip. The chorizo-stuffed mushrooms were the only dud—with a dry, greasy filling that bounced out of the cap before I took a bite.
You can eat wonderfully well sticking to the classics: an excellent burger with sticky and sweet bacon-onion jam; a barrel-cut New York strip that's crimson-rare all the way through and served with tangy béarnaise with loads of tarragon; the sweetest seared sea scallops I've had in these parts (thanks to Schlow's Massachusetts connections); or a pan-roasted chicken cooked under a brick so its skin is shatteringly crisp. Even a simple skillet of chive-topped puréed potatoes is a standout. (The kitchen salt-roasts the potatoes first, and the result is the concentrated flavor you get with a baked potato married with the silkiness of a fine purée.)
But it's worth keeping in mind Schlow's Italian background, too. One of the best appetizers is a sauté of tender calamari in a rustic compote of tomatoes, olives, and capers. And the strands of house-made pasta in a simple riff on spaghetti amatriciana—sauced with tomatoes, onions, and guanciale—are beautifully chewy.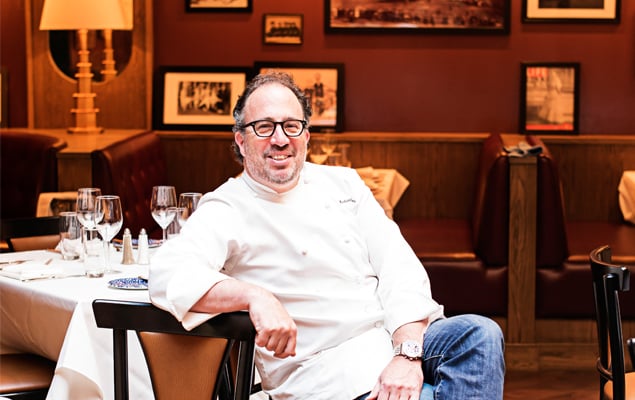 The menu has no real potholes, but there are a few disappointments along the way. A filet of salmon was well cooked but boringly accessorized with an underseasoned mix of zucchini and artichokes. And a thinly pounded and fried veal cutlet was draped with anchovies so fishy you might have thought they'd come from the Potomac.
Don't forgo dessert, and if you're getting just one, make it the chocolate cake, its icing and springy layers lightened with mascarpone. The blueberry-drenched goat-cheese cake and peanut-topped sundae are tasty, too. Another thing not to skip: a cocktail. A simple martini is as well made as the more inventive Ticket to Cuba, a mix of rum, yuzu, and mint topped with sparkling wine. Or you could go totally old-school with a Harvey Wallbanger, a stir-up of vodka, OJ, and Galliano—maybe the most fitting way to raise a glass to the Riggsby.
This article appears in our October 2015 issue of Washingtonian.
---