The Food Network star everyone loves to hate, Guy Fieri, is reportedly in DC filming his show Diners, Drive Ins, and Dives. Borderstan caught wind that the celebrity chef is headed to Dupont, and we're willing to place a strong bet on his destination: sandwich shop Bub and Pop's.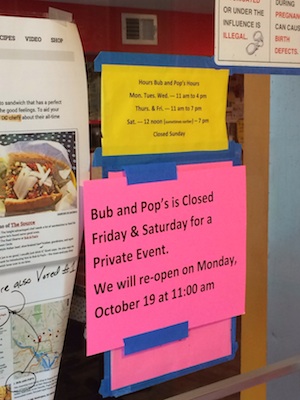 Though chef/owner Jon Taub didn't confirm Fieri's plans to visit the popular basement restaurant, signs indicate that Flavortown is moving in. Street parking spaces on the restaurant's side of M Street are blocked off with cones, and Emergency/No Parking signs list film crews as the reason. The restaurant posted signs that they'll be closed for a "private event" on Friday and Saturday. Though there's no telling which of the belly-busting sandwiches he would order, the Lil' Petey (many deli meats, mozzarella sticks, fried chicken, chips, and a fried egg) seems up Fieri's alley.
Fieri sometimes visits multiple restaurants in a city, so keep your eyes out for his red Camaro.